The irony of the situation was not lost on both Tawag ng Tanghalan contestant Kaloy Villaver and It's Showtime mainstays Vice Ganda and Kim Chiu.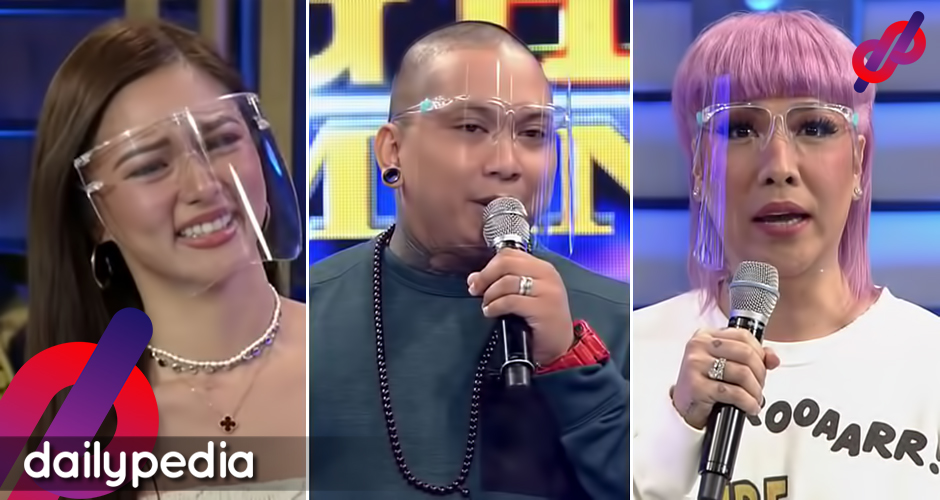 Just before his performance, Villaver admitted that he was lured into supporting the shutdown of media giant ABS-CBN by propagandists critical of the network.
Villaver would go viral on Facebook the night before he was scheduled to perform on It's Showtime's talent segment Tawag ng Tanghalan.
Vice Ganda would open up the conversation by asking how he will perform despite being bashed on social media.
Villaver would admit that he already prepared himself for all the hate he would receive after people dug up his post from January 23, 2020.
He would go on to say he did not believe articles from legitimate news media. He said he thought it was all fake, that "the media made it all up."
He would also admit to being influenced by all the propaganda against ABS-CBN, even going as far as telling the segment producer for Tawag ng Tanghalan he would understand if he was booted out of the show.
Vice Ganda would step up to the plate and tell Villaver that ABS-CBN is not vindictive, not even to those who were against its existence.
"ABS-CBN will never do that. Hindi iyan kasama sa mga values na ini-instill ng ABS-CBN. ABS-CBN deserves a chance."
Era of Disinformation?
Kapamilya personalities have since reacted to Villaver "turning a new leaf".
DOJ reporter Mike Navallo wishes Villaver's words were sincere, and that more people would realize their mistake.
Sana totoo. At sana mas marami nagigising.

Walang manloloko kung walang magpapaloko in the same way that we deserve the leaders we elect. https://t.co/yJgjCt0ekw

— Mike Navallo (@mikenavallo) February 23, 2021
Navallo would be joined by former ABS-CBN News and Current Affairs producer Nick Villavecer in hoping that Villaver's words were indeed true.
I got emotional (again) when I watched the clip earlier. If I were in Vice Ganda's shoes, I would have asked him the same question with an open mind: Why?

I just hope his apology is sincere and that more people like him shift gears.

— Nick Villavecer (@nickvillavecer) February 23, 2021
ABS-CBN journo Anjo Bagaoisan would join Vice Ganda's call for second chances, saying 2020 was a stressful year for all—but doubly so for Kapamilyas everywhere.
which was why 2020 was a very stressful & frustrating year for Kapamilyas beyond the pandemic. Kasi sa ilan, ultimo mga literal na kapamilya napaniwala nito.

Of course people can change their minds later on, tao tayo. But can't say they were not warned about the implications. https://t.co/LA3pIfjDBs

— Anjo Bagaoisan (@anjo_bagaoisan) February 23, 2021
Other netizens would join their cause, though some seem to be throwing a spanner in the works.
Villaver would release a reaction video of sorts to that interview with Vice Ganda and Kim Chiu, saying he was caught off guard when Vice Ganda brought up the issue—on national TV.
"I really didn't want to talk about it kasi ayoko nang balikan sana," Villaver said in his video. He would stress that he was more than willing to give up his spot if his political beliefs would not be to the network's taste.
He added that he wanted the interview to focus on his recovery from drug addiction instead to try and inspire people.
Villaver would end his reaction video by saying he is still thankful for the opportunity to share his talent to the country, and that he did not time for bashers.
Kaloy is the perfect example of someone who has realized just how much disinformation is out there—and how powerful it can be in the wrong hands.
President Rodrigo Duterte and his closest allies—Senators Bong Go and Ronald "Bato" Dela Rosa, Salvador Panelo, and select congressmen, to name a few—still believe that ABS-CBN has not paid their taxes properly.
Congress has already launched an investigation into alleged unpaid loans by the Lopezes from the Development Bank of the Philippines (DBP), to which DBP officials have repeatedly said the Lopezes did not have any.
Representatives Mike Defensor and Rodante Marcoleta have issued vastly different statements on the issue.
Defensor floated suggestions to fellow lawmakers who wanted ABS-CBN to regain its franchise in the soonest possible time, including filing an entirely new franchise law.
Marcoleta, on the other hand, has vehemently opposed any talks to revive ABS-CBN's legislative franchise.
Duterte himself made it known that ABS-CBN will not be given a permit to operate until they "pay the requisite taxes and unpaid DBP loans", something which both DBP and the Bureau of Internal Revenue have already refuted.
House Speaker Lord Allan Velasco has also made it clear that no other legislative franchises will be tackled during his term as house speaker of the 18th Congress.