An opinion piece from the administration-leaning broadsheet The Manila Times seems to be making rounds on social media—enough for big-name media companies to pick-up on it.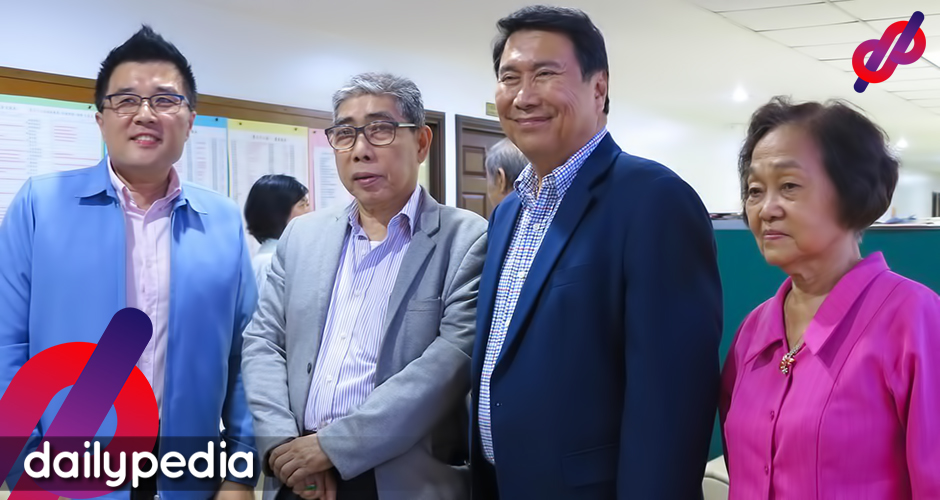 Headlined "Vaccine arrival delayed — why?", the Opinion on Page One column by Special Envoy to China and radio host Ramon T. Tulfo, Jr. has gone viral for this particular sentence.
"I now confess to the public: I had myself vaccinated — along with some government officials whose names I won't mention here — with the Sinopharm vaccine last October."
These are the very words Tulfo said in his op-ed piece.
And it was these words that would spread like wildfire on Twitter…
Mon Tulfo : I now confess to the public: I had myself vaccinated — along with some government officials whose names I won't mention here — with the Sinopharm vaccine last October.https://t.co/ZEhpCszO3d

— Czarina S (@sofiacclvi) February 22, 2021
When people feel like they can confess to illegal activity with no consequences https://t.co/UZfLpuO1hP

— anton playing 2020: Nightmare Difficulty (@anthony_siy) February 22, 2021
Wait, what? He had a financial interest in a brand of vax and he used his connections to try to get that vax fast tracked — ostensibly because "people were dying left and right?" I'm sure it wasn't because HE HAD A FINANCIAL INTEREST or anything, right? https://t.co/YXXVuAz5WZ

— James Jimenez (@jabjimenez) February 23, 2021
… and would eventually find its way on news media.
The veteran journalist and special envoy to China said President Duterte also prefers Sinopharm vaccine not just for himself but for his family as well. | @onenewsph https://t.co/I8hPigwAd3

— The Philippine Star (@PhilippineStar) February 23, 2021
#BantayBakuna: (1/2) Special Envoy for China at kolumnistang si Mon Tulfo, inaming nagpabakuna na ng COVID-19 vaccine ng Sinopharm noon pang isang taon. | via @mamutuesday pic.twitter.com/7VpPXaTlan

— DZBB Super Radyo (@dzbb) February 23, 2021
Inamin ng kolumnista at Special Envoy to China na si Mon Tulfo sa programang #SaTotooLang ng One PH na nagpaturok na siya ng COVID-19 vaccine ng Sinopharm noong nakaraang taon.

RELATED STORY: https://t.co/AuYoy2I5HV pic.twitter.com/5OdYp6R5D3

— News5 (@News5PH) February 23, 2021
Tulfo would go on to say the reason he got the shot in the first place is because he has applied as a "distributor" for Sinopharm in the country—and that he did it at great risk to his life.
In an interview with the news program The Chiefs on One News, Tulfo added that he wanted to know the side effects of Sinopharm's vaccine.
He even said he had his bodyguards and drivers inoculated.
How he managed to get in line for the October inoculations—which he took with the Presidential Security Group (PSG) and yet-to-be-named government officials—is also not a mystery.
Tulfo apparently knows the Philippine contact for Sinopharm: a certain "John Boja".
Another reason he apparently had the shot taken was that President Rodrigo Duterte himself wanted to be inoculated with Sinopharm's vaccine.
His actions would cause more than a stir on Twitter. People expressed outright disgust as a media personality engaged in something illegal—and it did not involve getting paid to write a bogus article.
Tulfo even "admitted" it in his opinion piece: "Don't ask me where I got the vaccine because I will never tell you."
He would also push to one side any questions from the hosts of The Chiefs—themselves established names in journalism.
While Tulfo does not see anything wrong with what he did, netizens have expressed how wrong his actions are—and how badly it reflects on Duterte's administration.
Netizens have pointed out how the Duterte administration is not afraid to engage in illegal activities and spin it in their favor—and this is at the top of a mountain of other reasons.
Roque would go on record back in December 2020 to say any vaccines that did not go through the FDA (Food and Drug Administration) is not exactly "illegal". He would go into technicalities, saying the FDA's mandate only prohibits the distribution and sale of the vaccine, not being inoculated with such.
The FDA would later grant the PSG a "compassionate" license for using the 10,000 smuggled shots of Sinopharm's COVID-19 vaccine.
Tulfo would, of course, stir the pot even more by adding these final lines to his op-ed.
"Joke, joke, joke! Despite the old saying, 'Don't take your troubles to bed,' many men still sleep with their wives. Why do men find it difficult to make eye contact? Answer: Breasts don't have eyes."
These last sentences may have been added last-minute, but for Tulfo, the damage to his already tarnished reputation as a journalist has been done.