Kapamilya personalities and supporters had a field day on social media after an It's Showtime contestant apologized on live TV for previously being in favor of shutting down ABS-CBN.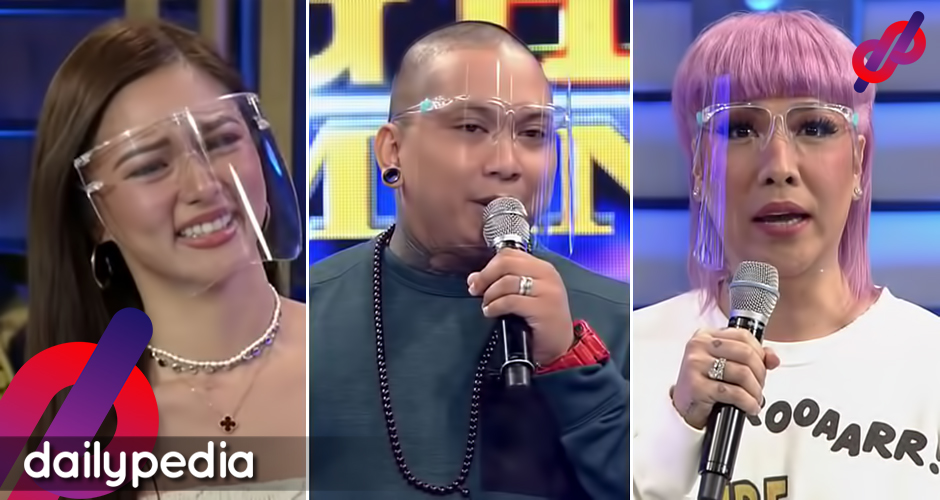 Kaloy Villaver was one of the contestants who performed in the recent segment of the noontime show's amateur singing competition 'Tawag ng Tanghalan (TNT).'
After singing, host Vice Ganda had a little talk with him about his previous stance on the network's bid for a franchise renewal.
Vice asked him what he feels after ABS-CBN gave him the chance to showcase his talent to the public.
"Nahihiya po ako actually. I gotta be honest, sobrang hiya po ako sa ginawa ko," Kaloy answered.
"When I was walking in the hallway, sobrang hiya po ako," he added.
Kaloy agreed that people who support the network have every right to be mad at him.
Vice then asked him why he was so against ABS-CBN being granted a congressional franchise.
"[Na] influence[d] na rin ako ng mga vlogs and pages," Kaloy said.
"From the bottom of my heart I would like to say sorry to everybody.
"I'm being tactless and I'm being very careless about what I post. what I say. Kaya I took down my account because I don't wanna drag anybody with my carelessness," he added.
The disgraced singer apologized on behalf of all who supported ABS-CBN's unfortunate shutdown.
Co-host Kim Chiu broke into tears after Kaloy's apology.
Vice reminded him that his wish cost an employee her life after she found out she was part of the network's retrenchment program.
Kapamilya journalist Anjo Bagaoisan hopes Kaloy's apology was sincere.
Sana true. https://t.co/Kz13URRLmk

— Anjo Bagaoisan (@anjo_bagaoisan) February 23, 2021
TNT's Twitter page even promoted Kaloy.
Ang pambato ng Visayas – Kaloy Villaver! #ShowtimeBetNaFEB pic.twitter.com/HM4FP82EN8

— Tawag Ng Tanghalan (@TNTABSCBN) February 23, 2021
Kaloy being invited to perform on ABS-CBN says a lot about the network's culture.
https://twitter.com/kowalerts/status/1364073371516817408?s=20
Let's stop bashing Kaloy Villaver na please. Ipakita natin na mas nakahihigit tayo ng pang-unawa kumpara sa mga nasa dark side pa din hanggang ngayon.

— justin case (@werandj) February 23, 2021
Others weren't too kind to Kaloy, but like he said, he understands why people would feel that about him.
https://twitter.com/SarapTrip/status/1364081260205797382?s=20
Kaloy Villaver nag sorry ka because? #ShowtimeBetNaFEB pic.twitter.com/a1AdcKXXMC

— A2Z Channel (@AltA2ZChannel) February 23, 2021
Kaloy was initially criticized for asking people to support him on his run on TNT. The heat was too much for him that he once thought about backing out of the competition.
He will always be known as a shameless Duterte supporter.
Manuel Villaver ano na? Welcome sa GMA! @TNTABSCBN #CertifiedDDS pic.twitter.com/N494GVYzfG

— GMARainbow (@AltrGMARainbow) February 16, 2021