It would seem that government officials praying for Sinovac to be first in line for the nationwide vaccination drive were right. It got here first.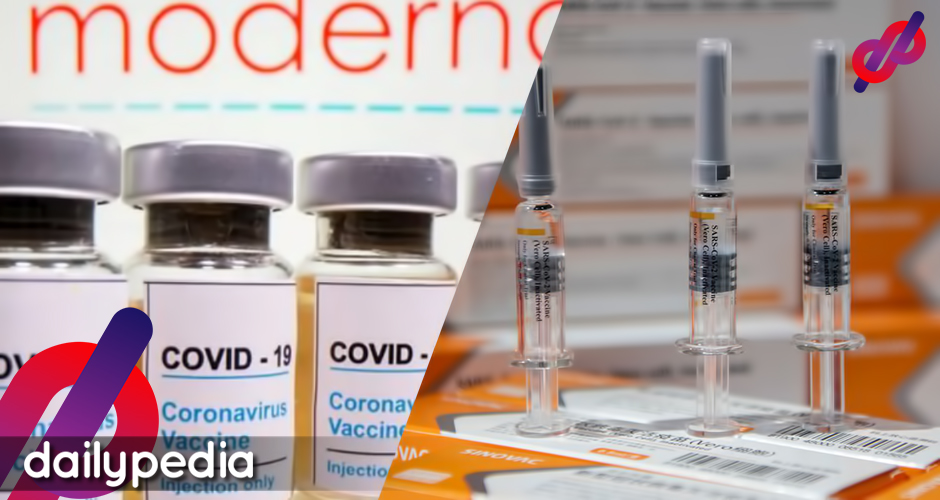 In a Laging Handa briefing held on Feb. 22, Health secretary Francisco Duque III announced that 600,000 doses of Sinovac's CoronaVac will arrive in the country within three to five days once the Food and Drug Administration (EUA) issues its emergency use authority (EUA).
The EUA Duque was looking for would be issued in the same briefing by no less than FDA Dir. Gen. Eric Domingo.
Upon hearing of the news, netizens were either appalled or confused with what the health secretary and the FDA just announced.
How to favor the Chines?

1. Delay Pfizer and AstraZeneca shipments.
2. Build vaccine desperation.
3. Wait until FDA gives EUA to Sinovac.
4. Say that in 3-5 days we're getting Sinovac.

Fuck Duterte and his kowtowing to the Chinese https://t.co/XaqmX2KdjN

— Carlo Sales (@tnlcarlosales) February 22, 2021
https://twitter.com/emmancon/status/1363718071416889346
One question has been thrown around even before the supposed arrival of CoronaVac: why is the Duterte administration seemingly hellbent on securing the questionable COVID-19 vaccine from China?
Dailypedia looked into a few reasons this might be the case—stemming from the administration's 2021 statements.
No indemnification deal needed
Preferred vaccines from Pfizer and AstraZeneca proved hard to secure because of an indemnification deal—a deal essentially relieving both pharmaceutical companies of any liability should their vaccines prove ineffective.
Both Pfizer and AstraZeneca needed such an agreement according to regulations set forth by the World Health Organization (WHO) through the COVAX facility.
It is, apparently, also a standard practice in the United States—the home base of pharmaceutical giant Pfizer.
The indemnity clause is standard w/ all vaccines. Galvez has been negotiating w/ the pharmas since last year. Now the gov't avers that the delay of the vaccine was due to the late notice that we need to agree to an indemnity clause. Ano ba, naglolokohan ba tayo?

— Joel Cochico (@jmschumey) February 15, 2021
Sinovac, on the other hand, did not require any indemnification deals, which would expedite the process.
Duque has alleged that the indemnification deal has long been signed and that it was both Pfizer and AstraZeneca who have yet to respond.
This is contrary to the fact that both vaccine czar Carlito Galvez and the WHO said it was only late last week that the Philippines managed to submit the indemnification deal to receive vaccines from the COVAX facility.
Vaccine czar Carlito Galvez and the WHO said the Philippines submitted the indemnification deal late last week to receive vaccines from the COVAX facility (2/2) https://t.co/3z47XYJyA0

— CNN Philippines (@cnnphilippines) February 22, 2021
Presidential Spokesperson Harry Roque would also chime in, saying the WHO "accepts" CoronaVac's 50.4% efficacy rate, even saying they are not "low quality."
Quoting health experts, Roque says Sinovac's 50% efficacy rate "is very much accepted not just in the Philippines, but by the WHO itself." | via @jmnpunzalan #COVID19

— ABS-CBN News (@ABSCBNNews) February 22, 2021
Delayed shipments? Not for Sinovac
Roque would also be quoted as saying shipments for both Pfizer and AstraZeneca shots would be delayed, and that Sinovac will definitely beat them to the punch.
Roque: It looks like Sinovac will be the first vaccine that we will use in our vaccination program.

AstraZeneca will be shipped out end-February, no certainty yet for Pfizer, he adds. | via @jmnpunzalan #COVID19

— ABS-CBN News (@ABSCBNNews) February 22, 2021
According to Roque, AstraZeneca shots would be shipped from the COVAX facility by the end of February, while Pfizer still did not have a definite date.
Sinovac, on the other hand, guaranteed a delivery date of February 23, though Duque was also quoted in the briefing, saying "the Chinese government will need 3-5 days" before they can ship out the vaccine.
Galvez also admitted that there will be delays in securing Pfizer and AstraZeneca shots from the COVAX facility because "majority of doses go to the US and Europe."
Vaccine czar Carlito Galvez says PH will face difficulties in acquiring Covid-19 vaccines in Q1 and Q2 as majority of doses go to the US and Europe. | @denverINQ

— Inquirer (@inquirerdotnet) February 15, 2021
He also admitted to the country being late to securing doses of COVID-19 vaccine after President Rodrigo Duterte expressed his impatience at delays in the nationwide vaccine drive.
BFF price for Sinovac
Roque and Galvez have both been quoted in news reports saying the Philippines secured the best deal for Sinovac's CoronaVac, even as news of overpricing spread on social media.
Roque, for his part, would say that Sinovac won't be the most expensive of the vaccines the IATF is trying to procure, citing China's "communist" tendencies as well as being our "BFF".
"BFF PRICE." China offered the Philippines the COVID-19 vaccine from its state-backed Sinovac Biotech at a "BFF" price, says Presidential Spokesperson Harry Roque.

Read more: https://t.co/F2FlNFmewm pic.twitter.com/g3FjxbI5RB

— ABS-CBN News (@ABSCBNNews) January 14, 2021
Galvez would go on record to say that he was able to secure CoronaVac at a price not higher than P700.
Vaccine czar Carlito Galvez Jr. insists that the price of Sinovac #COVID19 vaccines is no more than P700 even before senators probed the Philippines' vaccine program. pic.twitter.com/P8hj7Q5JRX

— ABS-CBN News (@ABSCBNNews) January 18, 2021
This would put it barely above AstraZeneca, which was initially thought to have been priced at P610 per dose.
Malacañang and its allies prefer Chinese vaccines
Perhaps the biggest indicator that Chinese-made COVID-19 vaccines would get to the country first is the sentiment of Malacañang and its allies.
No less than Duterte himself said he preferred Sinopharm over other vaccines, with statements dating as far back as 2020 and being confirmed by Malacañang.
Roque: He (President Duterte) has said his preference is Sinopharm. | @alexisbromero

LIVE: https://t.co/f1ai2sAPnj

— The Philippine Star (@PhilippineStar) February 22, 2021
Sen. Ronald "Bato" Dela Rosa, one of Duterte's staunch defenders in the Senate, has also gone on record to say he preferred Sinopharm's vaccine over everything else.
If given an option, Senator Ronald 'Bato' Dela Rosa said he would prefer being inoculated with the coronavirus vaccine of Sinopharm, a state-owned pharmaceutical giant in China. https://t.co/UPQaXaY4IJ

— CNN Philippines (@cnnphilippines) February 1, 2021
Duterte, however, would seemingly retract his statement after asking FDA Dir. Gen. Domingo if he could be inoculated with Pfizer or AstraZeneca after being given a shot of Sinopharm.