If you had two vials of COVID-19 vaccine and you were told that one of them was not only more affordable than the other but also more effective, which one would you take?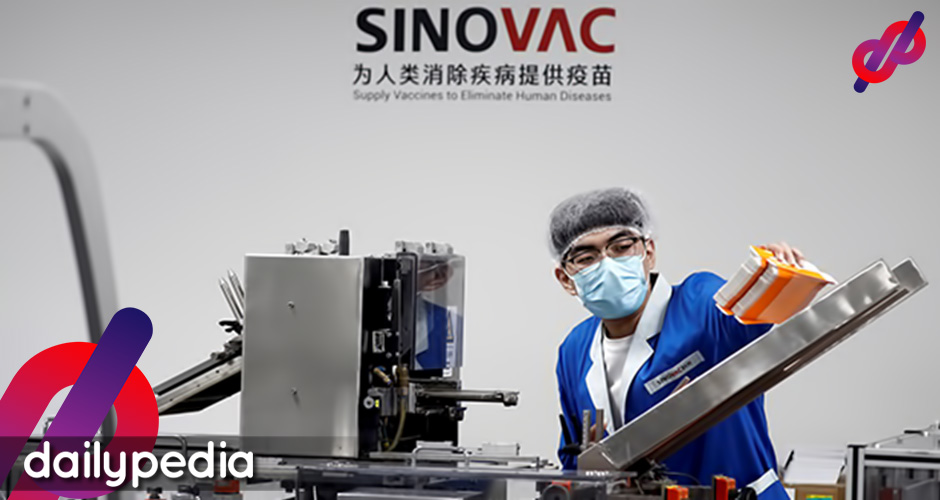 For health secretary Francisco Duque III, it seems to be the less effective yet more expensive one.
In a move that perhaps surprised no one, Duque announced that the Philippine government has finally landed a deal with China's Sinovac last January 10.
Not to be confused with the controversial Sinopharm, the Chinese-state-owned pharmaceutical company where the Presidential Security Group got their vaccine from, Malacañang itself has vouched for the supposed efficacy of the Chinese-made vaccine.
This move from the person who is supposed to lead the country's fight against COVID-19 has puzzled netizens to no end.
LGUs, who, according to the IATF, have to coordinate with the national government before procuring a vaccine— have gone after the more effective and more affordable vaccine from Brit-Swede pharmaceutical company AstraZeneca.
The LGUs signed a deal with Aztra Zeneca, yet DOH pushed through with Sinovac? Sinovac is more expensive and there's no transparent data yet regarding its efficacy and adverse events profile. Why? You owe the public an explanation. https://t.co/LhpvUHm5dn

— Tom (@Tom_MD_) January 11, 2021
https://twitter.com/roncastillo3/status/1348550728239837186
It seems the national government is hell-bent on getting the less effective and more expensive Sinovac even if people are already hesitant about vaccines…
Based on surveys , the people have clearly voiced out vaccine hesitancy. The message is crystal clear ! They want efficacious and safe vaccines. If the government buys vaccines contrary to the people's preference , vaccination rate and herd immunity will suffer.

— Tony Leachon MD (@DrTonyLeachon) January 11, 2021
https://twitter.com/ancelmoooo/status/1348307529109962752
HAVE you noticed? LGUs, procuring anti-Covid vaccines for their constituents, have placed their orders on non-Chinese firms. Not from Sinopharm. 😳😳 Only the national government is inclined to buy vaccines from China, not the LGUs. Local officials obviously don't trust China's.

— Philip Lustre Jr. (@IpeLustre) January 11, 2021
I'm no expert but common sense tells me that if the government will keep pushing for a vaccine that hasn't published full efficacy and safety data, more Filipinos will hesitate getting vaccinated.

— Barnaby Lo (@barnabychuck) January 11, 2021
… or perhaps it's a ploy to get a "well-deserved payday" for select government officials, particularly the health secretary.
Sinovac is a more expensive and less effective vaccine compared to other choices. According to surveys, it is also the least trusted by Filipinos. Can anyone explain the rationale behind its selection?

Asking for a pandemic-weary nation.

— Gideon Lasco (@gideonlasco) January 11, 2021
Cities that signed a deal with AstraZeneca:
Pasig City
Quezon City
Navotas City
San Juan City
Ormoc City
Davao City
Valenzuela City

AstraZeneca's vaccine only costs $5/dose.

Duterte's admin still prefers Sinovac which costs around $60/per dose. #MayKickBackSaSinovac

— ¥●£● (@YOLOinthePH) January 11, 2021
No major PH city has picked Sinovac. Not even Davao.

Only Duque picked it.

He's more like a Sinovac pharma sales agent, not Health Secretary.

— Tonyo Cruz (@tonyocruz) January 11, 2021
The hashtag #MayKickbacksaSinovac has been trending ever since Duque made the announcement last Sunday, with people pointing out how flawed Duque's decision was through simple math.
Duque sealed a deal for 25M doses of Sinovac and if it's PHP3629.50 for 2 doses, they have allotted 45 billion+ for it.
Imagine if they have purchased other vaccines instead,that would be:
Pfizer- 38M+ doses(95% efficacy)
Astrazeneca- 148M+ doses(70-90% efficacy)
Asan ang utak? pic.twitter.com/MnhoE9iobP

— Jim (@JimGumboc) January 11, 2021
Malacañang, through Presidential Spokesperson Harry Roque, would argue that "beggars can't be choosers" since Sinovac will be the first to arrive in the country.
WATCH: As the Philippines rolls out its COVID-19 vaccination plan, Presidential Spokesperson Harry Roque has this to say to priority groups who will refuse to get free vaccine from the government. #QuoteUnquote

READ: https://t.co/ZFNHs3pHf5 pic.twitter.com/MTN9q2GPAM

— Rappler (@rapplerdotcom) January 11, 2021
According to Duque, he has managed to secure 25 million doses of the vaccine that will be delivered throughout the year, with 50,000 doses coming in by February, 950,000 by March, and the rest to be delivered in batches of 2 to 3 million doses until the end of the year.
"This is in addition to AstraZeneca as confirmed by Sec. (Carlito) Galvez," Duque was quoted in a report by GMA News.
Whether Roque's statement will hold true or Duque's insistence on the questionable vaccine will pay off, no one can say.
One thing is for certain: the Filipino people are looking towards their local leaders for better alternatives.