Health Secretary Francisco Duque III on Sunday announced that 25 million doses of the COVID-19 vaccine developed by Chinese biopharmaceutical company Sinovac Biotech have been secured by the country.
Next month will see the distribution of the initial batch.
Succeeding batches will continue arriving until the end of the year to complement AstraZeneca's vaccines.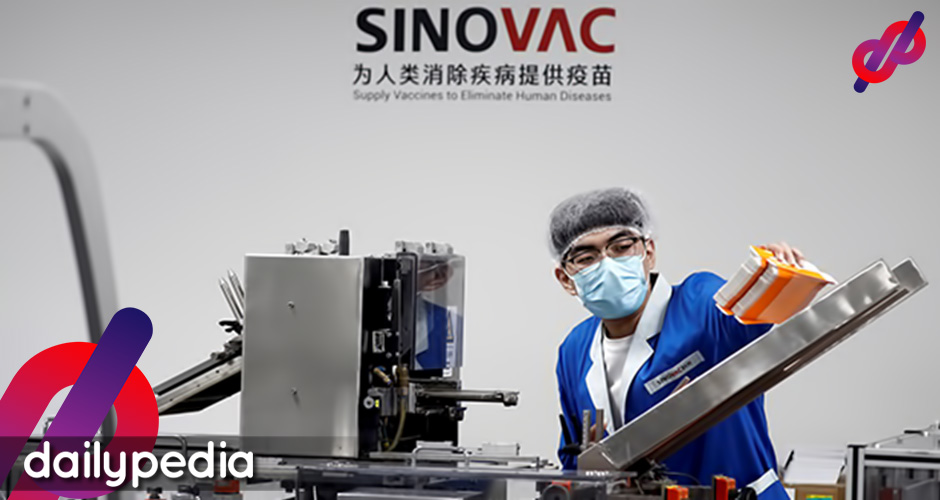 "We sealed the deal with Sinovac for 25 million with early 50,000 doses by February, 950,000 by March, and 2 to 3 million in succeeding months 'til December with 25 million doses. This is in addition to AstraZeneca as confirmed by Sec. Galvez," he said.
COVID-19 policy chief implementer and vaccine czar Carlito Galvez Jr. earlier said that the country seeks to have 50 to 70 million citizens inoculated.
"We hope to close the deal with these companies this month," he said.
Duque was previously criticized for "dropping the ball" and failing to provide the necessary documents in securing the Philippines COVID-19 vaccines.
He denied dropping the ball as deals are still being negotiated.
Malacañang is also hoping that China would donate Sinovac's vaccine, highlighting "close relations" between the nations.
"I don't know about the terms and conditions but of course, we expect that it will be paid but let's see, maybe, just maybe, I'm just speculating, China will donate some of it. Let's see," said presidential spokesperson Harry Roque in an online briefing.
"Because their Chinese foreign minister [Wang Yi] is coming, I don't know what he will say but many of us are praying that perhaps, some of these vaccines can be donated. After all, we do have very close relations with China," he added.
Over P70 billion has been allocated for the procurement of vaccines. For the most part, this is good news but people are wondering why the government would spend all that money for a vaccine that has been reported to be ineffective against the coronavirus.
Dr. Gideon Lasco pointed out how most Filipinos do not even trust the Chinese vaccine and want an explanation behind the government's decision.
Sinovac is a more expensive and less effective vaccine compared to other choices. According to surveys, it is also the least trusted by Filipinos. Can anyone explain the rationale behind its selection?

Asking for a pandemic-weary nation.

— Gideon Lasco (@gideonlasco) January 11, 2021
A netizen had the same question and spotted a pattern on how the government would always go for the more expensive necessity in order to serve the public.
https://twitter.com/MaamSyj/status/1348488830068826118?s=20
According to reports on testing trials, the Sinovac vaccine only has an efficacy rate of 78 percent, a much lower number relative to coronavirus vaccines developed by other firms.
In terms of efficacy:
Moderna: 94.1%
Sinovac: 78%
Pfizer/BioNTech: 95%
Gamaleya: 91.4%
AstraZeneca: 90%

Sinovac has the least efficacy and is second most expensive. It is discombobulating that Duque's DOH insists on it.

He definitely dropped his balls. Yes. Pun intended. pic.twitter.com/2ourvaHddl

— Miss Maggie (@MiaMagdalena) January 11, 2021
me when duque chose this sinovac compared to other effective vaccines. pic.twitter.com/0y4eaPEA2d

— taehyung panganiban perez (@heyfranciz) January 11, 2021
Doctors are notoriously known as representatives of the pharmaceutical industry, and it seems Duque has proven it with his decision to stick with Sinovac's product.
No major PH city has picked Sinovac. Not even Davao.

Only Duque picked it.

He's more like a Sinovac pharma sales agent, not Health Secretary.

— Tonyo Cruz (@tonyocruz) January 11, 2021
The LGUs signed a deal with Aztra Zeneca, yet DOH pushed through with Sinovac? Sinovac is more expensive and there's no transparent data yet regarding its efficacy and adverse events profile. Why? You owe the public an explanation. https://t.co/LhpvUHm5dn

— Tom (@Tom_MD_) January 11, 2021
https://twitter.com/erickkuuu/status/1348474443090182145?s=20
Local government units already struck a deal to have AstraZeneca's vaccine distributed within their respective areas. These cities include Pasig, Quezon, Navotas, San Juan,Valenzuela, and Davao. This only costs $5 a dose whole the Sinovac vaccine goes for about $60 a shot.
Former special adviser to the National Task Force against COVID-19 Dr. Tony Leachon would like a definitive reason Sinovac product was chosen instead of the other vaccines which are significantly more effective and cheaper.
How do we justify government's order of Sinovac , which is less efficacious 50 % , more expensive vs Pfizer 's 95% efficacy rate and Astra 70-90 % efficacy rate ? It would be interesting to know the selection guidelines. https://t.co/8gRI1ty0qg pic.twitter.com/CmMWFmgdQ1

— Tony Leachon MD (@DrTonyLeachon) January 11, 2021