Pope Francis' support of same-sex civil unions garnered mixed reactions worldwide. Conservative Catholics weren't too happy after the revelation of his stance on the issue.
But in the Philippines, a catholic country where more are joining in the fight to give homosexuals the rights that they think they deserve, millions lauded him.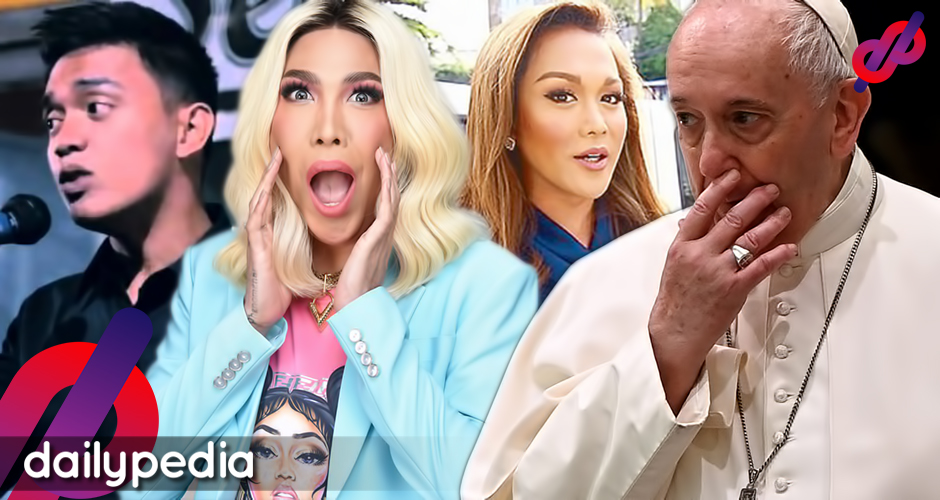 "Homosexual people have a right to be in a family. They are children of God and have a right to a family. Nobody should be thrown out or be made miserable over it. What we have to create is a civil union law.
That way they are legally covered. I stood up for that." he said in an interview that was played in the documentary film, Francesco.
Celebrities celebrated on social media as another step forward for the homosexual community in the Philippines has been made.
It's Showtime host Vice Ganda is one of the most famous gay personalities in the country. He tweeted saying that Pope Francis' comments cannot be denied because of his status.
Pope Francis na yan o!
POPE FRANCIS!!!! O loko!!!! https://t.co/ibTonSz3Zx

— jose marie viceral (@vicegandako) October 22, 2020
Comedian KaladKaren shared a concurring sentiment.
Ayan ha… baka may mas magaling na naman kay Pope https://t.co/B9eTAlruLu

— KaladKaren (@jervijervi) October 21, 2020
Writer Juan Miguel Severo can only say "HOY."
https://twitter.com/TheRainBro/status/1318922232895217671?s=20
K Brosas was happy to hear the news as well. She has a daughter, Crystal, who came out as a lesbian on her mother's 45th birthday.
"Being in the closet for years was hard. There were lots of struggles, challenges, and pain that molded me into the person I am now." Crystal said in an Instagram post.
The older Brosas first knew of her daughter's sexuality in 2017.
— carmela brosas (@kbrosas) October 21, 2020
Host Bianca Gonzalez says "gay rights are human rights," and felt "so much joy about this bit of news."
Still feeling so much joy about this bit of news. Gay rights are human rights. 🌈🤍🌟https://t.co/TWYEhmhoca

— Bianca Gonzalez (@iamsuperbianca) October 22, 2020
— karla estrada (@Estrada21Karla) October 21, 2020
Dawn Zulueta is just as happy to hear about the news.
https://twitter.com/DawnZpost/status/1318933604836126721?s=20
🌈♥️🙏🏼 https://t.co/eqRbkArwaX

— Gabbi Garcia ♡ (@gabbi) October 21, 2020
— Jove Francisco (@jovefrancisco) October 21, 2020
Father James Martin, a prominent Jesuit who supports the LGBT community also praised Pope Francis.
"Pope Francis's support for same-sex civil unions is a major step forward in the church's support of LGBTQ people. It is in keeping with his pastoral approach to LGBT people, including LGBT Catholics, and sends a strong signal to countries where the church has opposed such laws," he said.
Just last month, Pope Francis told a group that supports parents of LGBT children that "God loves your children as they are" and "the pope loves your children as they are because they are children of God."
Also in the documentary is a sexual abuse survivor, Juan Carlos, who shared what the pope told him two years ago.
"He told me: 'Juan Carlos, that you are gay does not matter. God made you like this and loves you like this and I don't care. The pope loves you like this. You have to be happy with who you are.'"
The church has always condemned the legal recognition of same-sex unions because marriage is only between a man and a woman.
A 2003 Vatican document explained that it is "necessary to oppose legal recognition of homosexual unions" because they "obscure certain basic moral values and cause a devaluation of the institution of marriage".