Amid the accusations of masterminding anomalies within PhilHealth, Presidential Spokesman Harry Roque said that President Rodrigo Duterte still trusts Health Secretary Francisco Duque III.
"For as long as Secretary Duque remains, then he enjoys the trust and confidence of the President," he said over CNN Philippines Wednesday.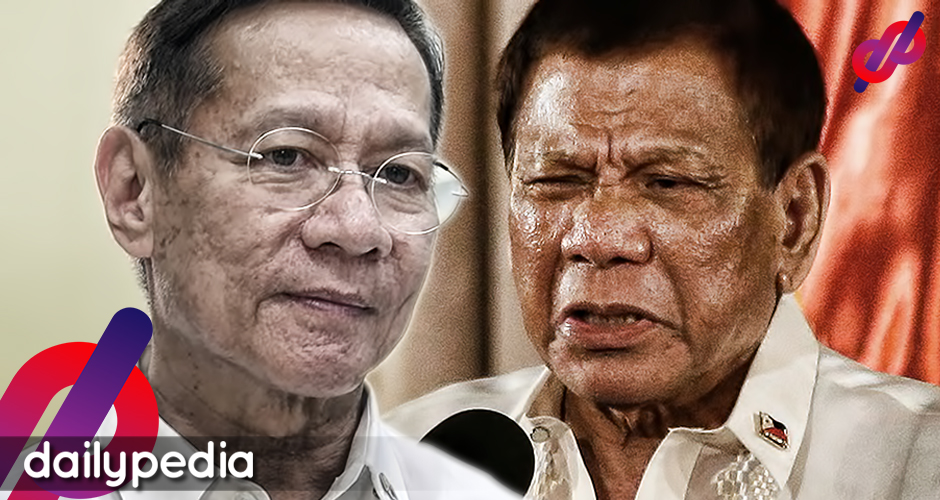 "If he has ceased to have trust and confidence, then Secretary Duque would no longer be in office because all Cabinet members serve at the pleasure of the President," he added.
Roque also said that Duterte has created a task force specifically for investigating the corruption within PhilHealth.
"He's waiting for the report of the task force. He gave them only a period of one month to render their findings and exercise powers that even the Senate could not, including the power to impose preventive suspension, to conduct lifestyle checks in addition to filing cases in court," he said.
"Well I think everyone is accorded the right to due process and that's why he created the task force," Roque said when asked about the time when the president promised to sack any official with a whiff of corruption.
Netizens do not think Duque will be sacked anytime soon.
This will really make you wonder what's at stake if Duterte drops Duque. PRRD keeps on saying he loves the Filipinos, but in a time when his SOH has, in a way, surrendered by saying he needs 'soul searching,' that to me is a cue to replace him. Literally, people are dying. pic.twitter.com/QI19rsPGHW

— Jules Guiang (@JULESguiang) August 19, 2020
"…Roque pointed out that everyone has a right to due process…" eh kayo kayo lang nakikinabang sa due process na yan eh. Share niyo naman yung experience na yan sa amin! pic.twitter.com/uniDfrzibO

— NVG (@nikkivaldez_) August 20, 2020
https://twitter.com/BlackSpecOps/status/1296620782701944832?s=20
The Duterte-Duque Corporation is the reason why Duterte won't fire Duque from Philhealth and DOH pic.twitter.com/yKM8JjCFuv

— Slugger Jed (@slugger_jed) August 19, 2020
Salamat sa positivity mo. Ako din, positive na walang mangyayaring pagbabago sa PhilHealth hanggang nakaupo si Duterte, Duque at Morales.

— Markus Villa (@makeapoint690) August 19, 2020
Former PhilHealth anti-fraud legal officer Thorrsson Montes Keith has labeled Duque as the "godfather of the PhilHealth mafia" during a senate hearing.
Keith also said that PhilHealth President and CEO Ricardo Morales is the "coddler" or "new leader" of the alleged corruption.
Duque in the same hearing denied that PhilHealth lost P154 billion to corruption.
"I understand that recent events may have cast a shadow of doubt or fear in some. But I would like to underscore that as the leader of the people, there is absolutely zero tolerance to any form of fraud or corruption. We will not put the trust nor the hard-earned money of the people to waste," Duque told officials
"We ramp our [efforts] tenfold to continuously protect the health of every single constituent and protect them from undue financial burden. The Filipino people deserve honest and quality service and that is exactly what we have delivered and will continue to deliver," he added.
Duque's response to the pandemic has been highly criticized as various senators have requested Duterte be removed from his position.
But he remains the health secretary despite several failures and mounting criticism. Roque told CNN Philippines that the reason why Duterte wouldn't fire Duque is because of his relationship with the latter's brother, Gonzalo "Gonz" T. Duque.
Gonzalo is Duterte's fellow San Beda College of Law alumnus. Duterte doesn't believe the Duques would steal from the public because they are already a wealthy family.
Duque was accused of diverting some P500 million from the Overseas Workers Welfare Administration (OWWA) to purchase and distribute PhilHealth cards for free. The cards reportedly had former president Gloria Arroyo's picture and her administration's healthcare program, the Greater Medical Assistance, or GMA.
Both were charged with plunder in 2011 because of this issue, but then Ombudsman Conchita Carpio-Morales dismissed the case the year after due to lack of merit.
Duque's father, Francisco Duque Jr. was the president of the Philippine Medical Association and was eventually given the position of Secretary of Health by former president Diosdado Macapagal, Gloria's father.
Francisco Jr. ran for governor of Pangasinan and Diosdado even campaigned for him.