It said that it is to inform and entertain people and is no way a part of political promotion.
Netizens reacted negatively to the show. 
On May 12, the Philippine Broadcasting Service (PBS) defended the airing of a radio show called Wow China which promotes Chinese culture and traditions.
The hour-long segment discussed several topics to promote the Chinese history, tradition, and culture of both China and the Philippines in a light and informative manner. This drew heavy criticism from netizens.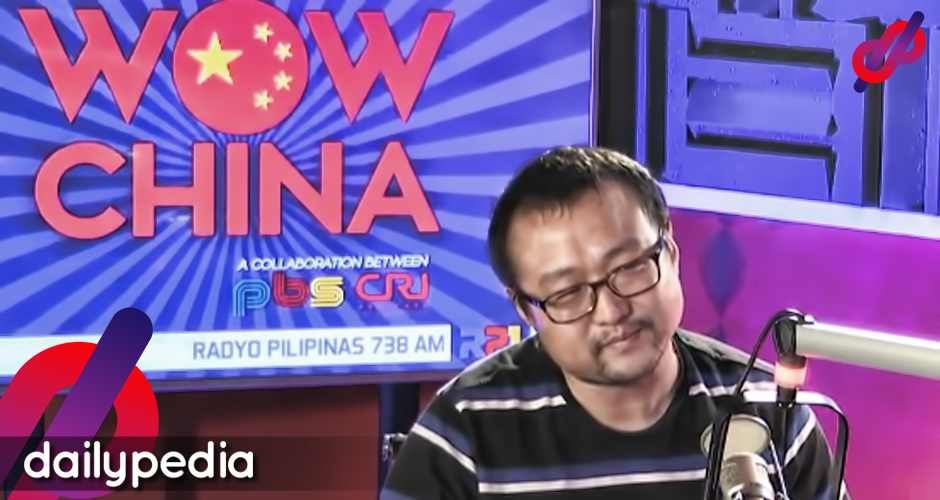 In PBS' statement, it said that it is not aired to promote and political views or propaganda.
"Co-hosted by a PBS anchor and broadcast in Filipino, the show features the traditions, culture, and history of both the Philippines and China; as well as the differences and similarities between the two countries. Its format is light, informative, and entertaining; in no way whatsoever does it espouse or promote a particular political view or cause."
The agency also added that the show is a product of multiple bilateral media and communications agreements between the two countries. It has the goal of enhancing cultural relations and information exchange while strengthening the country's technical capability in broadcast and publishing.
It compared Wow China to the agreements between the United Kingdom and Thailand.
"Apart from China, PBS has also worked with other countries, and extended airtime as well, to air their news, socio-cultural, and tourism content – for the educational benefit of Filipinos. These include agreements with the United Kingdom's BBC and Thailand's Sawasdee. It is also likewise noteworthy to note that PBS-BBS is in cooperation with the Voice of America (USA)."
On the other hand, Broadcast Journalist Karen Davila tweeted that according to Congressman Prospero Pichay, under the constitution, President Duterte can reverse the decision of the National Telecommunications Commission (NTC) regarding ABS-CBN Corporations franchise.
Cong Prospero Pichay says under the law, Pres Duterte can reverse NTC decision. He cites PD576-A where any conflict in regulation can be brought up to the Office of the Pres. Earlier, Sec @attyharryroque claims OP cannot intervene w NTC order shutting down ABSCBN.#ANCHeadstart pic.twitter.com/CXXJLC9Aer

— Karen Davila (@iamkarendavila) May 8, 2020
Netizens then reacted to the government's priorities regarding its media-related decisions.
the administration shut down ABS-CBN but is promoting the Wow China segment on its government-ran network? ISANG MALAKING PUTANG INA

— setsu | NOtoAbsCbnShutdown (@hensetsuriii) May 11, 2020
I wanna see your outrage over the fact that a government radio station employed a Wow China propaganda segment, the same way you showed outrage over these local celebs who speak out against abs-cbn shutdown, because if not then you're just a plain fanatic and not a patriot.

— Hago kaayo mo (@rqhazel) May 11, 2020
"The Duterte administration shut down ABS-CBN and then promotes the Wow China segment on its government-run network?"
The Duterte administration shut down ABS-CBN and then promotes the Wow China segment on its government-ran network? WTF IS WRONG WITH YOU PEOPLE? SA BULE NI INA NYANG PANGYAYARE INI pic.twitter.com/oXkbU67QAS

— Monsieur Bocito (@TMatying) May 11, 2020
A netizen stated that he's not against the government but doesn't agree with its priorities.
I am not against DUTERTE but shutting down ABS-CBN and now promoting a new show called WOW CHINA is a trash. KABOBOHAN!

— Roland Fernando (@rolandhfernando) May 11, 2020
Other netizens also reacted negatively to the matter.
"Wow China" does not invalidate the fact that ABS-CBN DOES NOT HAVE A FRANCHISE.

Mga TANGA.

— The Unforgiving (@7silentmajority) May 11, 2020
After feigning ignorance with the now deleted facebook posts accusing ABS-CBN of franchise violations, PCOO, through Radyo Pilipinas, now has this show called "WOW CHINA". Are we still in the Philippines? 🤡 #NoToABSCBNShutdown #DefendPressFreedom #WowMali pic.twitter.com/i7ZPbQR0Pw

— CJ (@christianfreo) May 11, 2020
Yes to ABS-CBN shutdown tapos may WOW CHINA ang Radyo Pilipinas? WOW MALI na lang kaya pic.twitter.com/XReTfghcAq

— KaladKaren (@jervijervi) May 11, 2020
ABS-CBN was shutdown and now Radyo Pilipinas which is a state-run station is now airing the "Wow China" segment? Thank you Duterte!

— PAGMASS TESTING NA MGA YAWA MO!!!! (@glennroid) May 11, 2020
https://twitter.com/brightharolddd/status/1260085832423104512
Radyo Pilipinas is the flagship AM radio station of PBS, which is under the Presidential Communications Operations Office (PCOO). The segment is a collaboration between PBS and China Radio International, China's state-owned international radio broadcaster.