A full-page ad from Taiwan was published in the New York Times.
It is said to be to call out the World Health Organization which allegedly ignored the country's warnings regarding COVID-19 even before it became a pandemic.
A crowdfunded New York Times full-page advertisement was published in the newspaper on April 14.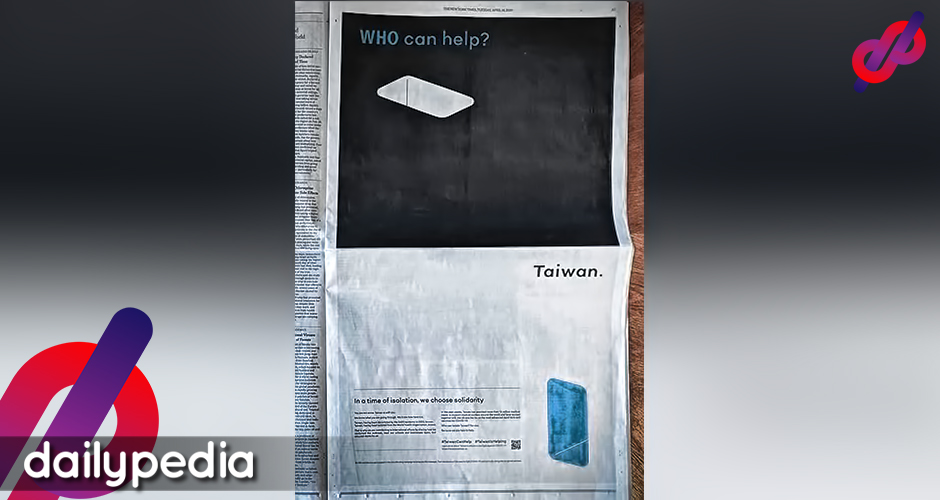 It was funded by over 26,900 donors in a fundraising campaign that aims to show that Taiwan can help the world fight against the coronavirus disease 2019 (COVID-19) pandemic.
The advertisement was initiated by Taiwanese YouTuber Ray Di and award-winning designer Aaron Nieh. The donors did not only include Taiwan residents but Hong Kongers as well. It is said that the rest of the contributions will be used to buy medical equipment for the countries in need.
A full page ad funded by thousands of Taiwanese is on the @nytimes today, hoping to share Taiwan's experiences in containing the #COVID19 despite being continually excluded by @WHO due to pressures from the PRC. #TaiwanCanHelp image by @iingwen pic.twitter.com/FhcuL1wi9I

— wen liu (@wenliunyc) April 14, 2020
It began with the question "WHO can help?" followed by the answer "Taiwan." The bottom of the ad reads: "In a time of isolation, we choose solidarity. You are not alone. Taiwan is with you."
It can be remembered that the World Health Organization (WHO) was accused of ignoring Taiwan's warning regarding COVID-19 even long before China took action.
Despite the early warnings from Taiwanese officials, WHO kept the region cut-off from its global information networks as it refuses to recognize Taiwan as a sovereign state.
What's the reason? For nearly half a century, China has effectively blocked Taiwan from joining WHO.
The ad was published on April 14's edition both online and in print. Netizens reacted to the ad, calling it "powerful".
Powerful ad from #Taiwan in @Nytimes today. Bc/Taiwan is not a @UN member state & bc/Beijing has pressured @WHO to not include Taiwan in deliberations, Taiwan has confronted #COVID alone. Yet applying lessons of SARS, it contained virus & kept schools & businesses open. pic.twitter.com/zX3R905Dff

— Samantha Power (@SamanthaJPower) April 14, 2020
NEW YORK TIMES FULL PAGE AD: "TAIWAN IS HERE TO HELP"

A full page ad in the April 14 New York Times concludes: "Who can isolate Taiwan? No one. Because we are here to help."

Full text below: pic.twitter.com/ddDV7mQDLO

— Elaine Tsao (@ElaineTsao) April 14, 2020
"This is, above all, a human crisis that calls for solidarity." —@antonioguterres @UN

Indeed, this ad in today's @nytimes reads: "In a time of isolation, we choose solidarity. You are not alone." #Taiwan is with you."→https://t.co/4Mlirg22mp #TaiwanCanHelp #TaiwanIsHelping🇹🇼 pic.twitter.com/KJhnxriraE

— Henry E. Chang (@HenryEChang) April 14, 2020
A crowdfunding campaign saw 26,980 people in Taiwan come together to sponsor a full-page ad reading "WHO can help? Taiwan." in today's edition of the New York Times.

The ad features a QR code which leads to the #TaiwanCanHelp campaign website at https://t.co/1kucHO8co6 pic.twitter.com/wfaFi921OT

— Shanghaiist.com (@shanghaiist) April 15, 2020
https://twitter.com/ACHsueh/status/1250300772169822213
Some also believe that this is connected to WHO chief Dr. Tedros Ghebreyesus' attack against the island.
Taiwan citizens raising funds to place ad on @nytimes against what they think @WHO chief @DrTedros's attacks to the island. Tedros said he received comments calling him "black or Negro" & death threats from Taiwan. Similar ad placements were used by Hong Kong citizens last year. pic.twitter.com/nhV5Va0FsF

— Ezra Cheung (@ezracheungtoto) April 10, 2020
Taiwan only has 395 cases and six deaths of COVID-19 as of this writing.