In a virtual briefing on Tuesday, Cabinet Secretary Karlo Nograles said that the Philippine Overseas Employment Administration resolution, which prohibits 14 different categories of healthcare professionals from going abroad is not applicable to allied healthcare workers that have contracts as of March 8, 2020.
"All medical and allied healthcare professionals with perfected and signed overseas employment contracts as of March 8, 2020 shall be allowed for deployment abroad," said Nograles.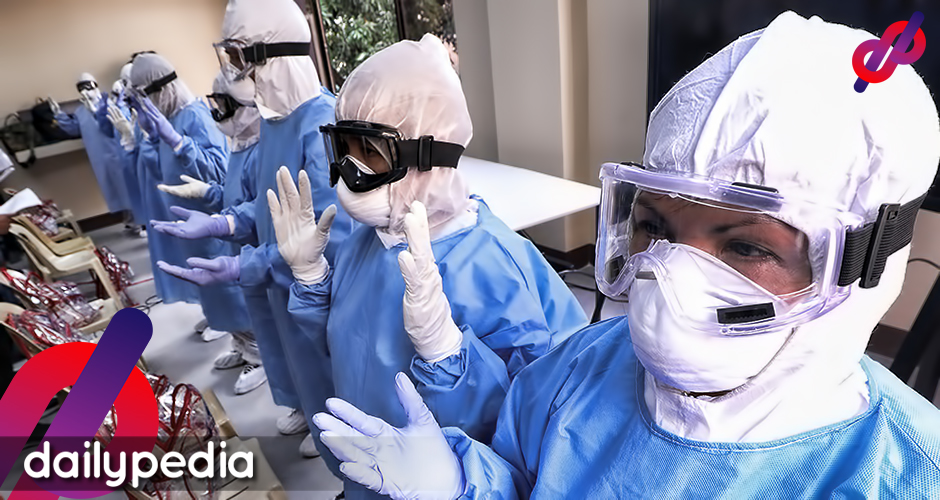 The government mentioned that health workers will be signing a declaration knowing the risks involved when going abroad.
POEA chief Bernard Olalia said that this resolution will be effective "until the national state of emergency is lifted and travel restrictions are lifted at the destination countries."
The deployment ban covers the following professionals:
Doctors
Nurses
Microbiologists
Molecular biologists
Medical technologists
Clinical analysts
Respiratory therapists
Pharmacists
Laboratory technicians
Radiologic technicians
Nursing assistants
Medical equipment operators
Supervisor of health services and personal care
Repairmen of medical hospital equipment
The resolution has been implemented to manage the COVID-19 issues in the country.
Foreign Affairs Secretary Teodoro Locsin Jr confirmed the resolution, saying that health workers have the right to work.
"Future applications frozen until notice provided all our 450,000+ nurses—exceeding by 250,000 ideal [World Health Organization] ratio of people-to-nurses—must be given employment."
However, Locsin didn't always agree with the resolution and even went as far as to say that it was an 'abomination'.
"We will fight the ban in Cabinet. We will fight shit for brains. We will never surrender our constitutional right to travel and our contractual right to work where there is need for our work,"
The Inter-Agency Task Force on Emerging Infectious Diseases has also urged the Department of Health to recruit more health workers for more manpower.
President Rodrigo Duterte reported to Congress, a requirement of the 'Bayanihan' Act that gave him sweeping powers to address the novel coronavirus pandemic, that the Health Department will hire 857 healthcare workers, under a contract of service.
These health workers will be deployed to the designated Lung Center of the Philippines, the Philippine General Hospital, and the Dr. Jose N. Rodriguez Memorial Medical.
Before the resolution had an exemption, millions were angry and felt that the health workers had a giant restriction over them.
Netizens agree with Locsin that health workers should be allowed to leave the country.
True, kasi most of them already have visas and work contracts.

LET MY COLLEAGUES GO

— ☤ Kwinkz (@kwinkiwinky) April 10, 2020
One netizen thinks it's very selfish to prevent health workers from going abroad.
For once i agree with yhis guy. I find it too selfish to deprive the workers of a better opportunity abroad esp if PH cant compensate them well.

— Marky (@MarkyFul) April 10, 2020
Health workers in the country have worked hard to get to where they are today, and end up as objects of exploitation due to the poor salary. But most have chosen to serve the country first before going abroad for better opportunities.
Di kami inalagaan from studying to working, ginapang kami ng magulang namin. Panahon naman para mag pay back kami sa kanila. Kikita naman ang pinas sa remittances namin db? Nag serve kami sa pinas bago din umalis because of our experiences kaya kami kinuha.

— Mark Yamat, RN (@Markyamatrn) April 10, 2020
The obvious reason for health workers choosing to work abroad is the difference in salary. Nurses only get paid a pittance working in the Philippines, but it is a much different story when they are abroad.
How can I stay here if my salary is 10,500 php monthly in a private hosp…come to think of that…

— Timbuk2 (@Timbuk26) April 10, 2020
Most netizens emphasized the problem with the salary which has been laughable.
Almost Php60-70K per sem, sa iba mas mataas. TF alone lang yun ha. Pag nagpractice na, Php500/day. TF!!! Ang ibang profession makatarungan na ang sweldo, pero sa Nurses??? Ano?? Tas pipigilan nyo makaalis yung gusto bigyan ng magandang buhay ang pamilya nila?

— Jude Lax (@juddlax) April 10, 2020
It is true that government hospitals pay their health workers better than private ones, but one netizen says that it is nearly impossible to get a position in those health facilities unless you know someone on the inside. He also emphasized the difference in salary.
Yeah right! I feel more safe here compare in my own country. Salary wise? It's better here. My salary here, natutustusan ko meds and everyday food ng mother ko. If I stay in Philippines? I need to have a "backer" to work in government hospital.

— Fee D. (@fee_Di) April 11, 2020
One netizen compared the barring of health workers from working abroad to slavery.
Forbidding our health workers to go abroad isnt only unconstitutional, but also constitutes constructive slavery. Why do they go out? Primarily, to look for greener pasteur. Nothing else. Hence, the best way to keep them stay is to provide them competitive local employment.

— aj (@AymJung) April 10, 2020