Dr. Oscar Tinio, chair of the Philippine Medical Association said 12 Filipino doctors have died fighting the new coronavirus.
"We still have some other patients confined and fighting the illness at this time. Hopefully, we don't add more to the list of deaths among our practitioners, our physicians."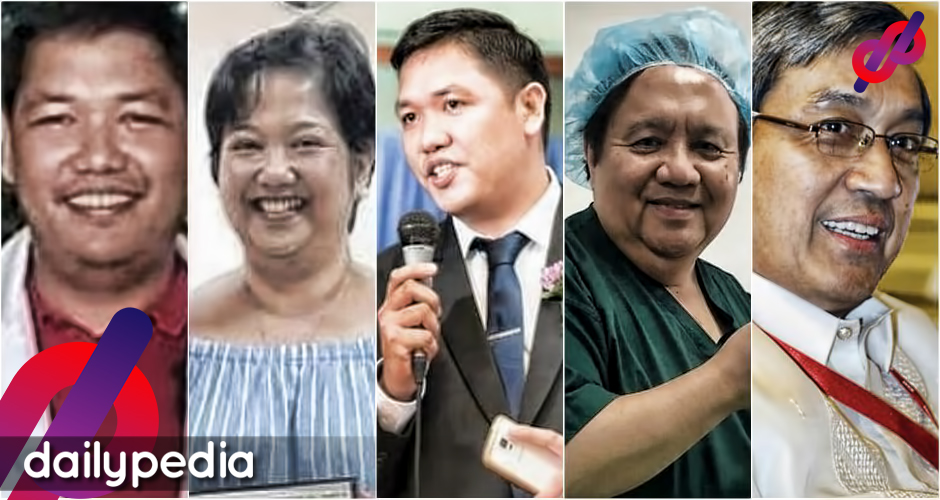 There is nothing that they can do to take back what has already happened.
"We're still grieving but, at this point, we cannot do anything about what has lapsed already, what has been done already."
Tinio thinks that at least 5% of the health workers in the country are under quarantine since they are constantly catering to COVID-19 patients.
Health workers are usually overwhelmed because according to Tinio, the health worker to patient ratio is at 1:40,000, which is not even to close to the ideal 1:10,000.
Health workers are really insufficient and one of the reasons is that they would "rather work somewhere else."
Metro Manila has the most doctors.
"In Metro Manila, we have an over-concentration of physicians. In other areas, we have relatively very few doctors in remote areas of Luzon and all over the country as well,"
Tinio says that it is "definitely not fair" when asked what he thought about the ₱500 daily offer to volunteer health workers.
He wants the government to work harder on distributing PPEs (Personal Protection Equipment) to private and public hospitals.
"We're willing to procure them, (but) they're not available. The government, probably they would have supplies available."
In a separate interview, Rustico Jimenez, president of the Private Hospitals Association of the Philippines agrees with Tinio saying that the DOH should "immediately release" and distribute the PPEs to hospitals.
This is essential to avoid further deaths of frontliners.
"We still have to request to them when to deliver and where to deliver the donated PPEs and others. It should be distributed immediately to save our frontliners. There should be no delay."
"Do not wait for more frontliners to die and to be quarantined," he added.
Tinio showed his gratitude towards those who are continuously supporting the health workers.
"I would like to recognize and thank all those who have been active in providing for assistance and services to the medical professionals, all other healthcare providers as well, especially those people who have been giving us donations in the form of PPEs or food or anything to that effect,"
The Philippines has had a total of 1546 confirmed cases of COVID-19 with 78 deaths. The front liners, specifically the health workers obviously have higher risks of getting infected. 8 of the 12 doctors who have died have been revealed, while the other 4 remain undisclosed.
Dr. Greg Macaset
Macaset was an anesthesiologist from Manila Doctors Hospital, and was regarded as one of the best in the country. He died on March 22. His wife Dr. Evalyn Macasaet also tested positive but is already recovering.
Macaset's last text messages were shared on social media before he passed away.
He knew that there was no way he was going to make it.
"Good evening, my beloved brethren! The turn of events is just no longer going in my favor. The feeling you get, aside from extreme pains all over, the difficulty of breathing and as if all life is being sucked from your body!
"They will be putting cut down lines and central tubes on me anytime soon! If they intubate me and place me on a ventilator, then the game is almost over!"
He hoped that his wife would recover and that she and their son would live long and happy lives.
"If Ateng (referring to his wife) survives, then my wish for her and Raymond (his son who has autism) for a long and happy life will bear fruition!"
Dr. Israel Bactol
Bactol worked as a cardiologist at the Philippine Heart Center and was 34 when he passed away on March 21. His death angered a lot of people after he was exposed to a patient who lied about traveling recently to China. After three days, the patient told the truth but it was too late. Both patient and doctor died because of the virus.
Dr. Raul Diaz Jara
The former president of the Philippine Heart Association was considered as one of the  "great pillars" of cardiology in the country.
One of his children considered him as what a leader should look like.
"Papa is a tower of strength and leadership and he served as the head of our family and a beacon of hope for many in the midst of this crisis."
Jara passed away on March 24.
Dr. Rose Pulido
The medical oncologist from San Juan de Dios Hospital died on March 21 due to COVID-19.
Dr. Marcelo Jaochico
Jaochico is known as the first-ever doctor to the barrios assigned in Apayao for about 16 years. Jaochicho was one of the first to handle COVID-19 situations in Pampanga. After his death on March 24 while working as a provincial health officer in Pampanga, his daughter Cielo told people on social media to tell their parents how much they love them.
Dr. Sally Gatchalian
The decorated doctor died on March 26 while working as a pediatric infectious diseases specialist at the Philippine General Hospital and Research Institute for Tropical Medicine. At the time of her death, she was also the president of the Philippine Pediatric Society, Inc.
Dr. Helen Tudtud
The Cebu City-based pathologist was 66 when she died on March 27 due to the coronavirus. Her co-workers described her as a kind-hearted woman.
Dr. Francisco Lukban
University of the Philippines' Dr. Francisco could no longer fight against COVID-19 and died on March 25.
UP Manila's Office of the Chancellor confirmed his death on social media.
"The members of the UP Community extend their condolences and sympathies to the family of Dr. Francisco Lukban, UP College of Medicine Class 1982, who passed away on March 25, 2020 due to COVID-19."
Netizens showed their gratitude towards the heroes.
https://twitter.com/dexterbutedjr/status/1242989408673861632?s=20
Tribute to a Hero and a Servant: DR. GREG MACASAET
(Thank you, sir. Rest in Peace.) pic.twitter.com/HYPivFBTZY

— UP MANILA (Official) (@UPManilaOnline) March 24, 2020
https://twitter.com/weinsworld/status/1243086921837842432?s=20
Wrote a story today regarding a frontliner who died in line of duty. Was puzzled at first why the hospital named him but then heroes should be honored. Their deeds need to be celebrated. Their lives should not be reduced to a mere statistics. To Dr. Israel Bactol of PHC, salute!

— ray (@rajavil) March 22, 2020
Watching #KMJS15 segment, was moved to tears by the segment on the passing of Dr. Israel Bactol.

I feel sorrow. I feel pain. I feel for the health workers who face this virus everyday, knowing the risks, and yet continues to fight the unseen enemy to keep the rest of us safe.

— kiko rustia (@kikorustia) March 22, 2020
Another frontliner, Dr. Raul Diaz Jara succumbed to the coronavirus. Dr. Jara is a cardiologist at the Philippine Heart Center. He selflessly treated indigent patients, NGO workers, and even activists. He is a hero of the Filipino people. Salute!#FightCOVID19 #MassTestingNowPH pic.twitter.com/5eCXDPcHcU

— StopKillingFarmers (@kmp_phl) March 24, 2020
Before helping COVID patients, Dr. Rose Pulido was in service to patients suffering from cancer.

Thank you for the countless times you've extended your hand to those in need. You have lived a remarkable life of service.

Your fellow Lasallians are immensely grateful, Dr. Rose🌹 pic.twitter.com/epBaJ5dOBQ

— ➳ For the Lady Spikers ➳ (@MissEverywhere_) March 22, 2020
We are saddened by the passing of another hero, Dr. Marcelo Jaochico.

Our prayers and sympathy go to his family and loved ones. Stay strong! pic.twitter.com/jKUBk5mIGb

— Now You Know (@nowyouknowph) March 24, 2020
Please include in your prayers and Mass intentions, Dr. Marcelo Y. Jaochico, the Provincial Health Officer of Pampanga who passed away today, 24 March 2020, at 6:37 p.m..

He died in the line of duty.

Eternal rest grant unto him, O Lord.#COVID2019 #frontlinerdown pic.twitter.com/xxicxTflvW

— Itamung Talasalpantaya (@ItamungT) March 24, 2020
https://twitter.com/MinguitaPadilla/status/1242971431144542208?s=20
https://twitter.com/irenequinio/status/1243051681622843392?s=20
COVID-19 has once again claimed the life of another doctor – Dr. Helen Tudtud. She was a medical specialist/pathologist of the Vicente Sotto Memorial Medical Center (VSMMC), according to her Linkedin profile. She graduated from the Cebu Institute of Medicine.

— Catriona Bondad (@BondadCatriona) March 28, 2020
Embodiment of Courage and Excellence — DR. FRANCISCO AVELINO SIY LUKBAN

Thank you, sir. Rest in Peace. pic.twitter.com/E8lo8CwVpE

— UP MANILA (Official) (@UPManilaOnline) March 28, 2020
After receiving backlash from the public for only offering ₱500 as a daily wage for health workers to be on the frontline, the DOH (Department of Health) has been able to convince 690 doctors and nurses to volunteer and be designated to three different hospitals that would only cater to COVID-19 patients.
"No amount would ever be equal to the service you have committed to render our countrymen as you prepare to support other healthcare workers already at the frontlines."
The agency apologized for the laughable offer they have for their health workers, saying that this is based on the "previous volunteer program for the outbreak response that was implemented last year."
President Rodrigo Duterte just signed the Bayanihan Act which will possibly increase the compensation for health workers once everything is in place.
"With the passage of the Bayanihan Act…we anticipate more flexibility to realign budgets further and receive additional funds for emergency hiring of temporary healthcare workers, among other equally important initiatives."
ACT-CIS Rep. Eric Go Yap said that the government is more than 'willing' to pay volunteer health workers the equivalent of the regular salary of their counterparts who are newly-hired by government.
Dr. Geneve Reyes, secretary-general of Health Action for Human Rights said that this would be equal to ₱50,000 for doctors and ₱22,000 for nurses.