Seven years ago, the late Senator Miriam Defensor Santiago filed Senate Bill no. 1573 Pandemic and All-Hazards Preparedness Act which most people think would be of significant help at a time like this.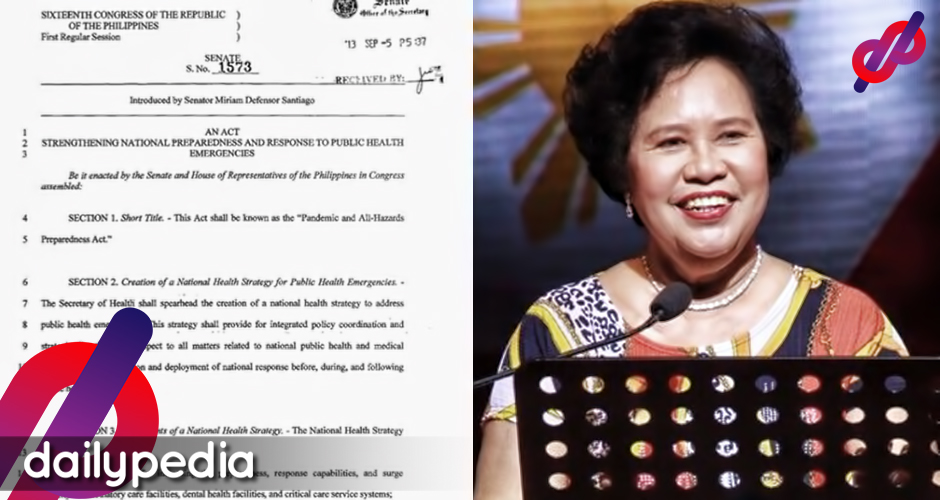 Bill no. 1573 is still  "pending in the committee," and is aimed towards strengthening national awareness and responding to public health emergencies. This was filed on September 5, 2013 after "health experts started emergency international meetings to devise ways of combating a mysterious virus that has been described as the single biggest worldwide public health threat", referring to the Middle East Respiratory Syndrome (MERS). People labeled MERS as the "new pandemic", and people thought that it would be more destructive than the SARS coronavirus outbreak from late 2002 to July 2003.
The information is taken from senate.gov.ph.
The bill is designed to keep the public prepared for various emergencies, from natural disasters to mass casualties.
"This bill is built upon such wisdom by seeking to strengthen national response and preparedness for public health emergencies, such as those which result from natural disasters and severe weather, recent outbreaks and pandemics, bioterrorism, mass casualties, chemical emergencies and radiation emergencies,"
This bill would allow the Department of Health (DOH) the mandate to undergo evaluation, planning, organizing and training to improve the country's preparedness prior to a health emergency's existence.
The Secretary of Health will be able to "spearhead the creation of a national health strategy to address public health emergencies," which includes "plans for optimizing a coordinated and flexible approach to the medical surge capacity of hospitals, other health care facilities, critical care and trauma care, and emergency medical systems."
The DOH, National Disaster Risk Reduction and Management Council (NDRRMC), Department of Interior and Local Government (DILG), National Security Adviser, and the Philippine National Red Cross (PNRC) will then be forming a coalition to fight against an existing health crisis under the bill.
If necessary, health professionals would also volunteer to fight the current problem. This bill would have made such a big difference had it been approved, especially to the DOH, which is having getting attacked on social media for trying to recruit volunteers.
So far, nearly 700 have signed up to be volunteers.
Santiago's proposal has been a great topic of late, and netizens are saying that her bill would prove to be essential during this trying time.
https://twitter.com/NikoLawDion/status/1243815122465783808?s=20
https://twitter.com/megdcn/status/1243585025305505792?s=20
Just so you know guys, Miriam Defensor Santiago wrote a Bill that will help the Philippines during a Pandemic/Epidemic. Tatak Miriam! She's still guiding us.

Read the bill here: https://t.co/LHgDgak4dv pic.twitter.com/Mg2AHXMenO

— PGee 🇵🇭 (@Popoygee) March 26, 2020
https://twitter.com/m03y09g93/status/1243840616980598784?s=20
There was that bill in 2013 authored by the late sen miriam santiago intended for the country to be prepared in case of pandemic crisis of this magnitude..But no one care then..Now the same LPs are demanding the pres.for quick solutions ..See how hypocrites they are..

— gerry (@gerrydeleo) March 30, 2020
https://twitter.com/gaganotlady/status/1243883497070215169?s=20
On September 5, 2013, the late Miriam Defensor-Santiago filed the Senate Bill No. 1573, also known as "PANDEMIC AND ALL-HAZARDS PREPAREDNESS ACT".

This woman knew what this country needed for the future. pic.twitter.com/LiIJo9gvfH

— marx (@kharlmarx) March 28, 2020