At least two people were hurt when a swinging carnival ride broke apart at the Ynares Complex in Antipolo City last Sunday.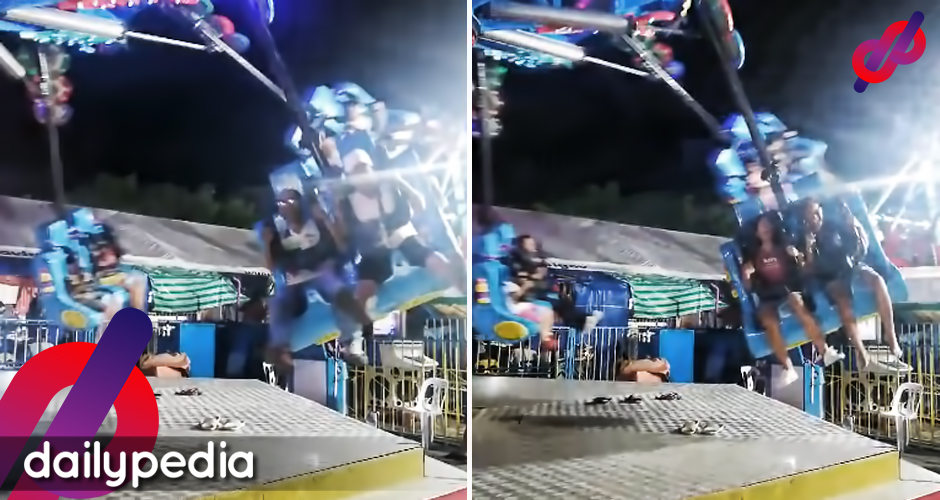 The horrific incident was captured by a certain Jerwin Lara Dimaisip on a video, which he uploaded on his Facebook on December 29.
The video has already gone viral on social media.
The almost two-minute long footage started off fine with passengers enjoying the ride.
But seconds later, the swinging ride called "Spiral Jet" suddenly malfunctioned and broke apart, flinging some passengers out onto the steel platform of the ride.
The carnival staff and some bystanders quickly came to the rescue and those who were hurt were rushed to a nearby hospital.
Jerwin said seven of his relatives composed of his father, siblings, nephews and nieces, were on the ride at the time of the accident.
He said he was thankful that no one from his family got hurt in the accident.
"Naku! Last na sakay na namin dyan at delikado pala. Safe naman sila lahat. Di sila kasama sa aksidente. Salamat," he commented on his post.
The carnival operators have reportedly shouldered the hospital bills of the victims.
The video posted by Jerwin has since garnered over 7,800 reactions and it has been shared 19,000 times.
It also received more than 500 comments.
The video has made many netizens afraid of riding carnival rides.
Here are some of the netizens' reactions to the post:
"Kakatakot mag rides na."
"Mag ingat sumakay sakay sa mga rides… sa Ynares Antipolo ito nangyari."
"Kaya ayaw ko sa mga ganitong klaseng rides. Feeling ko bara bara lng ikinabit ng mga nag-assemble."
"Gusto nyong sumakay dyan, nakakatakot."
"Wag na kayo magra-rides."