Kaylen Ward has been disowned by her parents
Ward doesn't care because she's doing it to help
People praised her on social media
20-year-old Instagram model Kaylen Ward went on Twitter and promised her followers that she will be sending them nudes if they donated to Australian fundraisers.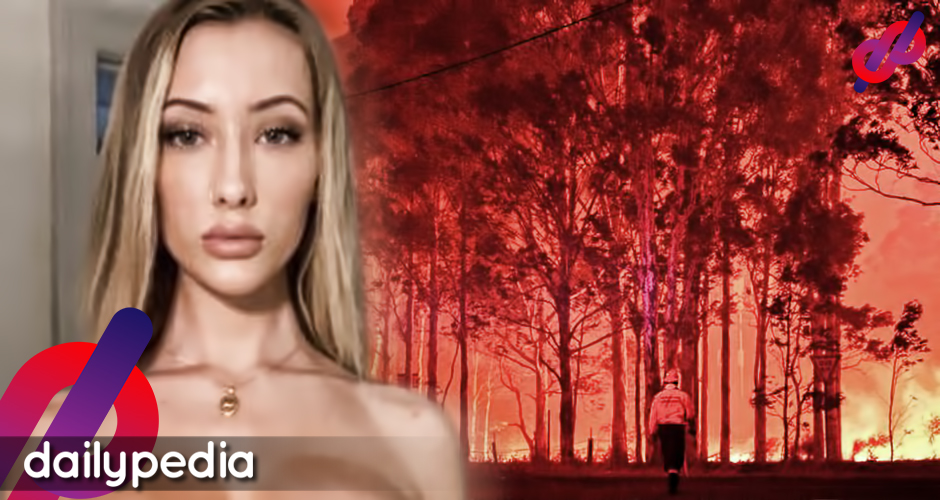 The Australian wildfires have wiped out nearly 500 million animals since it started.
Ward said that whoever donates NZ$10 or more to help out the situation in Australia will have the chance to see her naked body.
I'm sending nudes to every person who donates atleast $10 to any one of these fundraisers for the wildfires in Australia. Every $10 you donate = one nude picture from me to your DM. You must send me confirmation that you donated.
Please RT #AustraliaOnFire #AustraliaFires pic.twitter.com/VIgzCUy6Wf

— THE NAKED PHILANTHROPIST (@lilearthangelk) January 4, 2020
It nearly has 70k retweets and 162k likes.
As of this writing, Ward has raised an estimated NZ$751,428 for bushfire relief.
Unfortunately for her, things aren't doing so good with her family, but she doesn't care because deep down she knows she's doing a great thing.
My IG got deactivated, my family disowned me, and the guy I like won't talk to me all because of that tweet. But fuck it, save the koalas.

— THE NAKED PHILANTHROPIST (@lilearthangelk) January 5, 2020
There are also those who are making fake accounts to try and capitalize on her success.
How do I get twitter to verify my account so people stop making fake accounts of me

— THE NAKED PHILANTHROPIST (@lilearthangelk) January 6, 2020
I DO NOT HAVE AN INSTAGRAM ACCOUNT RIGHT NOW. If you're following one it's a fraud. Report.

— THE NAKED PHILANTHROPIST (@lilearthangelk) January 5, 2020
Some people are just too cheap to donate, so they try and fake a donation, but Ward easily identifies them.
The fact that two people used the same photo to fake a donation is so disgusting. If you're that broke that you can't donate $10 to a good cause to literally save a burning country but instead scam me out of a free nude, you're the lowest of the low. pic.twitter.com/r4Gam3i2H0

— THE NAKED PHILANTHROPIST (@lilearthangelk) January 4, 2020
People are praising Ward for her efforts.
https://twitter.com/AlexEatsZombies/status/1214036364150411264?s=20
https://twitter.com/unami_patch/status/1214095521620647936?s=20
Just wanna say thank you from an Australian sex worker, both for raising so much money for my country and bringing awareness that sex work is real, valid work. Ignore the haters, you're amazing. <3

— Jessica Luna 2.0 (@jessicalunacos) January 6, 2020
https://twitter.com/JuliantinaFORme/status/1214091616664768514?s=20
Don't let them get to you. You raised so much and you have inspired many of us SW to do the same thank you

— Hope Sweet (@hopesweet01) January 6, 2020
Every Australian state experiences wildfires, but New South Wales has it worse. Nearly 500 million animals have been killed by the fires. Melbourne and Sydney are heavily affected as well.
Fire season starts during summer, when the weather is dry which increases the chances of bushfires.
Dry lightning is also one of the big causes of fires, but most people blame climate change.
Wind also plays a factor in increasing the severity of fires. Back in December, a fireman was killed because the wind forced his truck to rollover.
5.9 million hectares have been burned, which affects all 6 of Australia's states.
As of now, 24 people have died because of the bushfire.
Federal Environment Minister Sussan Ley says that one-third of koalas in NSW have been killed, and one-third of their habitat has been wiped out.
Army personnel, air force aircraft, and navy cruisers are also out there helping firefighters.
Additionally, Steve Irwin's family has saved over 90,000 animals from dying.
The fires are not expected to end anytime soon since January and February are usually the months were the fires can get worse than what it is today.