The transwomen were seen as the aggressors
The guard, according to the transwomen, was very disrespectful towards them
Last August, transwoman Gretchen Diez made headlines nationwide after being assaulted and arrested for going live on Facebook while inside a female restroom at a mall. A mall guard had refused to let her use the women's bathroom which escalated into an altercation.
Now a similar incident has happened.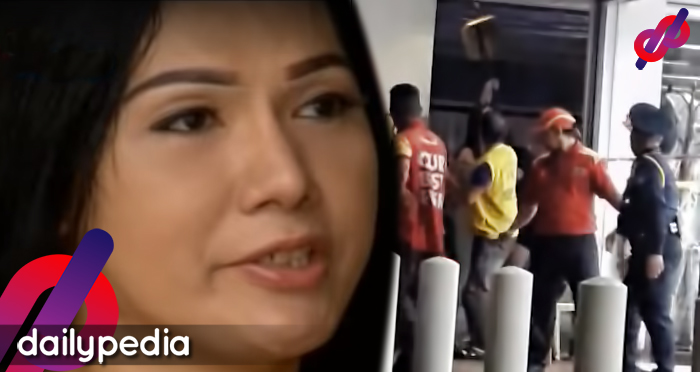 Netizen Macky Padilla Onrubia posted a video that went viral on social media.
The video shows a Shell gas station security guard going at it with a bunch of transwomen outside a pharmacy in Almanza, Las Pinas.
The altercation got heated as time went on.
Both parties were throwing expletives at each other out of anger.
One of the transwomen was shown getting aggressive first and shouting, "Tangina mo!"
The guard responded by saying the same.
Another transwoman wearing an orange shirt then said, "Suntukan tayo," as one of her friends tried to hold her back.
She then charged at the security guard and was able to slightly grab onto him.
The guard then grabbed a chair to defend himself.
One of the transwomen could be heard saying, "Public toilet, pagbabawalan mo kami, gago pala kayo eh!"
The guard responded by saying, "Doon kayo gumamit sa lalaki!"
A transwoman then grabbed a dust pan and swung it into the air ready to hit the guard.
"Tingnan natin kung sino mas malaki s'atin."
The gas station employees then jumped in to stop the fight. The security guard eventually walked away, but the transwomen stayed and continued to talk trash about the guard.
In a recent interview, one of the transwomen said that they were just there to buy some drinks but they first went inside a female restroom. According to her, the guard shouted at them saying they can't be there because there is an ordinance preventing them from using the women's restroom.
She and the guard went at it for a while until her friends called her to just leave. The guard was still angry and went after the group, which was the part that was caught on video.
According to one netizen by the name of Michael Boñon, the incident happened near a gas station at T.S Cruz. He was able to speak to the guard about the whole incident.
The guard said that when the group went inside the restroom, females inside complained about them and that is why he did what he did.
Netizens react to the craziness.
"Yang un mga baklang walang breedingggg….😂😂😂 porkee nkapustura na babae lalake pdn kau kea dpt sa cr pdn kau ng lalake ngccr kalokaaa asan ang mga utak"
 "I support LGTVWITHCCTV…. SUSUBO pero di susuko….."
"Kasuhan na yan! Sya una nanakit. Ke laki na ng ulo ng mga pekeng to!"
"Parang bouncer. Nagbabakla baklaan lang ata yan eh"
"o diba? sa tapang nila mas lalake pa sila kay kuya guard? yan ba papayagan nyo mag cr sa cr ng mama nyo, kapatid nyo, gf nyo at asawa nyo? naku po"