Is Cameron Diaz holidaying in El Nido, Philippines? Some people on social media don't think so
After retiring, Cameron Diaz gets well-deserved vacation in El Nido according to some news outlets
Food entrepreneur Happy Ongpauco-Tiu shared photos of the same woman staying at Vanilla Beach in different angles
El Nido, Palawan is one of the Philippines' prime tourist destinations with its white sand beaches. It's no wonder that foreigners from all over visit the island paradise.
One such recent visitor was supposedly Hollywood actress Cameron Diaz whose pictures went viral on social media.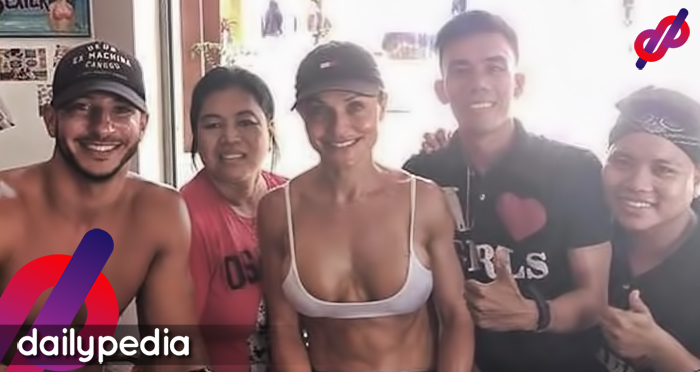 In the photos, some Pinoys posed with a Caucasian female wearing a white sports bra top who bore a striking resemblance to the Charlie's Angel star. Even local news sites soon picked up the story and published it on their pages, which got some people excited about the idea of an international star vacationing in the country.
On May 21, Happy Ongpauco Tiu said the tourist in the photo claimed to be Diaz when she was dining at her restaurant Backyard BBQ.
But was it really Cameron Diaz though? Many netizens reacted and stated it wasn't her but a lookalike.
So apparently, Cameron Diaz wasn't really in El Nido but a random Caucasian lady who looked like her LOL

— Ram Lopez-Vito Bucoy (@Rambuc) May 26, 2019
https://twitter.com/roy_wanders/status/1133011223052611584
Nyahahaha hindi pala si Cameron Diaz yung nasa El Nido.. Eto namang si ate white girl sinakyan ampotah. Hahahaha!!

— Jerald Napoles (@IamJNapoles) May 25, 2019
https://twitter.com/roy_wanders/status/1133011223052611584
Cameron Diaz and Bradley Cooper in El Nido. Damn!

— Lawr'yeng (@Lawryeng) May 22, 2019
Cameron Diaz is in El Nido the same day as I am!! We're breathing the same air!!!!

— Romar (@rightnowromar) May 21, 2019
https://twitter.com/TheFoodByCam/status/1131557554063069184
Even celebs like Anne Curtis and Karen Davila weighed in and said it wasn't the Hollywood star.
In another Instagram post on Saturday, Tiu corrected her earlier post from Tuesday where she shared photos of her restaurant's staff with a woman who looked a lot like Diaz.
"I can't believe our post last week about Cameron (??!!) eating at my restaurant went viral," Tiu wrote on her caption. "She claimed that she's the real 'Cameron' … others affirmed that it is really her and some said she's fake and just a look-a-like. Whoever she may be, I'm just glad that she's enjoying the Philippines and loving my BBQ."
https://www.instagram.com/p/Bx4RgGXjyQd/?utm_source=ig_web_copy_link
Those who met the woman remain insistent it was Cameron. But unless the star herself or known representative confirms or denies it, then the question of whether or not a Hollywood celebrity visited El Nido will remain unanswered.