Professor dies, his dog and bestfriend would not leave him
Netizens compare the story to that of Hachiko's
Faithful dog waits for professor who passed away
A dog will always be man's best friend, and one story proves that again. This should touch any man's heart. It's one of those Hachiko-like stories.
Carmelito Marcelo was a professor at Mabalacat City College. He was really close with one of the dogs in the campus, Buboy.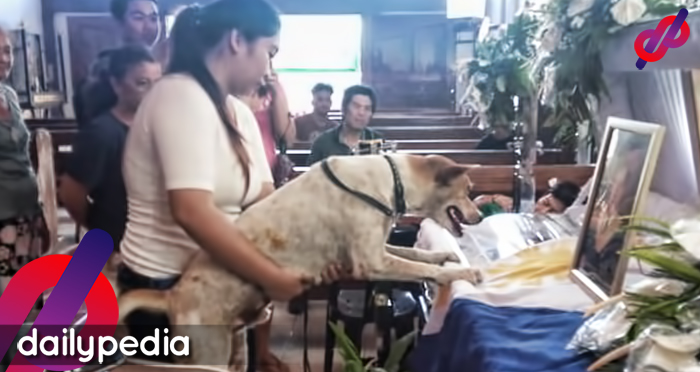 He would feed Buboy everyday, even when there was no class at school, he would go there just to feed the dog. He was a truly kindhearted individual.
Then one sad day, Carmelito died of natural causes.
One of his students, Kristina Demaflix, posted the story of Carmelito and Buboy, which had netizens crying.
"Everytime I saw you Buboy, naiiyak ako 😥… Mawalan nga ng alagang aso masakit e 😢😢. Mawalan pa kaya ng amo?"
She posted photos of Buboy lying by Carmelito's coffin. There were photos of Buboy inside the classroom with Carmelito, and Buboy waiting outside the faculty room, etc.
But one photo really broke netizens' hearts. The photo showed Buboy standing on a chair,  leaning over with both his front legs on the coffin. The dog was heartbroken.
Buboy always followed Carmelito everywhere he went. He would greet the professor at the campus gate. He would wait outside the faculty room to get his food. He would even accompany Carmelito to the gate when he goes home.
"Yung everytime na magkaklase sya nakasunod ka saknya, kaht san sya magpunta nkasama ka sknya, pag pasok palang nya sa gate ng school magtatatakbo ka para salubungin sya, yung pag lunch time andun ka sa pinto ng faculty nla ksi hinihintay mo ung pagkain mo."
There is a new video that surfaced that shows Buboy waiting outside the faculty room and scratching the door, but what he does not know is that Carmelito is not inside, but has already passed away.
During the burial, Buboy did not want to leave Carmelito.
Regarding his life at campus, people are taking care of Buboy and is being fed well.
The post has over 80,000 likes.