A Boys' Mobile Legends account gets banned for 10,494 days
Boy burst into tears after he is banned from playing Mobile Legends for 30 years
Boy who got banned in Mobile Legends used Map Hack to win
Remember that little boy who got his Mobile Legends account banned for over 10,000 days? Well, here is the truth to what happened.
His name is Tenten, the youngest of the brothers, and the one who recorded the whole incident was his big brother, Mak Samonte.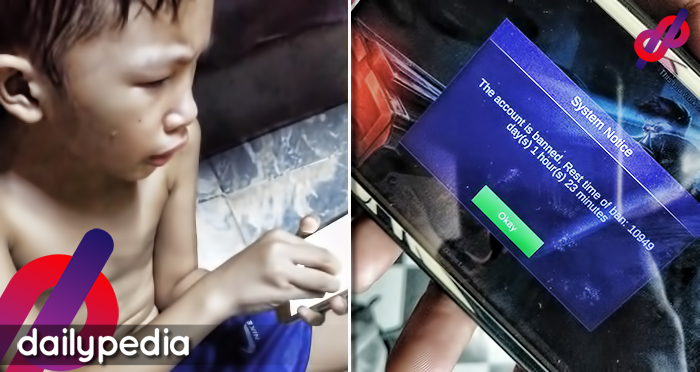 In our exclusive interview with Mak Samonte, he said Tenten started playing the ever so famous Mobile Legends back in December of last year, and that he is really fond of mobile games. "Nag start sya last year sir. December 2018 nag lalaro na sya ee. Wala lang nag laro lang sya. Mahilig kase sa games to ee."
At the time of his account getting banned, Tenten was using the hero Argus and his rank was Grandmaster, which indicated that he put in a lot of time and effort to that game. "Grandmaster 4. Argus huling ginamit nya ee. Basta yung argus huling nagamit nya. Di ko kase kabisado yung account nya. Bigla nlng syang naban tapos mag cheat."
Then Tenten and one of his brothers started getting on YouTube to learn how to cheat the game.
The other brother was actually the one who caused Tenten's account to be banned. He was using their shared account on another phone. The cheat he used was the map hack, which is downloadable.
"'Yung kapatid kong pangatlo ang nag cheat sa account nya. Kaya maririnig mo sa video na "CHINEATAN AKO NI KUYA" natutunan sa youtube. Nanunuod sila tpos ginagaya. Kaya yung account ng bunso kong kapatid yung napahamak. Kaya mapapansin mo mag kaiba yung phone sa pic at vid kase dun ni log-in yung account."
It basically enables the player to see the location of opposing players in the game, which makes it difficult for opponents to win.
When Tenten found out that the account got banned, he immediately said, "Chineatan ako ni kuya!", as tears were flowing.
So they just decided to create another account because waiting for 10,000 days would take forever. "Gumawa nalang ng bagong account. Masyadong matagal yung 10k days. Hehe."
The little boys now know the consequences of cheating, and learned that if they ever decide to do it again, all their hard work will just go down the drain.
"Naging lesson nman na wag na sila gumamit ng cheat kase yung mga pinag hihirapan nila sa ML na mga hero mawawala at babalik sa umpisa. Mahirap mag parank kase."
Mak urges players to not cheat because it is not worth it. All the money, time, late nights would mean nothing if their accounts get banned.
"Na wag na nilang tangkain. Kase totoong mababan yung account nila at masasayang yung mga pinag hirapan nila.😊"