"This could be our last mother's day together!"
Father is proud of his son
"I only have one mother, but with my studies, I can go back to them later."
A college degree can open a lot of doors for anyone who has it. Education is undeniably important, but what is more important is family. This is what exactly what Liu Xinhong thinks.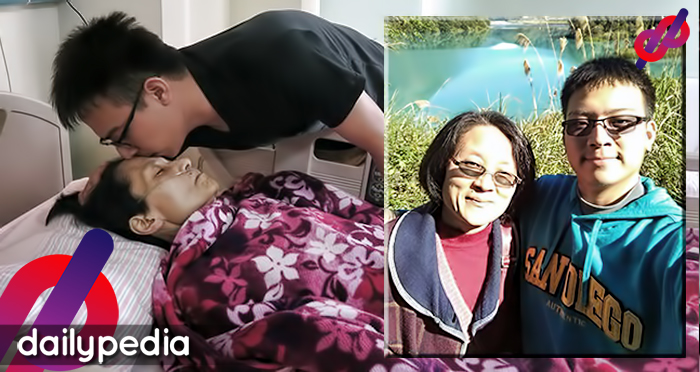 Liu decided to stop pursuing college education for a while to take care of his mother who was diagnosed of parotid cancer. About a year ago, he was just another freshman at a university in Yulin County, Taiwan, but now he is more like a nurse at his mother's Peace Ward, attending to her every single day.
Liu understands that family should be placed above all, and that a college degree can be pursued anytime.
As he was crying, he said, "Mom has put a lot of time and effort in raising me. She's helped me with homework and lots of other things, but I have not spent much time with her. This could be our last Mother's day together."
Liu always prays that the one above would ease his mother's pain. It seems like he has accepted that there is nothing that could be done to prolong her life.
He is lucky to have a circle of people, including his brother, who helps out after school, who provided emotional support to help him get through this.
Liu's father is proud of him for doing the things that he does, as he cannot attend to his wife since he is running their business.
On Facebook, he showed the world how much his mother means to him.
"Thank you mom for bringing me into this world and for the endless love that you've given me. Now my mom needs caring for and as her son, I have the full responsibility of taking on this role. Everyone must face death one day. It's unavoidable. I think companionship is very important during a person's last days. Facing the inevitable, I would like to discard regret and say goodbye to my loved ones and bless them; isn't it better than just being sad?"