Two Malabon boys proved that honesty still very much alive even up to these days.
The boys surrendered the wallet they found to the security guard.
The owner was able to retrieve his wallet with his IDs and his cash.
Honesty is defined as the quality or fact of being honest; uprightness and fairness. It also speaks about truthfulness, sincerity, or frankness. Or who has the freedom from deceit or fraud.
Nowadays, due to the increasing number of crimes committed by humans, honesty seems to be a rare trait.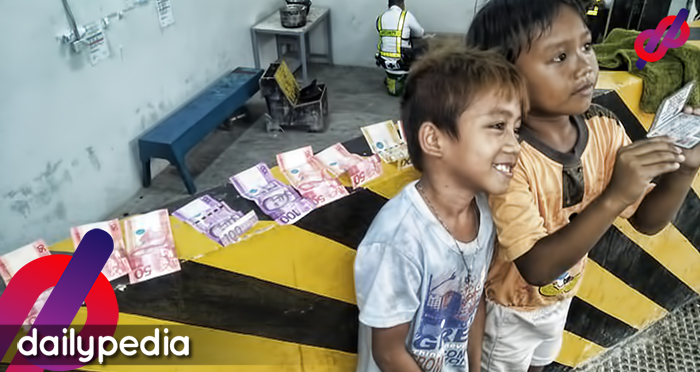 However, for two kids from Malabon City have proved that honesty is still very much alive in them. Perhaps the parents have reared them and put importance on honesty.
A facebook user named Xer Yoker posted a photo of two young boys who found a wallet. Instead of running away with the wallet, these two boys surrendered the wallet and said: "Kuya, kuya may napulot kaming wallet pero di namin binawasan yan😂"
On his uploaded photos, the kids gave the wallet as they looked into its contents. The wallet had some cash and IDs of the owner named Malasig, Erwin Ayag.
The boys seemed to be happy for what they did and had their photos taken.
Unfortunately, in our interview with Yoker, he said that he didn't get the names of those honest boys but they were able to return the wallet to the owner. Due to the honesty that those Malabon boys have exhibited, the owner was able to retrieve his wallet with his IDs and his cash.
The Netizens admired the honest act of the two boys from Malabon. At their young age, they already knew the value of being honest.
"Nabagbag ang kalooban ko sa mga Bata napakabuting bata sila ang sarap damahin ang kanilang ginawa oh dios napakabuting mo sa kanila mabuhay kayo mga anak mabuti ng Bata tapAt" – Babydhel Mutuc
"ang galing naman ng mga batang ito..kahit na makikita mo sa kanila na kailangan nila ng pera mas na una pa rin sa kanila na ipakita ang tamang asal..God bless mga boys..my magandang kapalit yan..😊😊galing kay God" – Che-che Bagona.