Mobile Legends (ML) is a popular mobile game in Southeast Asia.
A boy's ML's account is banned for 10949 day(s) 1 hour(s) 23 minutes.
Netizens suspect that the boy cheated thus making him banned from playing the game.
Mobile Legends is easily the most popular mobile game in Southeast Asia today.
You can see people playing it regardless of where they are. Some schools are even planning on prohibiting students from playing it inside the campus.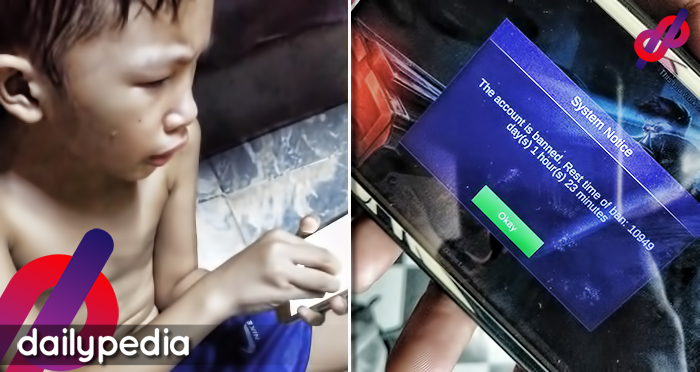 Netizen Mak Samonte posted a video of his son on Facebook. His son was crying while looking at his phone while daddy was clearly enjoying it. He zoomed in on the phone and took a photo.
The phone was running the mobile legends app and there was a system notice that said: "The account is banned. Rest time of ban: 10949 day(s) 1 hour(s) 23 minutes."
Netizens found it to be really funny.
Their theory was that the little boy was using cheat codes in the game, got caught, and was banned. Some were even commenting that Samonte used a fake phone to get attention but proved them wrong. The post has nearly 5000 likes and over 16,000 shares.