Kris Aquino shared her real situation with her brother, former President Noynoy Aquino.
She also admitted to giving money to Nicko Falcis to boost anti-administration posts by Jover Laurio.
Kris Aquino broke her silence about the accusations floating around the internet that she's a supporter of an anti-Duterte administration blog.
READ: Gretchen Barretto supports Nicko Falcis on his battle against Kris Aquino; Queen of All Media remains "chill"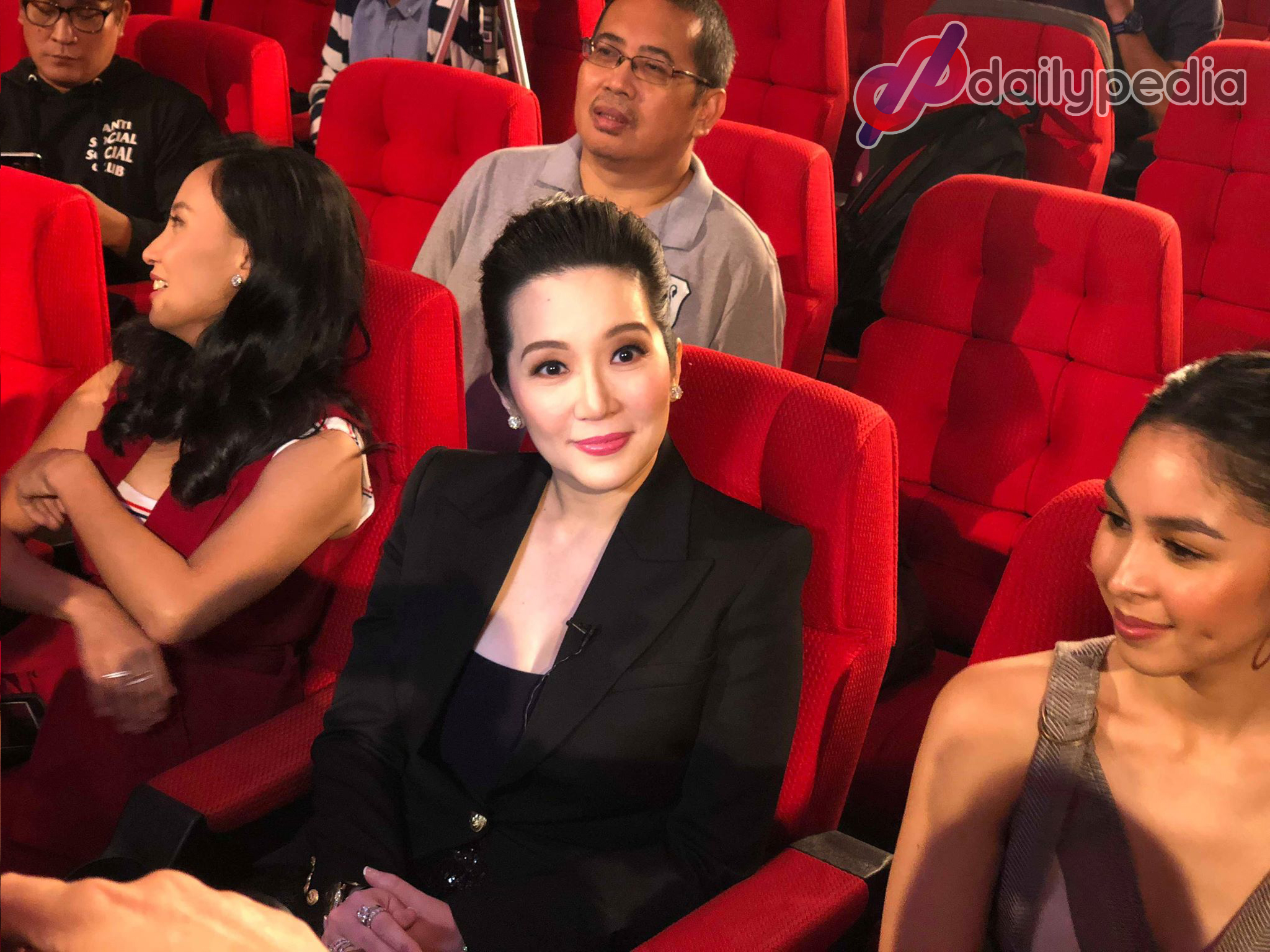 In one Instagram post of the actress, she admitted that her relationship with her brother has been "estranged" ever since the issue involving Korina Sanchez and Mar Roxas, the latter being Noynoy Aquino's ally since he decided to run for President.
"I never wanted you to know kasi nga hinahangaan niyo sa min- we are a united family. But the truth is since that Sunday night in April, my brother and i have been extranged. But he loves my sons enough na sila parating invited. Naiyak, bwisit," she wrote.
She also mentioned the Falcis brothers, Nicko and Jesus, saying that she hopes they're happy as she admitted her current status with Noynoy.
"Happy na sana ang mga Falcis- ito yung ginusto niyo. Malaman ng lahat na hindi kami okay ni noy."
She ended the comment with an apology to her mother, former President Corazon Aquino, as she broke her promise to never fight with Ninoy.
"I am sorry mom, hindi napanindigan yung promise in makati med na come what may hindi kami magaaway."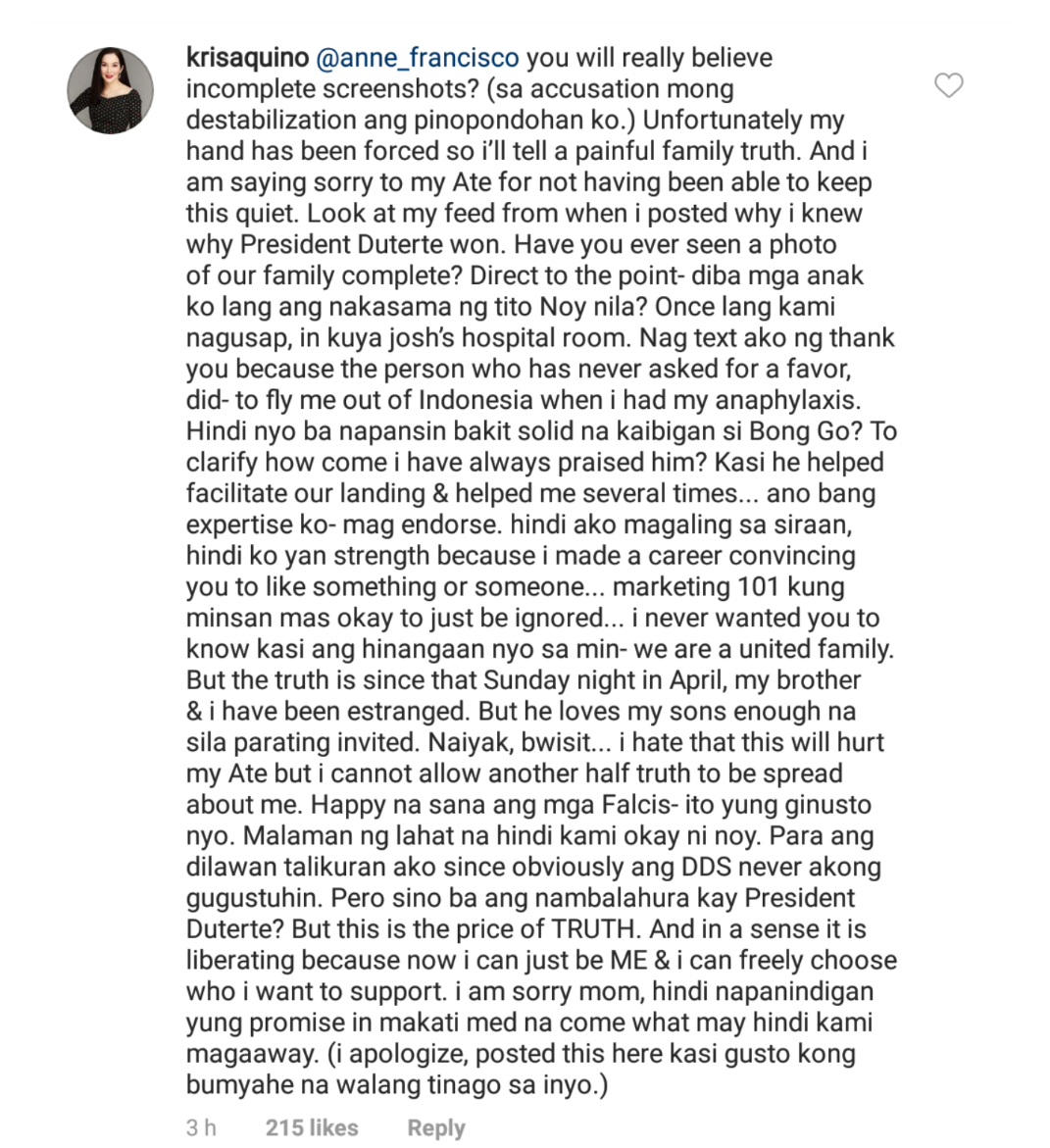 READ: Jover Laurio calls out DDS who plans to ruin her wedding
In a separate comment, she admitted that she did help Nicko in boosting anti-administration articles "para makabawi" but gave instructions to refrain from using the funds for posts against the Marcoses and the Dutertes.
"My instructions to Nicko were always clear- kaibigan ko si Bong Go, hindi ko kaaway and mga Duterte, never attack the Duterte family especially Kitty, wala akong issue sa Marcos children, katuwang ko si bongbong sa kasal ni tony & paul, law firm ni liza marcos ang nag handle at nagpapanalo ng annulent ko. Now with all the issues- siempre ang hinala ko baka nabulsa din yung pondo."
Kris added that her brother never knew about the mentioned post boostings.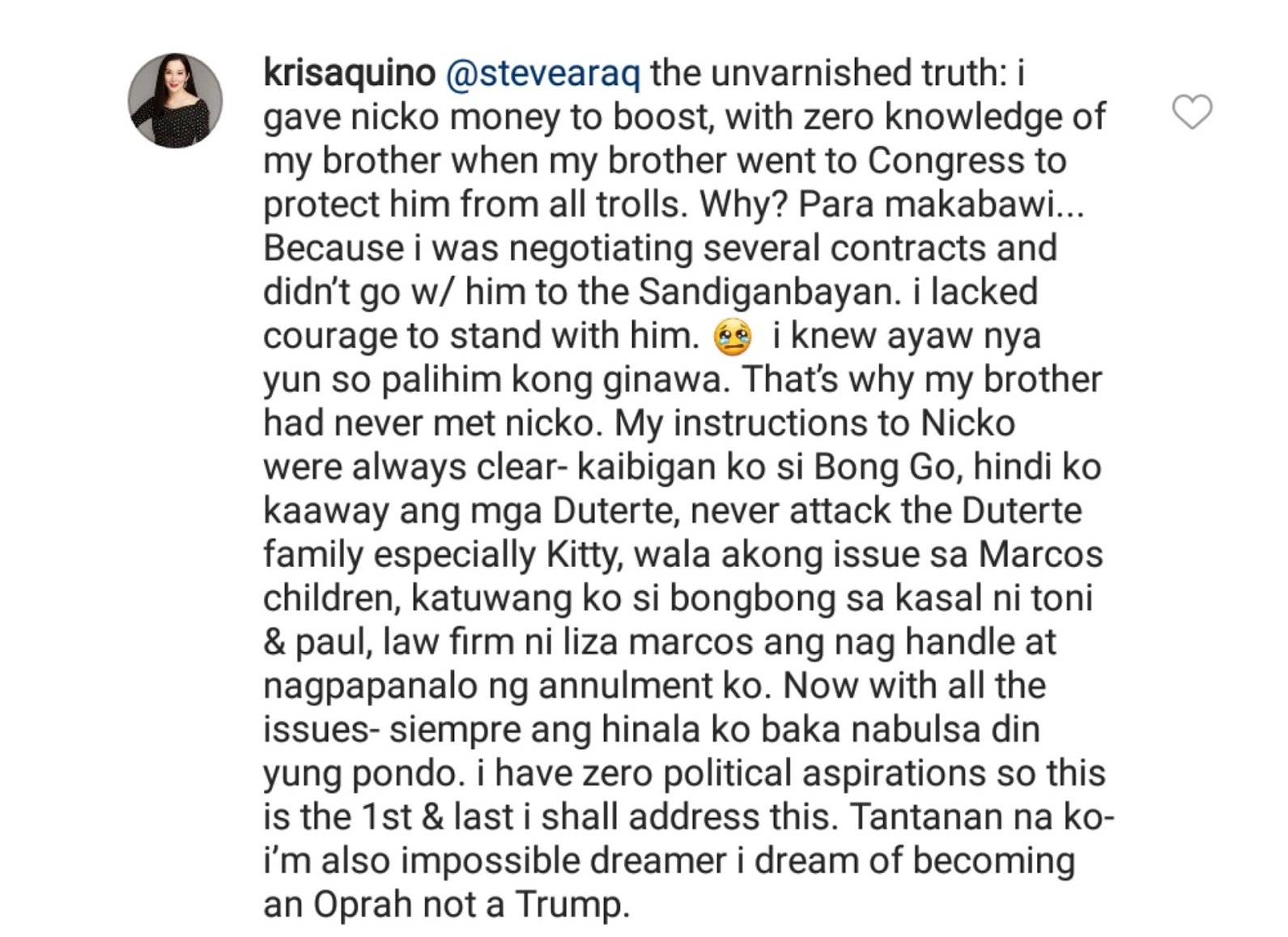 The #PaBoost issue began when Kris' former financial manager, Nicko Falcis, revealed that he gave money to  well known anti-administration blogger, Jover Laurio, to promote articles that are against government officials.
Netizens shared their reactions toward the controversy.
Namamangka sa dalawang ilog. No loyalty. Mabubuhay siya kahit kahit sino ang nakaupo. Mahirap makipag-kaibigan sa ganyang tao.

— Rino P (@dagapusa) January 7, 2019
So this is what the Resibo group in Viber does. Kris Aquino is the boss; she provides the bread. Nicko Falcis allots a budget for boosting fm a credit card meant for that purpose. Jover Laurio is the operator, following instructions whom to hit. Kris created that group as Admin.

— jane abao (@kotawinters) January 7, 2019
https://twitter.com/kinkyGD/status/1082144252317052928