Facebook page shared the difference between local (Filipino) and Chinese workers.
Netizens agreed to the observation on Filipino workers, who tend to fool their employers and purposely prolong their working period.
Due to the ongoing West Philippine Sea or South China Sea dispute controversy, the relationship between China and Philippines has been full of tension.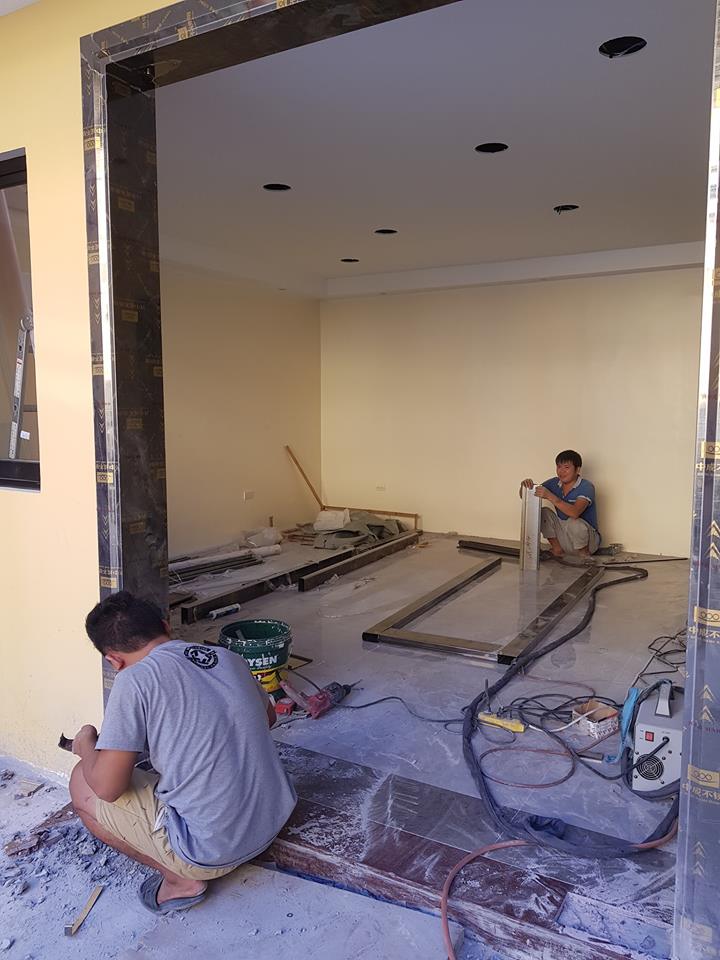 This resulted to continuous comparison and bickering from both sides.
A facebook page called Tatangz posted the difference between Filipino and Chinese workers. It mentioned that the foreign workers have been "invading" the country because employers have complaints regarding Filipinos' work ethics.
"Pasaway kasi pinoy eh. Pag PAKYAW mamadaliin walang tibay ang gawa. Pag ARAWAN pahahabain nila oras nila talo sa bayad aabutin ng ilang buwan"
On the other hand, Chinese workers are said to deliver what they promised.
"Ang Chinese kasi kung ano napag usapan sure tapos agad at masinsin gumawa."
Filipino workers VS Chinese workersFilipino workers are indeed harworking.. no doubt about it.. they will be seen all…

Posted by Tatangz on Saturday, December 1, 2018
Netizens have shared their thoughts in the comment section. Sajor Aicrag Eilahtan said that Filipinos tend to complain a lot.

Pag pinoy 30% ang labor reklamo. Pag 35% ok pero di pulido. Pag 40% ok pero di parin pulido.. 
pero pag chinese 25% ang labor pero pulido. 
Sad reality..
Mae Dychitan stated the downside of employers' choice in hiring Filipino workers.

Yes !! Kapag pakyaw poor qualities of work ..kapag arawan naman sobrang bagal tsk tsk kaya minsan madadala kang magpa gawa
Gian Carlo Jubela expressed that he finds local workers difficult to deal with.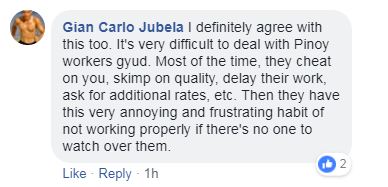 I definitely agree with this too. It's very difficult to deal with Pinoy workers gyud. Most of the time, they cheat on you, skimp on quality, delay their work, ask for additional rates, etc. Then they have this very annoying and frustrating habit of not working properly if there's no one to watch over them.
Marvin Bongares said that even though he has no experience in working with Chinese workers yet, he concurred with the sentiments about Filipinos.

Have no experience with chinese workers but i agree with the sentiment on some pinoy workers.
Tsuyoshi Kenji Ijuin reminded everyone that some Filipinos are also keen on doing illegal things and tend to fool their employers.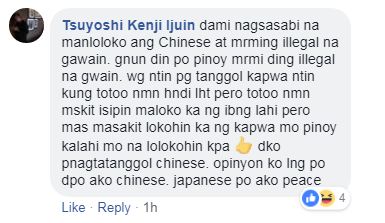 dami nagsasabi na manloloko ang Chinese at mrming illegal na gawain. gnun din po pinoy mrmi ding illegal na gwain. wg ntin pg tanggol kapwa ntin kung totoo nmn hndi lht pero totoo nmn mskit isipin maloko ka ng ibng lahi pero mas masakit lokohin ka ng kapwa mo pinoy kalahi mo na lolokohin kpa 👍 dko pnagtatanggol chinese. opinyon ko lng po dpo ako chinese. japanese po ako peace