Jay Sonza slammed ABS-CBN once again.
He accused them of being greedy as they have allegedly received money from Ilocos Norte Governor Imee Marcos.
Veteran broadcaster and talk show host Jay Sonza slammed the Kapamilya network and accused them of receiving money from Imee Marcos for a political ad.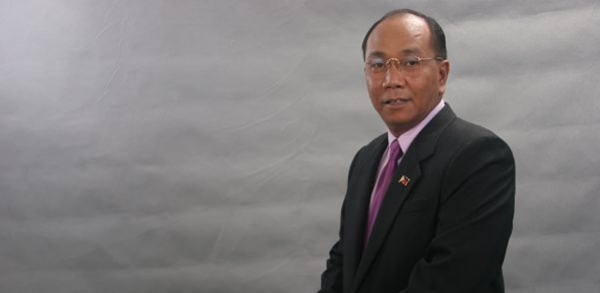 In his recent Facebook post, he said "Mukhang pera talaga ang ABS-CBN!" for letting the Ilocos Norte Governor advertise in their channel.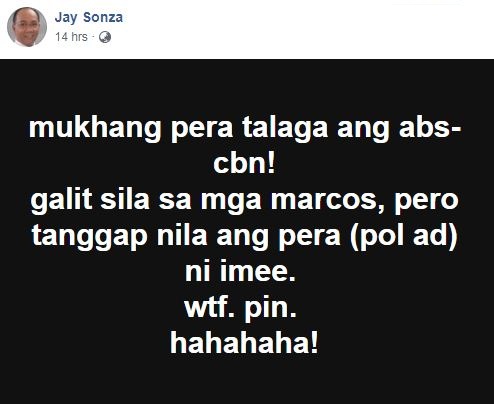 mukhang pera talaga ang abs-cbn!
galit sila sa mga marcos, pero tanggap nila ang pera (pol ad) ni imee. 
wtf. pin. 
hahahaha!
It was not the first time that Sonza slammed ABS-CBN as it can be remembered that last year, he offered six possible reasons why the network dislikes President Rodrigo Duterte.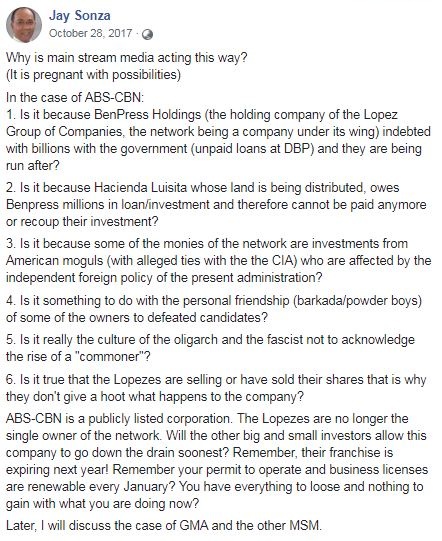 Why is main stream media acting this way? 
(It is pregnant with possibilities)

In the case of ABS-CBN:
1. Is it because BenPress Holdings (the holding company of the Lopez Group of Companies, the network being a company under its wing) indebted with billions with the government (unpaid loans at DBP) and they are being run after?

2. Is it because Hacienda Luisita whose land is being distributed, owes Benpress millions in loan/investment and therefore cannot be paid anymore or recoup their investment?

3. Is it because some of the monies of the network are investments from American moguls (with alleged ties with the the CIA) who are affected by the independent foreign policy of the present administration?

4. Is it something to do with the personal friendship (barkada/powder boys) of some of the owners to defeated candidates?

5. Is it really the culture of the oligarch and the fascist not to acknowledge the rise of a "commoner"?

6. Is it true that the Lopezes are selling or have sold their shares that is why they don't give a hoot what happens to the company?

ABS-CBN is a publicly listed corporation. The Lopezes are no longer the single owner of the network. Will the other big and small investors allow this company to go down the drain soonest? Remember, their franchise is expiring next year! Remember your permit to operate and business licenses are renewable every January? You have everything to loose and nothing to gain with what you are doing now?

Later, I will discuss the case of GMA and the other MSM.
Another incident was when Sonza included some of ABS-CBN's broadcast journalists like  Alvin Elchico, Zen Hernandez, and Karen Davila in his list of "bastos na reporters".