Netizens accused Vice Ganda of being a Marcos supporter after photos of him walking with Imee Marcos spread online.
The comedian clarified that he does not endorse the Marcoses and any politician in general.
Comedian and It's Showtime host Vice Ganda answered accusations about him being a Marcos supporter and endorser.
It started when Twitter user Study of RM (@rmology) uploaded photos of Vice walking beside Ilocos Norte Governor Imee Marcos.
According to the account, Vice is with the governor at Ozamiz City, Misamis Occidental last October 21.

Bakit kaya balot na balot si Momshie @vicegandako kasama si Mareng Imee Marcos sa Ozamis City??? The down fall of the unkavogable star! Oh I forgot Vice and Bongbong history back in 2014.
Netizens then reacted negatively to the photos, taking it as a proof that the comedian is endorsing the Marcoses.

I never liked him before and now more than ever!

Is this recent? Wow, so that explains it! He is not only DDS but also a Marcos entertainer!

Hindi lang pala Dutertard, Marcos apologist din. Keep it up, Vice Ganda. Kaunti man kami sa ngayon pero dadami din kami.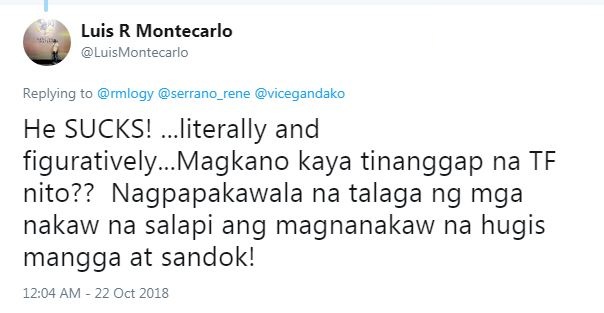 He SUCKS! …literally and figuratively…Magkano kaya tinanggap na TF nito?? Nagpapakawala na talaga ng mga nakaw na salapi ang magnanakaw na hugis mangga at sandok!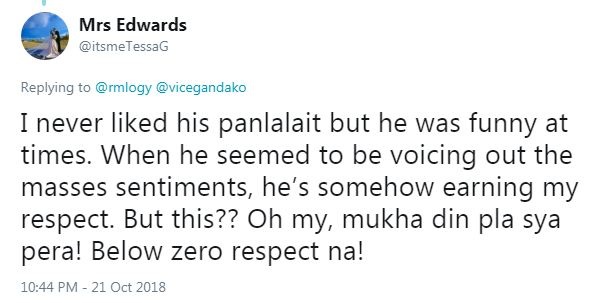 I never liked his panlalait but he was funny at times. When he seemed to be voicing out the masses sentiments, he's somehow earning my respect. But this?? Oh my, mukha din pla sya pera! Below zero respect na!
The comedian immediately defended himself on Twitter, saying that he doesn't care about Imee's purpose in visiting the city as he's there to entertain the people and it was only a coincidence that they had the same flight.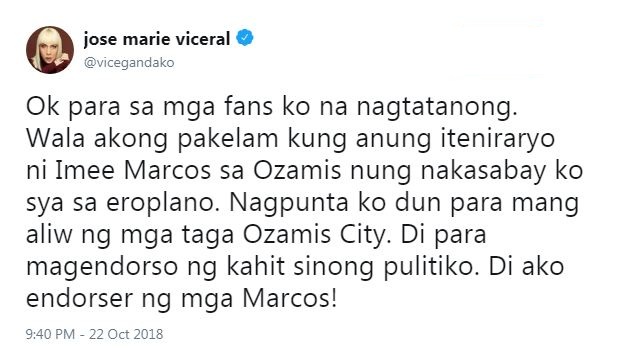 Ok para sa mga fans ko na nagtatanong. Wala akong pakelam kung anung iteniraryo ni Imee Marcos sa Ozamis nung nakasabay ko sya sa eroplano. Nagpunta ko dun para mang aliw ng mga taga Ozamis City. Di para magendorso ng kahit sinong pulitiko. Di ako endorser ng mga Marcos!
He also shared that he found the post funny as people easily jumped into conclusions as soon as they saw the photos.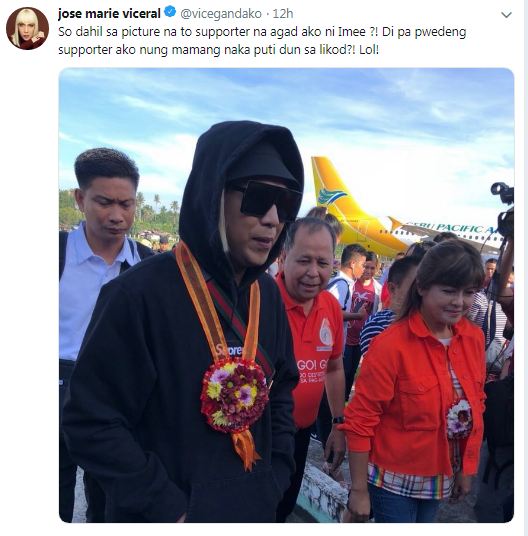 So dahil sa picture na to supporter na agad ako ni Imee ?! Di pa pwedeng supporter ako nung mamang naka puti dun sa likod?! Lol!
The initial tweet about Vice's get-up led to him joking about the existence of a dress code in the Ozamiz City.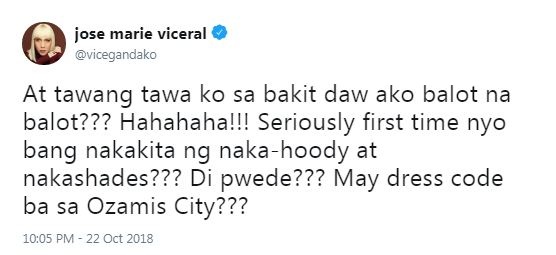 At tawang tawa ko sa bakit daw ako balot na balot??? Hahahaha!!! Seriously first time nyo bang nakakita ng naka-hoody at nakashades??? Di pwede??? May dress code ba sa Ozamis City???