Ogie Diaz shared his thoughts on government's decision to sack Carlos Dominguez III and Ernesto Pernia.
Dominguez and Pernia to be fired over negative statements on proposed shift to Federalism.
Filipino comedian, actor and showbiz reporter Ogie Diaz posts about his thoughts regarding the country's current situation.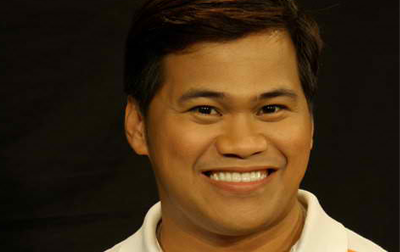 On August 10, he shared Philstar.com's article reporting that one member of the Consultative Committee (ConCom) will draft a new constitution that called on President Rodrigo Duterte to fire Finance Secretary Carlos Dominguez III and Socioeconomic Planning Secretary Ernesto Pernia over negative statements about the proposed shift to Federalism.

Con-Com member and San Beda Graduate School of Law Dean Father Ranhilio Aquino implied that if the President is "for it", he should "sack Dominguez and Pernia or command them to keep their traps shut".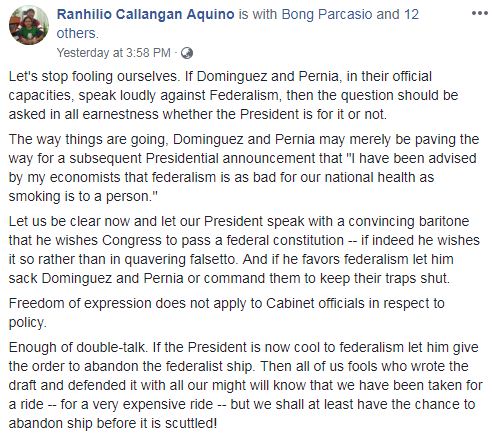 Let's stop fooling ourselves. If Dominguez and Pernia, in their official capacities, speak loudly against Federalism, then the question should be asked in all earnestness whether the President is for it or not.

The way things are going, Dominguez and Pernia may merely be paving the way for a subsequent Presidential announcement that "I have been advised by my economists that federalism is as bad for our national health as smoking is to a person."

Let us be clear now and let our President speak with a convincing baritone that he wishes Congress to pass a federal constitution — if indeed he wishes it so rather than in quavering falsetto. And if he favors federalism let him sack Dominguez and Pernia or command them to keep their traps shut.

Freedom of expression does not apply to Cabinet officials in respect to policy.

Enough of double-talk. If the President is now cool to federalism let him give the order to abandon the federalist ship. Then all of us fools who wrote the draft and defended it with all our might will know that we have been taken for a ride — for a very expensive ride — but we shall at least have the chance to abandon ship before it is scuttled!
On the other hand, Diaz posted and showed the irony in the situation. He questioned the ConCom's decision to sack Dominguez and Pernia.

Tatanggalin ang nagsasabi nang totoo? Pero kung magsisinungaling, mananatili sa pwesto, ganun ba?

Parang inosenteng sibilyan. Binaril. Pero ang sasabihin, nanlaban o di kaya ay lalagyan ng karatulang, "Pusher ako, wag tularan."

Nakalulungkot sa sarili mong bayan.
In a statement on Thursday, Presidential Spokesperson Harry Roque said that the Malacañang is committed to the cause of Federalism.
"Ang unang mensaheng nakuha ko po kay presidente ay naninindigan pa rin sa pederalismo. Sinabi nga po niya sa akin na sa aking press briefing sabihin na talagang committed siya para isulong iyong pederalismo na sinangguni ng Consultative Committee."