Netizen posted about garbage she found in one of the lagoons in Palawan.
Locals explained that the trash were carried away from different countries as plastic wastes are banned in the said place.
Most of us look at Palawan as one of the cleanest places in the country. They advocate environmental care and preservation, which is why netizens were shocked about what one Facebook user has posted.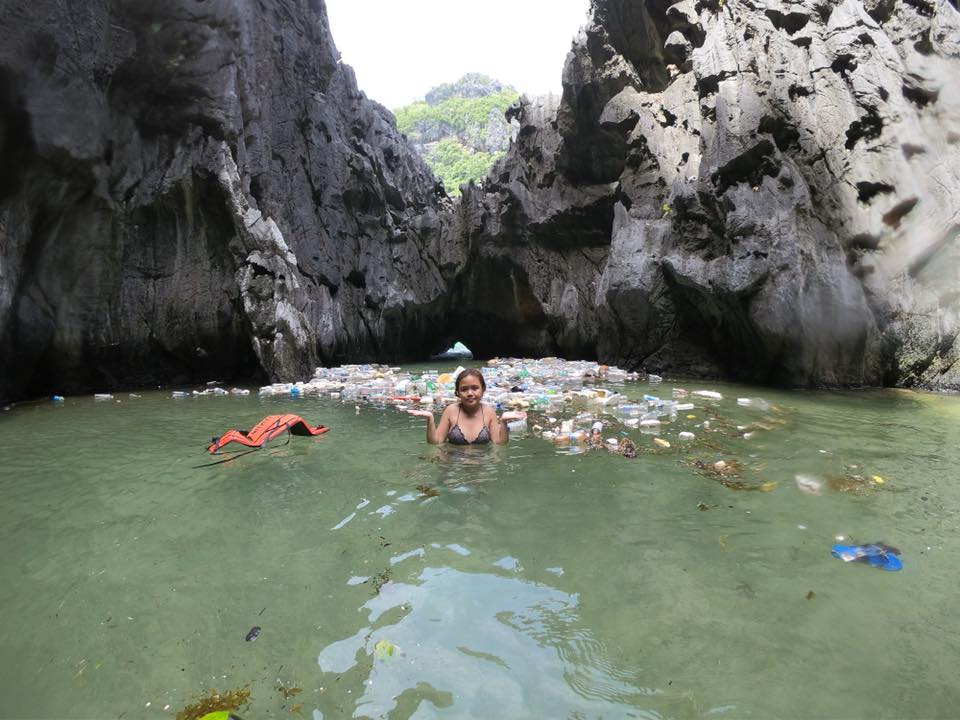 Filipino tourist Ianna Reyes posted videos and photographs of her visit to El Nido. Do not expect crystal-clear blue waters, but rather see a sea of garbage floating as captured in Reyes's shots.
In a small lagoon, there is an overwhelming amount of trash floating in this part of a tourist attraction.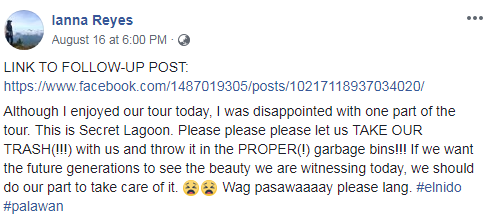 Although I enjoyed our tour today, I was disappointed with one part of the tour. This is Secret Lagoon. Please please please let us TAKE OUR TRASH(!!!) with us and throw it in the PROPER(!) garbage bins!!! If we want the future generations to see the beauty we are witnessing today, we should do our part to take care of it. 😩😩 Wag pasawaaaay please lang. #elnido #palawan
Video Courtesy of Ianna Reyes
The water is filled with floating plastic bottles and styrofoams.
Netizens, mostly El Nido locals, started questioning Reyes's intentions regarding her post. Some have said that she did not do proper research as to to where the garbage came from and why she did not coordinate with the local government right away.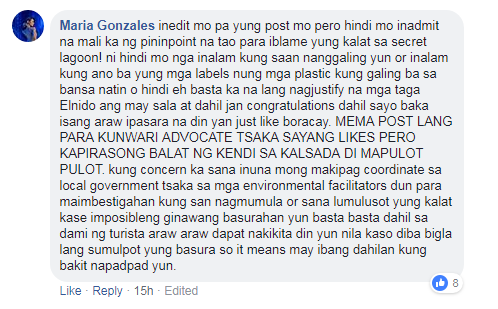 inedit mo pa yung post mo pero hindi mo inadmit na mali ka ng pininpoint na tao para iblame yung kalat sa secret lagoon! ni hindi mo nga inalam kung saan nanggaling yun or inalam kung ano ba yung mga labels nung mga plastic kung galing ba sa bansa natin o hindi eh basta ka na lang nagjustify na mga taga Elnido ang may sala at dahil jan congratulations dahil sayo baka isang araw ipasara na din yan just like boracay. MEMA POST LANG PARA KUNWARI ADVOCATE TSAKA SAYANG LIKES PERO KAPIRASONG BALAT NG KENDI SA KALSADA DI MAPULOT PULOT. kung concern ka sana inuna mong makipag coordinate sa local government tsaka sa mga environmental facilitators dun para maimbestigahan kung san nagmumula or sana lumulusot yung kalat kase imposibleng ginawang basurahan yun basta basta dahil sa dami ng turista araw araw dapat nakikita din yun nila kaso diba bigla lang sumulpot yung basura so it means may ibang dahilan kung bakit napadpad yun.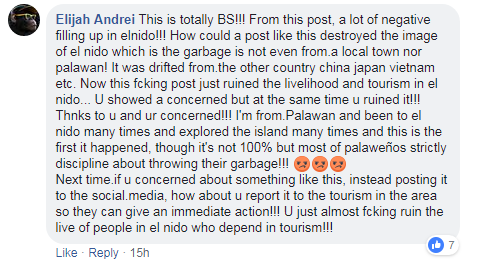 This is totally BS!!! From this post, a lot of negative filling up in elnido!!! How could a post like this destroyed the image of el nido which is the garbage is not even from.a local town nor palawan! It was drifted from.the other country china japan vietnam etc. Now this fcking post just ruined the livelihood and tourism in el nido… U showed a concerned but at the same time u ruined it!!! Thnks to u and ur concerned!!! I'm from.Palawan and been to el nido many times and explored the island many times and this is the first it happened, though it's not 100% but most of palaweños strictly discipline about throwing their garbage!!! 😡😡😡
Next time.if u concerned about something like this, instead posting it to the social.media, how about u report it to the tourism in the area so they can give an immediate action!!! U just almost fcking ruin the live of people in el nido who depend in tourism!!!
In an interview with Radyo Bandera, municipal administrator Rene Jay Dela Calzada said that the Secret Lagoon is located at the outer portion of the island which means that the garbage from nearby provinces may have been carried away due to the bad weather.
"Alam natin na kapag may malakas na daloy ng hangin at waves, yung mga basura galing sa laot ay pumapasok sa public bay."
The Netizen clarified her post and apologized, however she will not take down the post as the real message of her post is intended to teach proper waste disposal.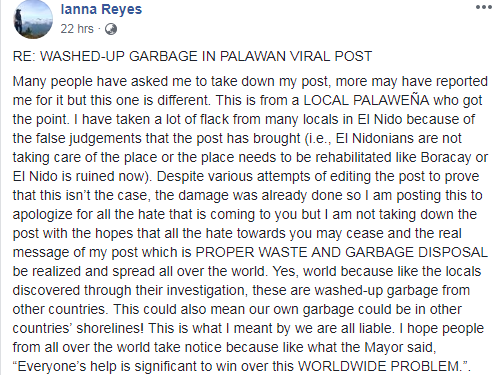 RE: WASHED-UP GARBAGE IN PALAWAN VIRAL POST

Many people have asked me to take down my post, more may have reported me for it but this one is different. This is from a LOCAL PALAWEÑA who got the point. I have taken a lot of flack from many locals in El Nido because of the false judgements that the post has brought (i.e., El Nidonians are not taking care of the place or the place needs to be rehabilitated like Boracay or El Nido is ruined now). Despite various attempts of editing the post to prove that this isn't the case, the damage was already done so I am posting this to apologize for all the hate that is coming to you but I am not taking down the post with the hopes that all the hate towards you may cease and the real message of my post which is PROPER WASTE AND GARBAGE DISPOSAL be realized and spread all over the world. Yes, world because like the locals discovered through their investigation, these are washed-up garbage from other countries. This could also mean our own garbage could be in other countries' shorelines! This is what I meant by we are all liable. I hope people from all over the world take notice because like what the Mayor said, "Everyone's help is significant to win over this WORLDWIDE PROBLEM.".