Dr. Farrah Agustin-Bunch temporarily shuts down her outpatient clinic.
The Natural Medical Center was first raided on Friday, August 17 for allegedly selling unauthorized supplements.
Owner of Natural Medical Center, Dr. Farrah Agustin-Bunch, announced on Sunday night, August 19 that she will be temporarily shutting down her outpatient clinic.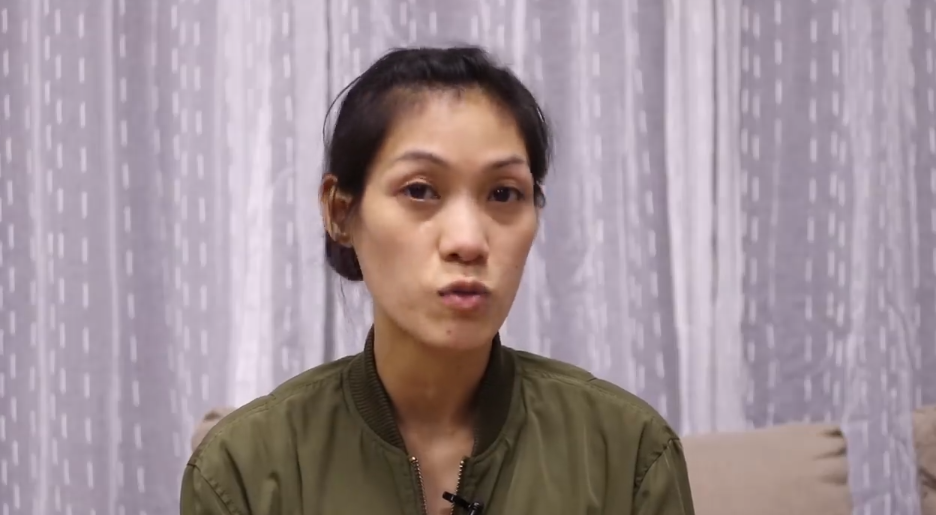 The Natural Medical Center was first asked to cease operations by the authorities for allegedly selling unauthorized supplements.
In a Facebook post, she said that the lives of her children, her patients, and herself will be threatened if she choose to continue her clinic being open.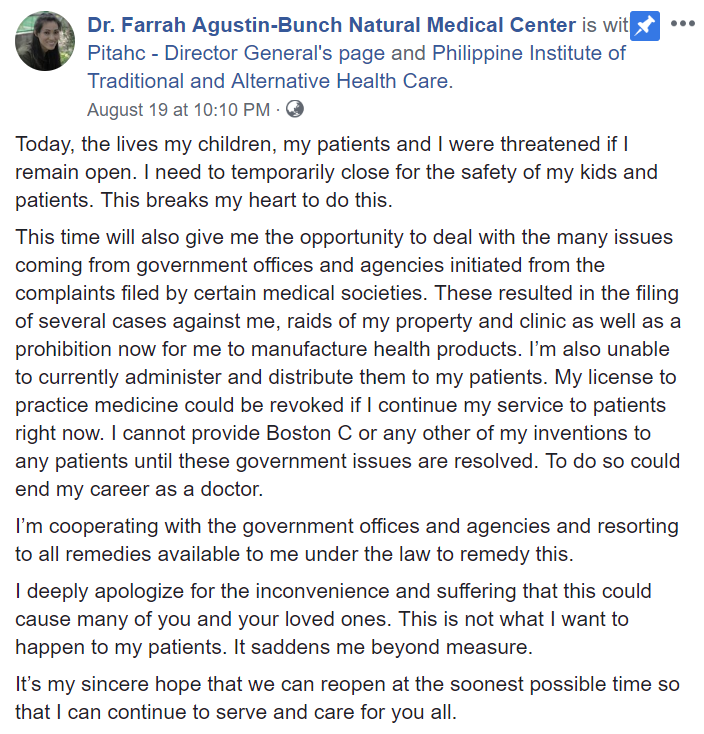 Today, the lives my children, my patients and I were threatened if I remain open. I need to temporarily close for the safety of my kids and patients. This breaks my heart to do this.

This time will also give me the opportunity to deal with the many issues coming from government offices and agencies initiated from the complaints filed by certain medical societies. These resulted in the filing of several cases against me, raids of my property and clinic as well as a prohibition now for me to manufacture health products. I'm also unable to currently administer and distribute them to my patients. My license to practice medicine could be revoked if I continue my service to patients right now. I cannot provide Boston C or any other of my inventions to any patients until these government issues are resolved. To do so could end my career as a doctor.
I'm cooperating with the government offices and agencies and resorting to all remedies available to me under the law to remedy this.

I deeply apologize for the inconvenience and suffering that this could cause many of you and your loved ones. This is not what I want to happen to my patients. It saddens me beyond measure.

It's my sincere hope that we can reopen at the soonest possible time so that I can continue to serve and care for you all.
In a Facebook video, she shared that if she insisted in operating, she will be arrested and her license would be revoked.
"I was also told that if my outpatient clinic was still open tomorrow, that I would be arrested and my license to practice medicine would be revoked.
"If something bad happens to me, please remember that I fought for my fellow Filipinos to have choices in their healthcare.
"I love my patients so much. I have nothing to offer the sick without my inventions."
Video Credits to Dr. Farrah Agustin
On Friday, August 17, the authorities raided the Dr. Agustin-Bunch Natural Medical Center in Victoria, Tarlac and closed its pharmacy for allegedly selling food supplements without authorization.
The said food supplements were immediately confiscated, however, the doctor stated that "due process was not observed".