Red banners containing the phrase "Welcome to the Philippines, Province of China" were found scattered around the Metro.
Presidential spokesperson Harry Roque states that it is surely the "enemies of the government" who are behind the installation of the banners.
Last July 12, motorists from Metro Manila were surprised when a number of red banners were seen scattered around several footbridges around the area.
The banners contain the words "Welcome to the Philippines, Province of China" written in English and had a similar design compared to the flag of China. However, it was not mentioned who installed the said the signages. Although, it is worthy to mention that the biggest giveaway for its non-legitimate content is the use of traditional Chinese characters versus the simplified one used in China and the direct translation seems to come from a translation app.
Even if it isn't unclear who the source of the banners is, it may be a reference to President Rodrigo Duterte's statement at the anniversary celebration of the Chinese Filipino Business Club last February. "[Xi Jinping] is a man of honor. They can even make us 'Philippines, province of China,' we will even avail of services for free," he said. "If China were a woman, I'd woo her." 
One banner was found at the PhilCoa overpass.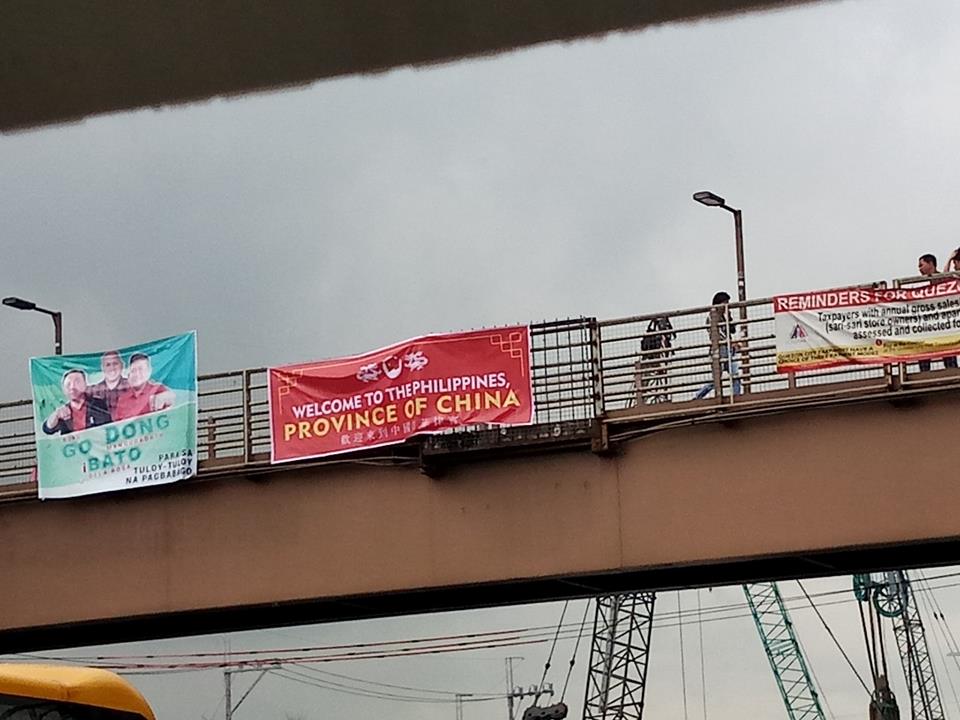 Another banner was found along Quezon Avenue.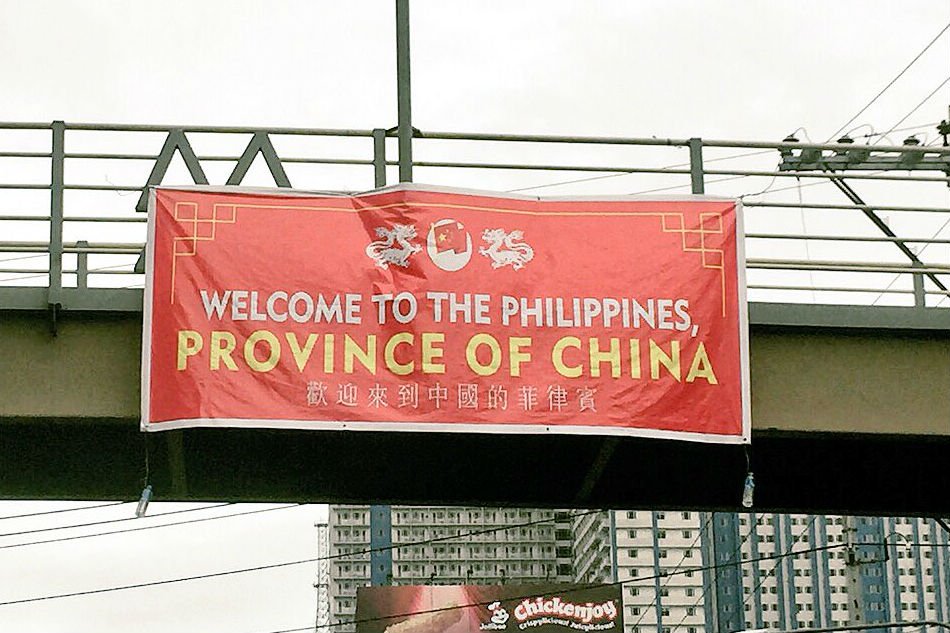 Another photo was tweeted by former solicitor general Florin Hilbay.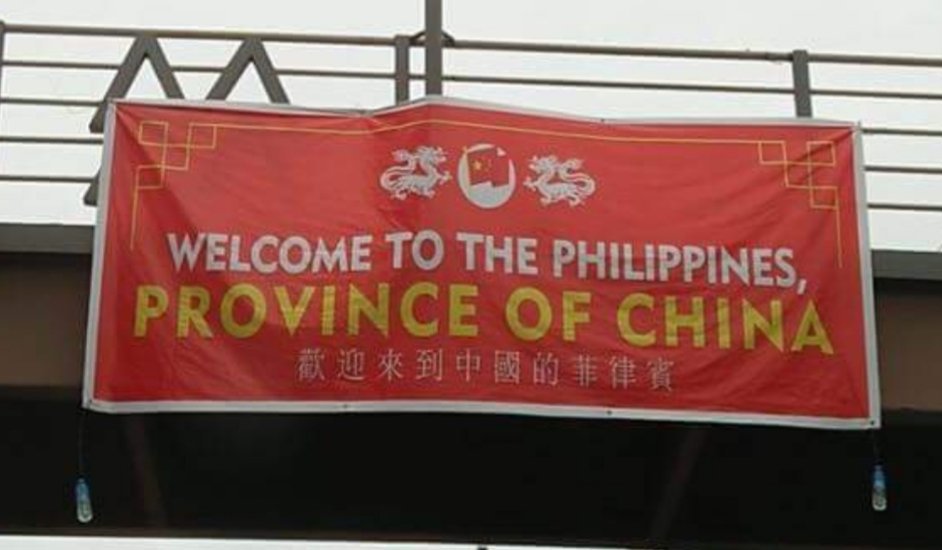 A netizen also posted a photo of the banner in Quezon Avenue.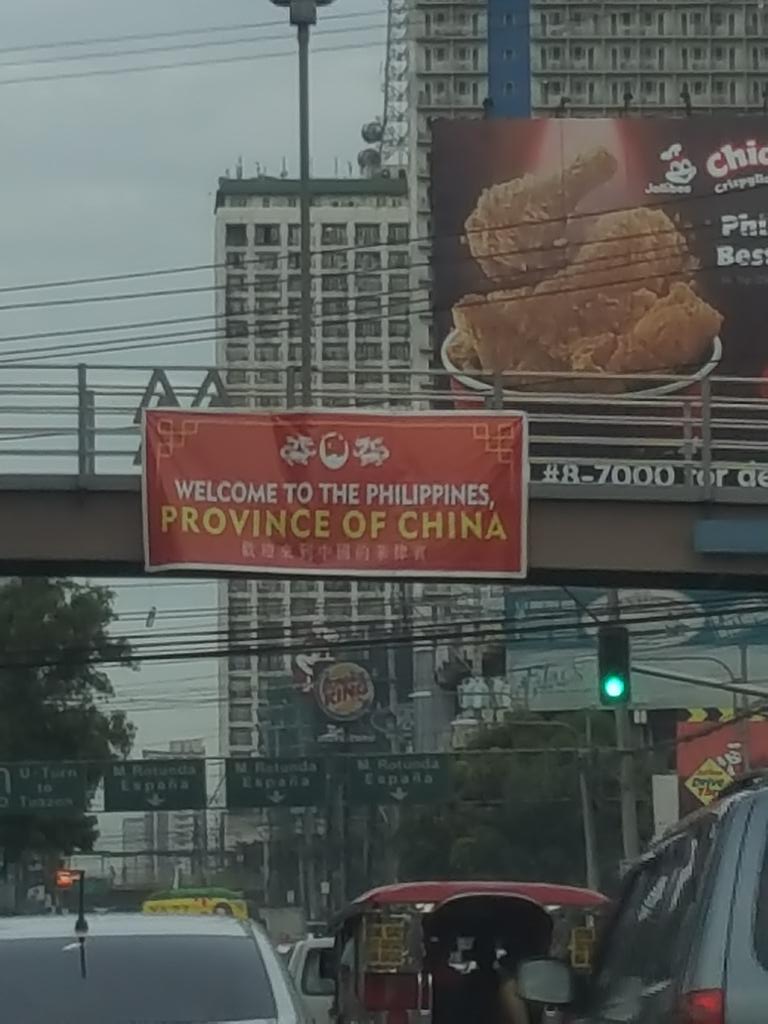 It is noted that July 11 is the 2nd anniversary since Permanent Court of Arbitration under the United Nations's decision that ruled in favor of the Philippines in its case against China over the South China Sea dispute.
Following the commotion, Presidential spokesperson Harry Roque stated that "I'm sure it's the enemies of the government that's behind it. So to them, try again. You need a better gimmick than that."
"We assure the public on the second year anniversary that we will continue to assert what is ours while we move on with our bilateral relations with China," he added.
As of 12 noon of the same day, the Quezon City PIO has ordered to take down the banners.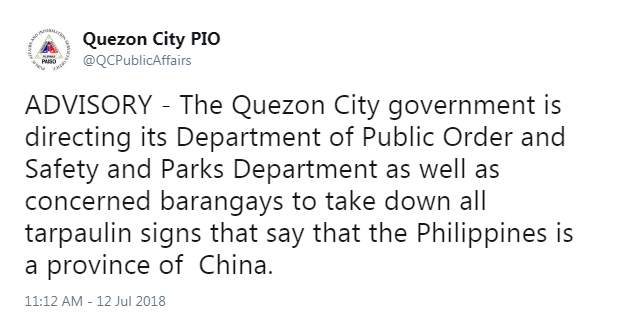 ADVISORY – The Quezon City government is directing its Department of Public Order and Safety and Parks Department as well as concerned barangays to take down all tarpaulin signs that say that the Philippines is a province of China.