Noted broadcast journalist Atom Araullo has initiated a P2-million civil suit against former anti-insurgency task force spokesperson Lorraine Badoy and former communist rebel Jeffrey Celiz for their involvement in red-tagging him and his family.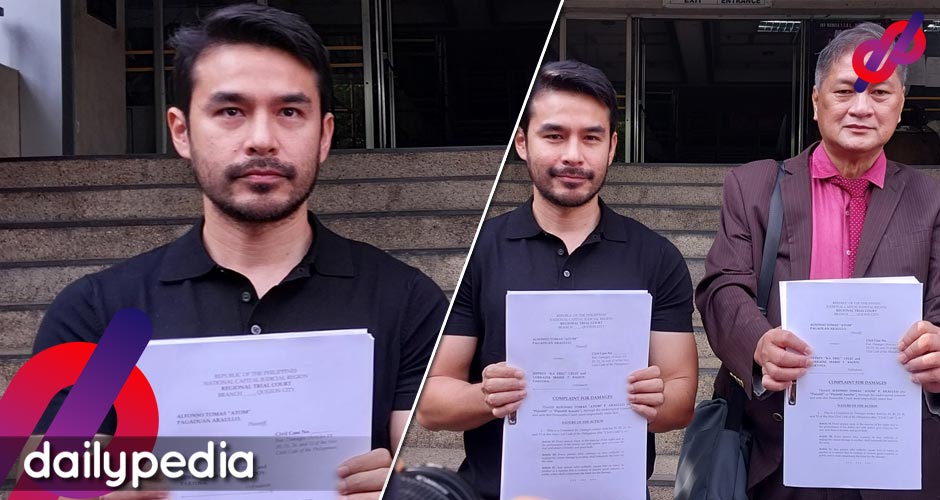 Araullo's legal action was officially filed in the Quezon City Regional Trial Court on Monday, with his legal counsel led by Movement Against Disinformation (MAD) conveners Tony La Viña and Rico Domingo.
The complaint is based on Articles 19, 20, 21, 26, and 33 of the New Civil Code, which aim to protect an individual's rights, human relations, and dignity. Violation of these articles could result in significant damage and injury to a person's reputation, peace of mind, and personal relationships.
Araullo's complaint focuses on defamatory statements made by Badoy and Celiz against him and his family, both on national television and various social media platforms.
Initially, Araullo chose to disregard these attacks due to their apparent absurdity. However, recognizing the treacherous and harmful nature of unchecked disinformation, especially in light of his family's safety and well-being, he decided to take legal action. In his statement, he noted that his actions were not only to protect his family but also to contribute to the defense of press freedom.
Currently, Badoy and Celiz are part of the hosting team for the show "Laban Kasama ng Bayan," which airs on Sonshine Media Network International (SMNI).
11 September 2023
Statement of Atom Araullo on the Filing of Civil Complaint for Damages Against Lorraine Badoy-Partosa and Jeffrey Celiz

Today, I have filed a civil complaint for damages against former Undersecretary Lorraine Badoy-Partosa and Jeffrey Celis. This is in…

— Atom Araullo (@atomaraullo) September 11, 2023
Atom Araullo and his mother, Carol P. Araullo, chair emeritus of the Bagong Alyansang Makabayan (Bayan), have been targeted by Badoy and Celiz's red-tagging campaign since 2022. Araullo has been labeled as the "spawn" of an active CPP Central Committee leader and accused of orchestrating attacks against the government through his documentaries and content.
Red-tagging is considered a serious act that can lead to human rights violations. It involves spreading disinformation that tarnishes an individual's reputation and exposes them to threats, harassment, and violence. Furthermore, it unfairly labels individuals and organizations as "communists," "terrorists," or "enemies of the state" without proper evidence or due legal process.
The Movement Against Disinformation (MAD), an organization that advocates for press freedom, also condemned red-tagging and expressed its support for Atom Araullo's legal action.
In July, Araullo's mother, Dr. Carol Pagaduan Araullo, chair emeritus of Bayan, filed a similar complaint against Badoy and Celiz for their targeting of her, her organization, and her son on their TV program and social media.
The Movement Against Disinformation (MAD) stands by Mr. Atom Araullo for his resolve to demand accountability for the baseless redtagging by Jeffrey "Ka Eric" Celiz and Lorraine Badoy-Partosa on national television and on social media platforms.

MAD calls upon everyone to stand… pic.twitter.com/QPrcWYC9OD

— Movement Against Disinformation (@PhilippinesMAD) September 11, 2023
Notably, Lorraine Badoy previously faced a show cause order from the Supreme Court for insulting a Manila Regional Trial Court judge and accusing the magistrate of supporting the Communist Party of the Philippines (CPP). This incident occurred after the judge dismissed the government's petition to declare the CPP and the New People's Army (NPA) as terrorist organizations. Badoy eventually removed her social media post and denied threatening the judge.