Cavite Governor Jonvic Remulla was slammed by netizens after saying that it isn't true that he was with Taylor Swift.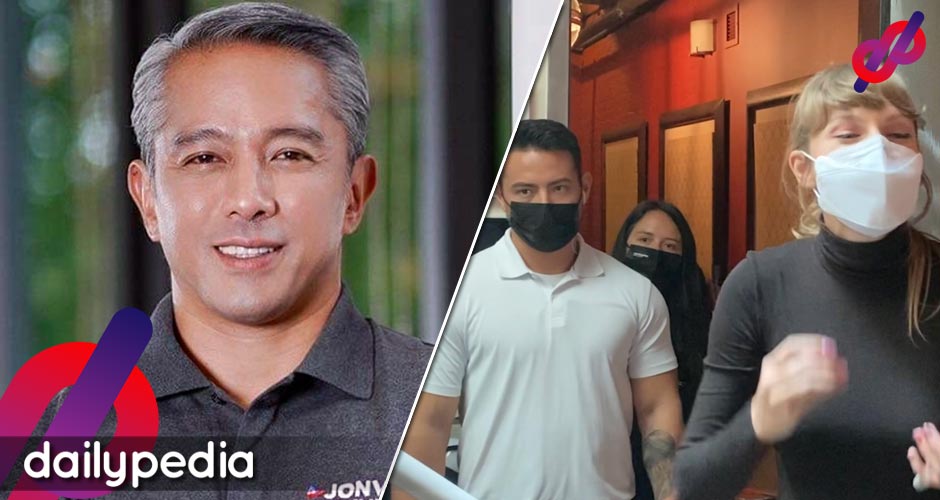 In a tweet on December 15, Remulla uploaded a photo of a masked Taylor Swift.
The caption refuted the claim that he was hanging out with the singer.
"Fake news po na ako ang kasama ni @taylorswift13 sa photo na yan. Busy tayo at madaming namamasko," he wrote.
Fake news po na ako ang kasama ni @taylorswift13 sa photo na yan. Busy tayo at madaming namamasko. pic.twitter.com/MoYDQriprC

— Jonvic Remulla (@jonvicremulla) December 15, 2022
A man with Remulla's physique may also be seen in the shot. This man, on the other hand, does not have silver hair and appears to be younger.
According to netizens, no one even made rumors about Remulla being in Swift's presence and the governor was attempting to make himself go viral.
Remulla infuriated many people.
Eeeeww. Leave Taylor alone.

— Mac Dionisio (@Benggadora08) December 16, 2022
Wala naman news na kumakalat wag feeling

— nikki (@macronikki) December 16, 2022
yes po kabayan, ako nga po yung sekretaryang nagkumbinse kay sir remulla na kamukha niya ang bodyguard ni taylor swift https://t.co/DaeDWxf1ko

— baby gal G ✨ (@vaklantis) December 15, 2022
https://twitter.com/KaCarlPink/status/1603748482052853765?s=20
shut the fuck up https://t.co/P5TiBH9hpE

— ; (@krsarce) December 16, 2022
this is what crack does to people https://t.co/VZtA8vbOnU

— b | #SaveWarriorNun (@swifttmelody) December 16, 2022
You're not even good-looking 🤡 https://t.co/lawPLrUG7J

— Martin Cole 🇵🇸🇵🇸🇵🇸 (@EngrJurilla) December 16, 2022
Remulla became a target on social media after endorsing the UniTeam during the election season. In February, the Remullas spent the entire day traveling with Marcos from Tanza, General Trias City, to Imus, all while dressed in red, Marcos' traditional political campaign color.
"Categorically, we're together. I'm campaigning for him. We'll make all efforts to make him win," Remulla told journalists in General Trias City.
He also said he would pay for all of Bongbong's campaign events in Cavite and get the support of all mayors. The governor of Cavite, the second most populous province with 2.15 million registered voters, made Marcos a number of promises, but the one that stood out the most was that the province will give him 800,000 votes.
In 2016, Marcos won Cavite by a margin of 150,000 votes over his adversary vice president Leni Robredo. Except for Alfonso and Carmona, he won every city and town.
Remulla mentioned that the internal surveys show Marcos's approval rating at 64% when asked how he plans to follow through on his promise.
Jonvic Remulla's
dad, 
the 
late 
governor 
of 
Cavite
, 
was 
a 
close 
ally 
of 
the 
dictator 
Ferdinand 
Marcos.
According 
to 
the 
governor, 
the 
Remullas 
have 
always 
backed 
the 
Marcoses 
in 
their 
bids 
for 
national 
office.