Toni Gonzaga appears to be unfazed by the boycotting of Shopee after it announced her as its latest brand endorser.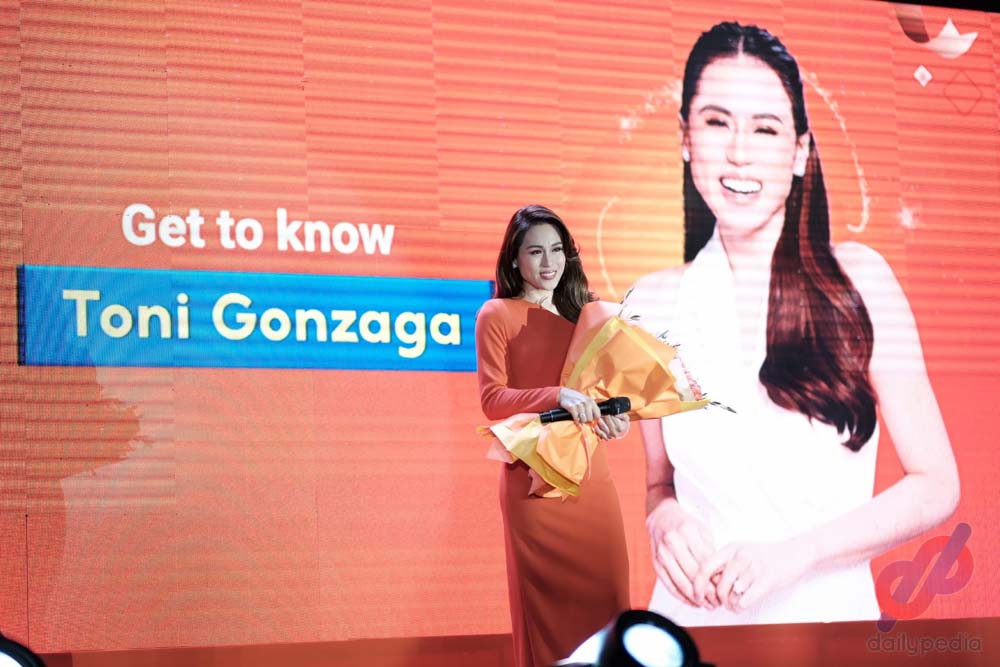 Shortly after the news, netizens revealed that they had deleted Shopee from their phones. ICYMI and the e-commerce website then trended on Twitter.
The protest is because many see Gonzagfa as an "enabler" of the current administration. Last election season, the actress left ABS-CBN to campaign for Pres. Bongbong Marcos.
Plus, Shopee announced Gonzaga's signing following the mass layoff of its employees in the country. Lazada, Shopee's main rival, also trended.
Shopee then handed out surveys asking people to "answer a few questions about celebrities or influencers" amid the controversy.
However, Gonzaga didn't seem to be affected at all by the backlash. Instead, she saw it as something positive.
"We are grateful because we [have been] trending since yesterday and today. We are grateful to our netizens for the mentions, and the engagements. We are grateful for them because they are also one of the reasons why we are here where we are today," Gonzaga said at the launch.
Several sellers, including K-pop shops, also said they'll be leaving Shopee and moving to Lazada.
Some shops claimed that Shopee doesn't prioritize sellers.
"If the customer does not accept an item they bought for whatever reason, even if they say, 'I have no money so I'll just cancel,' Shopee automatically accepts that without question. You can report the buyer but nothing will happen," a seller alleged.
Bakit niyo pingtatanggol ang Shopee? Seller ako sa Shopee and I'm telling you, kawawa ang sellers sakanila! We're the least priority. Pag may hindi tinanggap ang customer kahit pa ang rason niya "sorry wala kasi akong pera cancel nalang" AUTOMATIC APPROVE NI SHOPEE yan! Walang….

— MedtechsForGoodGovernance 💉 (@MedtechsForLR) September 29, 2022
"Their deductions also keep on getting higher. They deduct from the free shipping to cashback, and they also get commission fees. They just raised their fees,"
"Even if the customer lies about a product they received and says it's defective, Shopee immediately approves their return requests no matter what explanations you give. So don't say they're the most considerate and caring company because they exploit their first line of clients," they added.
Tbh Shopee is digging their own grave lately. It has been unfair to both sellers and buyers. And greedy too.
– increase transaction fee to sellers
– strict 'preferred' seller requirement
– unable to choose courier
– stingy vouchers
– ShopeeXpress delay

— Malissa Ali (@malissaali) September 28, 2022
I think by this time record holder na si Toni G as "the most HATED active showbiz personality in the PH".

— Clive Reyes JR (@datumx11) September 29, 2022
Toni g all acting like it's okay, also thanking us for giving her attention when in fact the truth is she's dying inside! Pls don't give us that lampake look. Kahit sino naman eh….to be hated by the majority? Sobrang sakit noh gurl?

— MedtechsForGoodGovernance 💉 (@MedtechsForLR) September 30, 2022
https://twitter.com/chingjongyu1/status/1575258207768879104?s=20&t=Bt9Q770XJ_0tBErLTQcQIg
Filipino lawyer Jesus Falcis also supports the boycotting of Shopee for choosing Gonzaga over providing jobs.
"Toni G is already rich. She does not need more money. She already has many endorsements from companies that are not laying off their employees.
"Shopee's employees may be more comfortable than most Filipinos but getting fired puts them in a vulnerable position now – in a time when prices are high and good jobs are hard to find," he wrote.
In response, Shopee explained that it chose Gonzaga due to her "mass appeal" and has nothing to do with her political beliefs.
"Shopee is committed to providing its users with an enjoyable shopping experience on the platform. We are extending the same level of commitment to our valued users with 10.10 Brands Festival through mas mura brand deals up to 50 percent off, back-to-back Super Brand Days, and our new brand ambassador Toni Gonzaga," shared Shopee.
"Together with our newest Brand Ambassador, Toni, we are working to deliver entertaining content to drive anticipation leading up to the upcoming 10.10 Brands Festival," it added.