Almost every netizen had a violent reaction when Malacañang announced on September 12 that the state of calamity declaration in the country due to COVID-19 got extended for "possibly" three months (from September 13 to December 31 this year) after it was reported that the Philippines is "six percent away from the wall of immunity."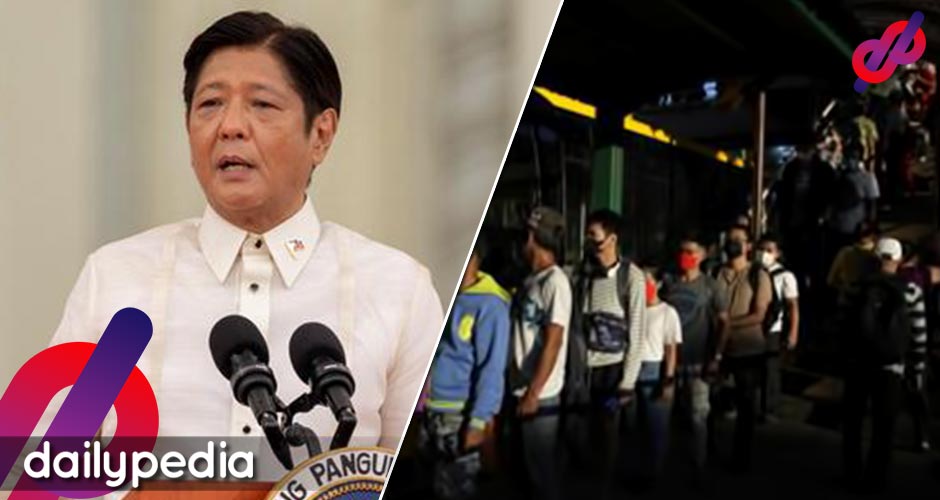 "The state of calamity is extended for possibly three months but only for the purpose of preserving the benefits under it such as but not limited to the indemnification, emergency procurement, special risk allowance for healthcare workers," Press Secretary Trixie Cruz-Angeles said in a Palace press briefing.
Due to the percentage from the wall of immunity, she stressed why the government is confident enough to make the use of face masks voluntary outdoors.
Former President Rodrigo Duterte issued Proclamation 929 on March 16, 2020, placing the country in a state of calamity for six months due to the pandemic. Proclamation No.1021 was later issued to extend the validity of the state of calamity for a year from 13 September 2020 to 12 September 2021.
A third extension was issued through Proclamation No.1218 which will run until September 12, 2022 "unless earlier lifted or extended as circumstances may warrant."
The state of calamity due to COVID-19 is extended from Sept. 13, 2022 to December 31, 2022, Press Secretary Trixie Angeles confirms. @gmanews @gmanewsbreaking pic.twitter.com/8i2GQ8hqjI

— 👑Anna Felicia (@annafelicia_) September 12, 2022
However, the fourth extension confused the public since President Marcos Jr. also signed Executive Order No. 3, which allowed people to wear face masks voluntarily outdoors.
Pero yung masks voluntary waw https://t.co/YiSKsi7Syf

— Jimpy Anarcon (@jimpylosophies) September 12, 2022
Alexa play They Don't Care About Us by Michael Jackson pls ✨ https://t.co/QLcL9bBfd2

— gab (@gabpangilinan) September 12, 2022
Health practitioners disagree with the signing of Executive Order No. 3.
As of September 11, over 72.7 million Filipinos got vaccinated against COVID-19, but only 18 million received booster shots.
Face masks EO : So Mandate in Cebu got adopted nationally!

So CEBU LGU is running the pandemic now and not @DOHgovph

What's your view on this observation ?

— Tony Leachon MD (@DrTonyLeachon) September 12, 2022
Dr. Tony Leachon pointed out discrepancies in the Palace's recent decisions.
What the Palace is saying is consistently inconsistent and with wrong information pa. Ano yun 6% away from the wall of immunity ? Where did they get that info ?
Where's the @DOHgovph Sec and who's the IATF head now?Way out of line.
Why is press sec discussing medical matters? https://t.co/ENWiFGTyo0

— Tony Leachon MD (@DrTonyLeachon) September 12, 2022
Philippine top medical experts oppose the easing of face mask policy since the country still has low booster coverage and wearing of masks protect people not just from COVID-10 but other diseases as well. @rapplerdotcom

— Bonz Magsambol (@bnzmagsambol) September 12, 2022
Idc if it's outdoors but if you're in a place with poor ventilation and physical distancing isn't possible, please keep your face masks ON! https://t.co/DUtudexTAZ

— RJ Naguit 🌹 (@docrjnaguit) September 12, 2022
The number of Filipinos who received booster shots is far too low for the government to ease up on health measures related to the coronavirus.
As shared by @DrTonyLeachon, Philippines remains laggard in the booster shots yet optional masking already lol https://t.co/W7KyCGbj1f pic.twitter.com/vKnVvvrMg6

— JP  (@dumidyeypee) September 12, 2022
This is just embarrassing. And yet gov't is already mulling relaxing mask wearing rules. https://t.co/v9rPRlg78Y

— JC Punongbayan, PhD (@jcpunongbayan) September 12, 2022
Despite the criticism, the OCTA Research Group sided with the government in approving the voluntary use of face masks in outdoor settings.
"We support the government's new policy on relaxing the mask mandate for the outdoors," OCTA said in a statement.
OCTA would like to see the government define "a set of triggers to reimpose the use of masks outdoors should a serious surge in cases happen."
"In OCTA we believe that any change in policy should be grounded in science and based on ensuring public health and safety for all."
The Marcos Administration also aims to increase the number of boosted Filipinos to 23.8 million before October 8, 2022.