The public praised Senator Robin Padilla for filing a bill seeking to institutionalize civil unions of same-sex partners.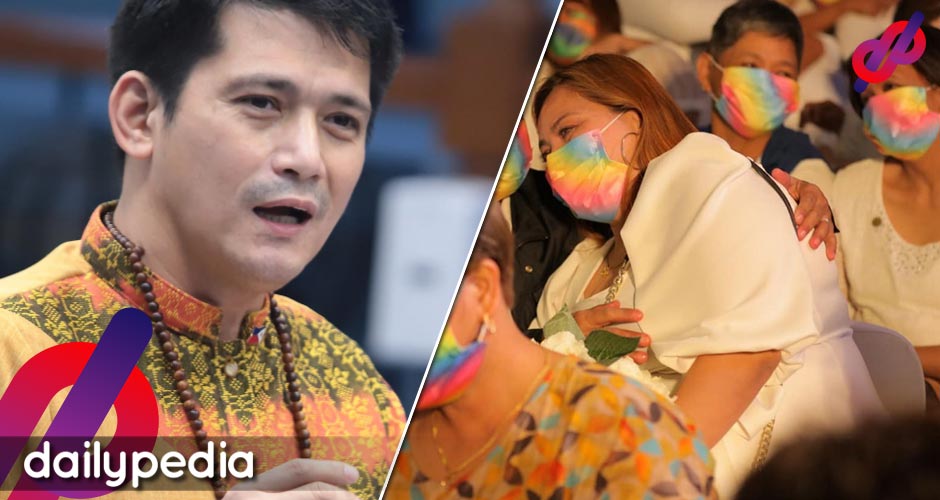 Senate Bill 449 or the proposed Civil Unions Act notes that the Sexual Orientation, Gender Identity, Gender Expression and Sex Characteristics (SOGIESC) isn't mentioned in the 1987 Constitution, but it also doesn't disallow civil partnerships or unions of same-sex couples.
"This proposed measure, therefore, seeks to recognize the civil union between two persons of the same or opposite sex to be able to enjoy the rights, protection, and privileges afforded in this bill," Padilla said in his explanatory note.
"This representation firmly believes It is high time that the Philippines provides equal rights and recognition for couples of the same sex with no prejudice as to sexual relationships are protected and recognized and given access to basic social protection and security.
"Providing equal rights and privileges for same-sex couples will in no way diminish or trample on the rights granted to married couples," he added.
Padilla considered the fact that 31 countries have legalized same-sex marriage or civil unions through legislation or court decisions.
He also noted that the country doesn't have enough legislative measures to "afford equal rights and privileges for same-sex couples that are enjoyed by different-sex couples."
Below are the requisites for civil union under SB 449:
Legal capacity of the contracting parties:

At least 18 years of age;
Not prohibited from entering into the civil union because of public policy;
Free from any previous bond of marriage or civil union.

Consent is freely given in the presence of the administering officer;
Authority of the administering officer;
A valid license to contract or enter into a civil union issued by and obtained from the local civil registrar of the city or municipality where either party habitually resides; and
A civil union ceremony takes place with the personal appearance of the contracting parties before the administering officer and their personal declaration that they take each other as legal partners in the presence of not less than two witnesses of legal age.
SB 449 also enumerated the benefits, protections, and responsibilities of civil union couples, including:
All benefits and protections that are granted to spouses in marriage under existing laws, administrative orders, court rulings, or those derived as a matter of public policy, or any other source of civil law;
Laws on marital relations, including donations because of marriage, legal separation, adoption, child custody and support, property division and maintenance, and spousal support;
Rights of civil union couples concerning a child of whom both become the parents during the terms of the civil union shall be the same as those of a married couple concerning their child;
Laws relating to intestate succession, survivorship, or other incidents of the acquisition, ownership or transfer, inter vivos or at death, of real or personal property, as affecting parties to a marriage, shall likewise be applicable;
Couples shall automatically have insurable interest over their respective partners and may avail of benefits relating to insurance, health, and pension benefits provided to married couples;
Labor standard benefits, privileges, restrictions, and prohibitions accorded to employees based on marital status shall likewise be accorded;
Benefits under tax laws relating to marital status shall be applicable;
Coverage of laws relating to immunity from being compelled to testify against the other and bound by the marital communication privilege;
Hospital visitation rights and the authority to give consent to any medical treatment on behalf of his/her civil partner whenever required;
Visitation rights in detention facilities; and
Decision-making in burial arrangements.
The proposed law would also give civil union couples access to the rights to inherit, adopt, and receive the privileges which married couples already enjoy in terms of social security and other private insurance membership.
Padilla also included an option for civil unions to be dissolved.
"The grounds procedures and effects, whenever applicable, for legal separation, annulment and declaration of nullity of marriages under the Family Code of the Philippines, as amended, shall be applicable in civil unions," the bill states.
Despite questions about Padilla's stamina to become a senator, his decision to file a bill favorable to same-sex couples made netizens rally behind him.
Kuddos sa legal team behind Sen. Robin Padilla for filing Divorce Bill and Same-sex Civil Union sa 19th Congress.

May kasama na si SenRi, on this matter, from the majority.

— Ibyang (@hambimbarabiya) August 11, 2022
I love Sen. Robin Padilla's civil union bill! Sec. 13 of the proposed bill enumerates the rights and obligations arising from the civil union, which are basically the same as that of current married couples. Considering he got 27M votes last May, I hope this gets public support. pic.twitter.com/avaKiaHDsE

— K Manuel (@theklmanuel) August 11, 2022
Bianca Gonzalez also retweeted the news to her followers.
I dont know with you but if Robin Padilla becomes the one to get divorce and civil union passed in the Congress, then I will be really grateful. The Senate is not all about intelligence and credentials it seems.

— SK (@micheegray) August 11, 2022
Padilla's bravery was also commended, given that same-sex union goes against his religion of Islam.
https://twitter.com/DjsinsuatDj/status/1557675632779468800?s=20&t=9QnguOV9hCIdFmasITKlRQ
Robin Padilla is so brave to go against his religion. My Muslim community is not happy at all but hes defending the LGBTQIA+. Im about to cry

— Beau (@Urineblonde1000) August 11, 2022
We welcome all efforts, Sen. Robin Padilla after all is a brother of Bb Gandanghari. He comes from showbiz with a lot of lgbt personalities. I didnt vote for him but I thank him for standing up for us on this. #ThinkSmarter https://t.co/9eFGs8WlNv

— Jeoff Solas #ThinkSmarter 🌈 (@JeoffSolas) August 11, 2022
Kung makalait yung ibang nasa LGBT kay Robin Padilla pero sya pa tong nagpush ng recognition for civil union. Wag kasi judgmental.

— phil_trophy (@phil_trophy) August 11, 2022
Any person who knowingly rejects a couple's request for a civil union certificate will be penalized, said Padilla. Individuals who are found guilty of denying the rights and benefits entitled to civil union couples; any person who commits unlawful, discriminatory employment practices; or any person who commits discriminatory practices to children of civil union couples shall be fined 500,000 to P1 million or imprisonment of 10 years.
People not authorized to hold civil union ceremonies will also be penalized and handed a similar sentence.