The Kapuso TV host mistook a post from a satire Facebook page as a scam and warned his followers not to fall for it.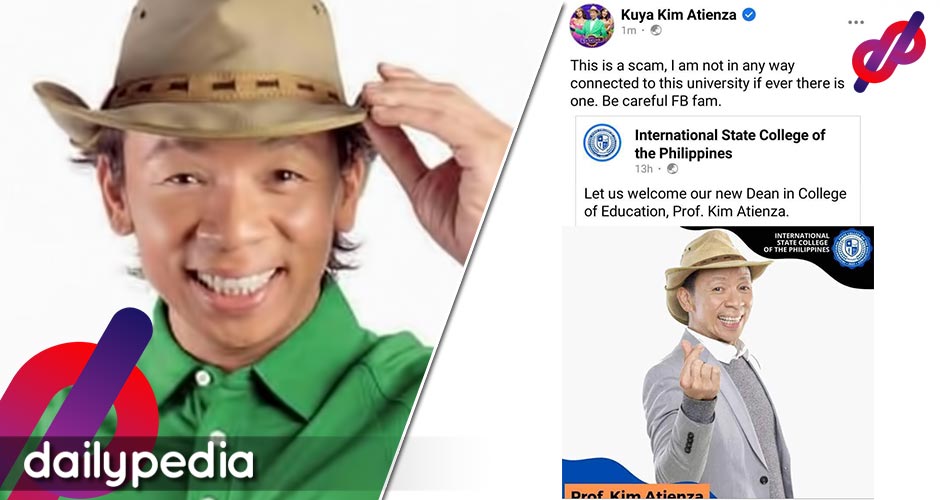 But it looked like Kim Atienza is the one who fell for it, as he failed to use his 'Matanglawin' in deciphering the post he shared. 'Anyare Kuya Kim (what happened, Kuya Kim), asked several netizens. 
Maging mapanuri, mapagmatyag po tayo Kuya Kim (let's be critical and observant, Kuya Kim), others said, echoing the popular line the TV host became known for, when he was with ABS-CBN.
On Facebook, the Kapuso host shared a status from a certain page called 'International State College of the Philippines' (ICSP). Captioned with 'Let us welcome our new Dean of College of Education, Prof. Kim Atienza', the post showed Atienza doing the finger heart gesture. 
It looked, however, as if Atienza did not check what the page is about, that he hastily shared its status and mistook it as a mere scam. 
His caption to his post suggested he misunderstood ICSP's post. 
"This is a scam, I am not in any way connected to this university if ever there is one. Be careful FB fam," his post reads.
Ano na?? (As seen on FB.)https://t.co/CE8BX66XMu pic.twitter.com/IlnPnuWsxp

— JC Punongbayan, PhD (@jcpunongbayan) August 5, 2022
A concerned follower took his chance of informing the host that he might have been scammed of his own making. 
"That's satirical po," said the follower, to which the TV host replied with, "Are you sure? They are taking in enrollment online."
As the follower informed Atienza, it turned out the said university does not exist, and that the page is only a satire page. Upon checking the contents of the page, one would notice that the posts feature mostly made-up baccalaureate and degree courses with funny majors. Other popular local and international celebrities, including Atienza, are part of the inter-galactic educational institution's faculty.
Perhaps, Kuya Kim has to do multiple-checking of the things he wishes to post on his timeline so that a similar unfortunate incident does not happen again. It can be recalled before, the TV host became a recipient of social media backlash when he posted on Twitter that the emerging 'monkeypox' disease, is sexually transmitted and usually contacted by men engaging in same-sex activities.
After being corrected by netizens, and apparently having realized his mistake, Atienza has been seen actively hopping on the ICSPian bandwagon, by constantly tagging the satire page and addressing his followers as his students. It turned out the former Kapamilya weatherman has conveniently  turned his blunder into a clout-chasing tool. Now he can't seem to stop using it to his advantage,