Maid in Malacañang (MIM) director Darryl Yap see no reason why the Carmelite nuns in Mabolo, Cebu, should be bothered by the scene where late former president Cory Aquino is playing mahjong with the sisters.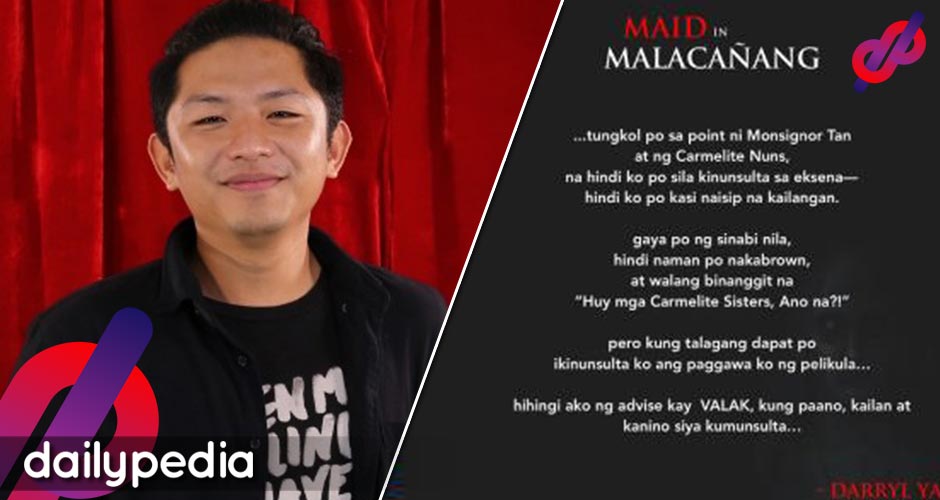 In a post by Vincentiments, Yap said that the Carmelite Sisters never got mentioned in the film and that he never felt the need to consulting with them.
"Tungkol po sa point ni Monsignor [Joseph] Tan at ng Carmelite Nuns, na hindi ko po sila kinunsulta sa eksena– hindi ko po kasi naisip na kailangan," Yap wrote on Facebook.
"Gaya po ng sinabi nila, hindi naman po nakabrown, at walang binanggit na 'Huy mga Carmelite Sisters, Ano na?!'" he added.
Yap would like the Sisters to watch the film, noting that Aquino wasn't at a monastery when the Marcos family got forced out of the country.
"I would like to invite our Sisters to watch the film; if they are ostentatious about details, I don't think there is a need for this 'ouch' and 'involvement.' Nung pinaalis ng bansa ang Pamilya Marcos, Wala po si President Cory sa isang Monasteryo,"
He also said, none of it was wrong in playing mahjong as it is a popular pastime.
"Wala rin pong masama sa 'Mahjong' pampalipas-oras man o pang magkakaibigang-laro," he said.
Yap even joked about consulting with Valak from the horror movie The Conjuring 2 if it's a requirement for a future film.
"Pero kung talagang dapat po ikinunsulta ko ang paggawa ko ng pelikula, hihingi ako ng advise kay Valak kung paano, kailan, at kanino siya kumunsulta."
Sister Mary Melanie Costillas, who is the prioress of the Carmelite Monastery in Mabolo, previously slammed MIM when the teaser got released on August 1, and showed actress Giselle Sanchez as Aquino playing mahjong with the nuns.
"The attempt to distort history is reprehensible. Depicting the nuns as playing mahjong with Cory Aquino is malicious. It would suggest that while the fate of the country was in peril, we could afford to leisurely play games," she said in an interview.
Aquino sought refuge from the nuns in the early days of the EDSA revolution.
"The truth was that we were then praying, fasting and making other forms of sacrifices for peace in this country and for the people's choice to prevail. While in our prayer, we were constantly in fear that the military would come to know of the whereabouts of Ms. Cory Aquino and would soon be knocking at the monastery's door," she shared.
"We knew the dangers of allowing Ms. Cory Aquino to hide in the monastery. But we also prayerfully discerned that the risk was worth it, as our contribution to put an end to a dictatorial regime. Indeed, we were ready to defend her at all costs."
MIM's setting is during three days before the Marcos familly got forced out of the country.