An episode of Net 25's broadcasting show 'Mata Ng Agila' has been blocked by YouTube.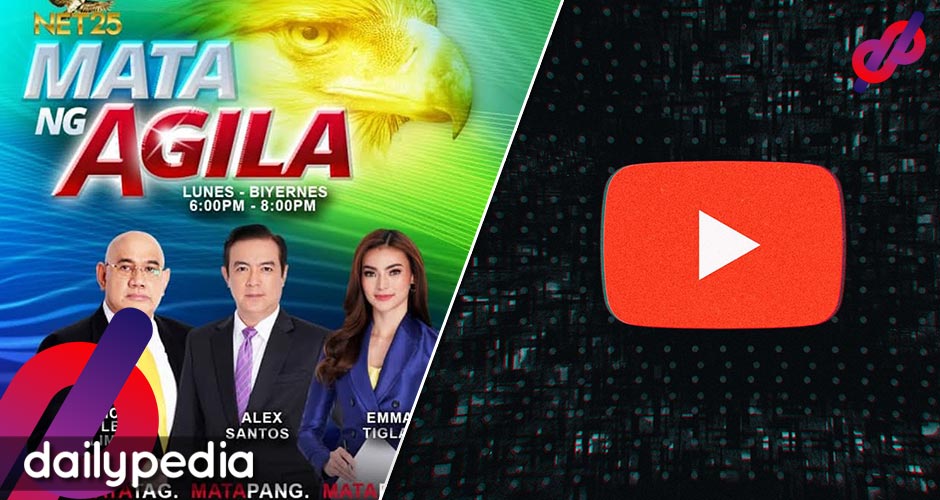 The May 16 episode was tagged as "ineligible" by YouTube and was removed immediately upon upload.
"Ilang oras lamang bago maipalabas ang Mata Ng Agila na naglalaman ng mga tunay na pangyayari sa Pilipinas, hindi na makita sa YouTube ang nasabing episode. A newscaster said as he asked the viewers if they agree with online video sharing platform's decision.
YouTube was taken down over a violation of terms and policies and "inappropriate content."
Less than 2,000 people were able to get a glimpse of the episode.
Loyal viewers showed their support for the network, citing unbiased coverage by its journalists.
It is not right to block Mata Ng Agila contents in youtube. People are worthy of unbiased news. We trust Mata Ng Agila over other news programs which spreading fake news and twisting the truth. #YoutubeUnblockMataNgAgila #TunayNaBalita

— Lyn Lyca 🇮🇹 (@mistyevening) May 18, 2022
Please, help us call out the attention of @YouTube to unblock Mata ng Agila to sustain truthful news.#YoutubeUnblockMataNgAgila#MatatagMatapatMatapang#TunayNaBalita

— fed (@fedxzc) May 18, 2022
However, Net25's broadcasters have zero filters when covering Vice President Leni Robredo and her "pinklawan" army.
https://twitter.com/ioreel/status/1524300807520546816?s=20&t=Uai-9XXugxLYDXijL1TyoA
Though not that popular compared to other networks in the country, Net 25 remains a mouthpiece for president-elect Bongbong Marcos.
Have you seen the broadcast of "Mata ng Agila" by Net25? Proof of bad journalism. The use of terms are very opinionated. "Pambabastos sa INC" "Pinklawan" "Wag iboto"

— Michelle 고조 (@meeshell04) May 13, 2022
Mata ng Agila does not verify the authenticity of their news before they even broadcast them. Plus the fact their way of journalism is borderline aggressive and offensive. I say, dasurv.

— Ace  (@spadesforace) May 18, 2022
Most think the flagging of the said episode is justified given that the network is biased and doesn't observe journalistic standards.
INC loyalists are trying to trend the "unblock mata ng agila" because their channel is blocked by youtube for spreading misleading information, not to mention the fact that their journalists are also biased lol

Can't even differentiate what's right and wrong. I say deserve.

— ave (@har0__0225) May 18, 2022