Kakampinks are urging their fellow supporters to visit these provinces as a sweet gesture for their standing up for VP Robredo.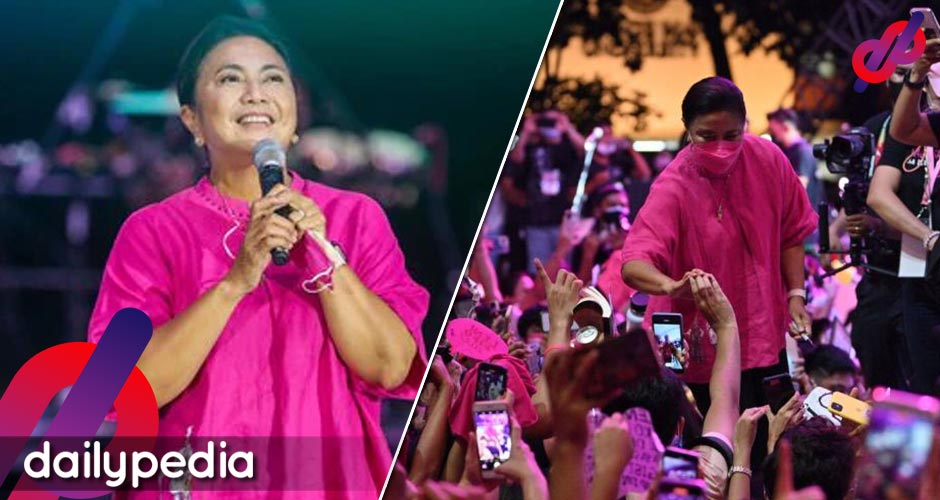 The dreaded 2022 national election has finally come to a close; dust settles, and while a lot may still be struggling to come to terms with the results, we finally now have reasons to move forward and keep going. What the polls showed is that the presidential bout was just between Vice President Leni Robredo and the now presumptive 17th Philippine President Ferdinand Marcos Jr.
It also showed us that loyalty is a very vulnerable and malleable thing. One time it's for someone, and on another, it has become someone else's. Such is the case of several provinces that made VP Robredo win in the 2016 national elections but flipped for the former dictator's son in the 2022 national elections.
Among the biggest vote-rich provinces that flipped from Robredo to Marcos Jr is Cebu, which has the biggest voting population in the country, at more than 3 million. VP Robredo scored more than 800,000 votes in the province in 2016, while Marcos Jr gathered around 400,000. In 2022, Marcos Jr did not only reverse those numbers, he also added a million more to get more than 2 million voters from the province.
According to the latest figures from the Commission of Elections (COMELEC), Bongbong Marcos is the presumptive winner of the Presidential race, and he is set to take over President Rodrigo Duterte, who is vacating Malacañang, on June30.
Marcos Jr won in more than 60 provinces in the country, some of which chose Robredo in 2016. Be that as it may, 14 of those provinces that favored Robredo in her vice-presidential bid, notably did not flip and still picked her as their presidential bet.
Batanes, albeit with a small voting population, remained loyal to Robredo. It's the same case for Quezon province, where she even saw an increase of over 200,000 voters, from 380,000 in 2016 to 600,000 in 2022. In Iloilo, she won by nearly 200,000 votes, although it is worth noting that her numbers slid from 700,000 in 2016 to 580,000 in 2022.
Robredo also prevailed over Marcos Jr in Masbate, despite leading political figures' endorsement of the latter in the province, 186,998 votes over the latter's 162,037. In Catanduanes, Robredo's votes grew from around 70,000 in 2016 to around 120,000 in 2022. Antique and Capiz also affirmed their loyalty to Vice President Robredo as she emerged victorious over Marcos jr in these Western Visayas provinces. Only Aklan flipped for Marcos Jr in the region.
The Vice President also kept Negros Occidental as her stronghold, albeit with a very slim margin. She gathered more than 527,000 votes in the province, against Marcos Jr's 482,000. In 2016, she claimed a landslide victory in the province, 700,000 votes against Bongbong's 160,000.
Eastern Samar and Northen Samar, as promised by their top executives, delivered for Robredo. She won these Eastern Visayas with 123,000 and 159,000 votes, respectively. In the small province of Guimaras, she also claimed victory with more than 66,000 votes, against Marcos Jr's 25,000 votes.
Let's visit PINK provinces! Bravo and a big thank you to these places for standing up for the good, right and just! pic.twitter.com/duou2NEjT6

— Reina Echosera (@ReinaEchosera) May 11, 2022
Although Marcos also lost Sorsogon in the 2016 vice presidential race, Robredo also was unable to win the province, as voters in the provinces unsurprisingly stuck with their fellow Sorsoganon, Chiz Escudero, who then ran for vice-president. They handed a landslide victory to Robredo this year, with 333,000 votes. That's more than 200,000 more than Marcos Jr's 90,000 votes. 
Robredo claimed a landslide victory in the entire Bicol Region. The biggest bulk of her votes came from her home province, Camarines Sur, where she scored 90% of the total canvassed votes. Her votes from the provinces even grew from around 660,000 in 2016 to 870,000 in 2022. Likewise in Camarines Norte, she emerged as the clear winner with over 239,000, compared to Marcos Jr's 66,000. In Albay, she was triumphant with her 600,000 votes.