From joining common folks' 'tagayan' sessions to volunteer groups' mural painting initiatives, celebrities backing up VP Robredo and Senator Pangilinan's respective presidential and vice-presidential campaign initiatives are shedding their usual glam and expensive image to campaign for their bets in the May 2022 national polls.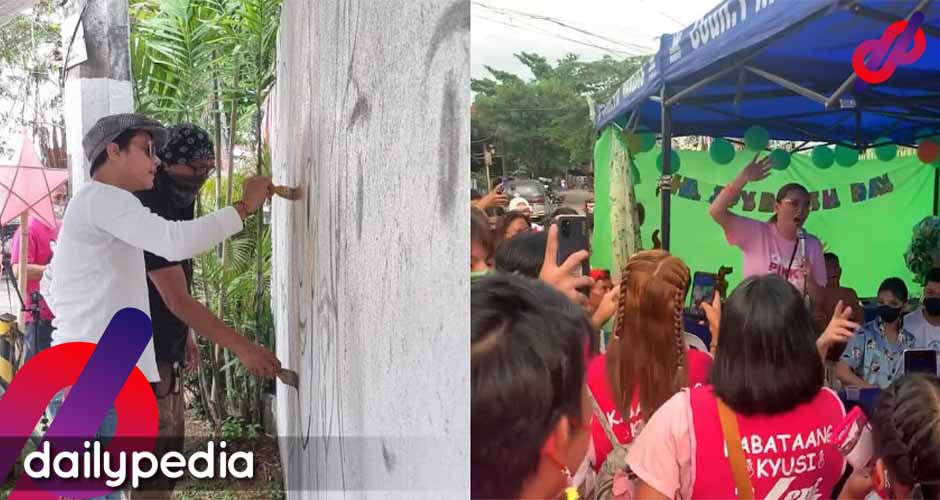 There seems to be a struggle for many people, especially those from the other side, that celebrities will dedicate a chunk of their time to endorse a political candidate for free. Stars are traditionally tapped to ensure a politician's win in an election but at the expense of the candidate's wallet. 
Lofty sums of money usually shelled out to enlist up-and-coming and seasoned stars alike.
The current election seems to undermine such tradition–as many celebrities or stars have pledged support for VP Leni Robredo's presidential campaign and claimed they are rendering their services for the presidential bet free of charge. 
What's striking about these big celebrities joining Robredo's campaign–they joined regular volunteers on the ground to personally interact with undecided and swing voters in the hopes of bringing them into the Tropang Angat fold. Countless stars have since hopped on the pink bandwagon to do house-to-house campaigning. 
The initiative sees volunteers personally rounding houses in many parts of the country to introduce the Leni-Kiko tandem.
There's Sam Concepcion, singer of the currently charting hit, Diwata, who even joined a liquor drinking session among family men to campaign for his Presidential and Vice-Presidential bets. 
Whatever it takes https://t.co/ozpcrbuMR0

— Sam Concepcion (@sam_concepcion) April 11, 2022
It's the same thing comedian K Brosas did when she welcomed an invitation to belt out in karaoke and took liquor shots while they were doing house-to-house campaigning.
yes po tama po naki bidyoke ako at naki shot lol! straight ha! kaya ipanalo na natin to bago ako malasing chos lang. 1 beses lang naman hehe. #LeniKiko2022 😅💖 pic.twitter.com/EGKSoBgwKS

— carmela brosas (@kbrosas) May 1, 2022
Seasoned singer Kuh Ledesma, turned a mini-rally into a 'mini-concert' with over 3,000 participants. 
Now with #KUHLedesma at Pasig Palengke, may tour for @lenirobredo 💖 pic.twitter.com/OYi035dNvM

— Mc Richard Paglicawan (@mangyanblogger) April 12, 2022
She has also been active participant in Tropang Angat's Tao sa Tao campaign. Yeng Guiao, the Gilas Pilipinas coach, recently held an exhibition game for Leni-Kiko tandem. The veteran basketball coach along with several PBA legends, pledged his support for VP Robredo and Senator Pangilinan as President and Vice President, respectively.
Astig! Coach Yeng Guiao doing H2H! The influence he can make sa mga sports fan or barako boys! 💪💖#IpanaloNa10To #LeniKikoAllTheWay pic.twitter.com/MsvO9p8MIK

— January (@itsmsjanuary) May 1, 2022
Daniel Padilla, known today as the 'Supreme Idol' took part in a mural painting initiative by a group of youth volunteers for the Leni-Kiko.
Pokwang, Agot Isidro, Bianca Gonzales, Pinky Amador, Jake Ejercito, and the phenomenal love team, Donny Pangilinan and Belle Mariana a.k.a. DonBelle, among many more others, have been relentlessly joining Tropang Angat's house-to-house campaigns in various locations across the Philippines.