Manila Mayor Isko Moreno laughed after finding out the found out that his ratings tanked in the latest Pulse Asia presidential surveys.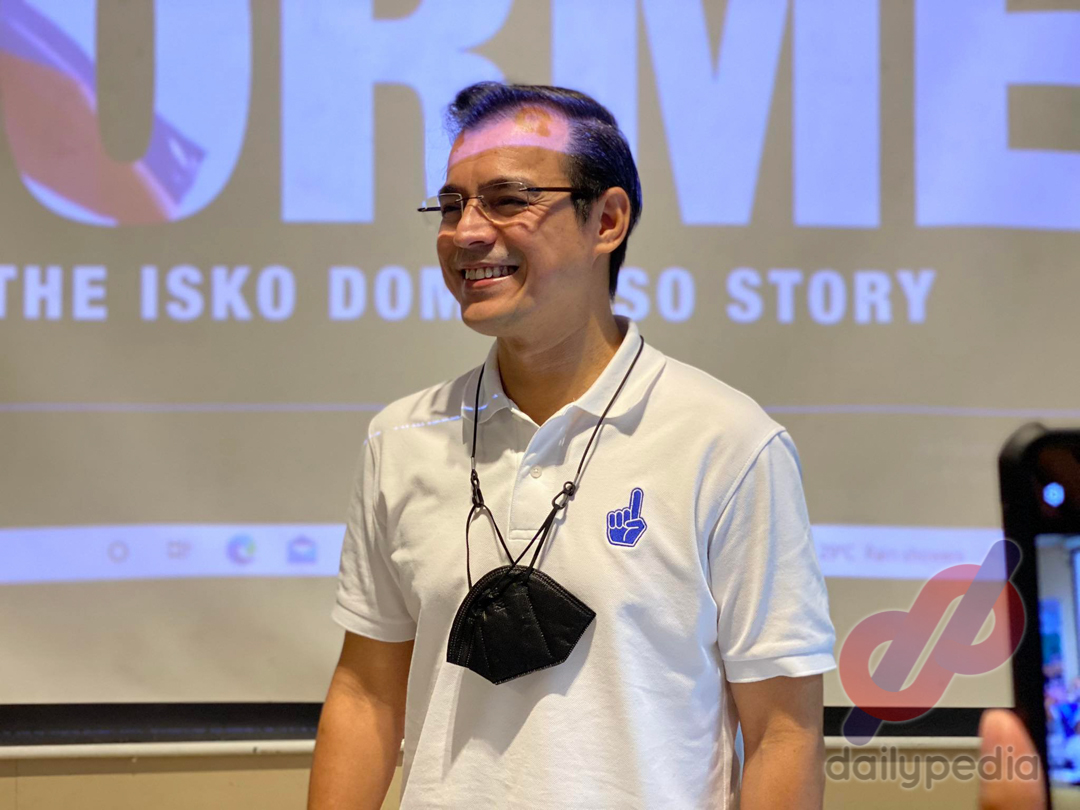 The latest results had him at 4th place with four percent and Pacquiao taking the third spot with 7 percent.
"Four percent? Talaga? Good luck to me," he said during his visit to the ongoing renovation of the Dr. Alejandro Albert Elementary School in Sampaloc, Quezon City.
WATCH: Presidential candidate Isko Moreno Domagoso comments on his decline in Pulse Asia's April pre-election survey.

Domagoso's preference rating went down by 4 points from his rating in March.

"They are entitled to their opinion… 4%? Talaga? Good luck to me." #Halalan2022 pic.twitter.com/NUdzMw0lz1

— ABS-CBN News (@ABSCBNNews) May 3, 2022
funny @IskoMoreno keep crying https://t.co/JF6JsKV8LP

— wayne-y season (@ItsAWayneyDay) May 2, 2022
Sorry medyo irrelevant pero I want to take the chance to laugh at Isko – HAHA ISKO – okthx now back to regular programming https://t.co/QMAT8Ku7GS

— ly (@lyngeringly) May 2, 2022
https://twitter.com/hellohanina/status/1521003220809617408?s=20&t=OijPTgvxAqSNEgH1dGC-0w
The numbers are Moreno's lowest since declaring for the 2022 national elections.
The ratings of Domagoso from January to March ranged from eight to ten percent. His numbers in the OCTA Research surveys were a little higher. He acknowledged his poor performance but will not withdraw from the race.
"Pray for me, I need a miracle," Moreno told an elderly woman who hugged him.
Netizens do not think Moreno could stand a chance in the May 9 polls.
Yung gustong mag-withdraw ang second sa survey mas lalong bumaba sa ranking. 🤭 https://t.co/U2n2nPfJVB

— Nherz Jane (@nherzjane) May 2, 2022
His dismal numbers came after the infamous Easter Sunday press conference when he called on Vice President Leni Robredo to back out from the race because of her camp's ineffective strategies that wouldn't beat frontrunner Bongbong Marcos.
Other attendees, Sen. Ping Lacson and Norberto Gonzales, admitted that they got surprised by Domagoso's actions.
"I didn't know and I had no idea he would do that," Lacson told the Inquirer after the event. 
"I don't think I was blindsided, or at least it was intentional on the part of Mayor Isko. I think he was carried away by his recollection that VP Robredo earlier asked him to do the 'supreme sacrifice' and withdraw," he added.
Domagoso's running mate Doc Willie Ong also condemned his actions. Former Interior Secretary Rafael Alunan III said that Moreno could be in Marcos Jr's pocket.
"He's not there to win the presidency but to split the votes to prevent VPLeni from winning it for someone's benefit. That's why he didn't hit No.1. Tama ba? I really thought he was much better than that. Truly disappointed. He's not bent on winning. He's there for another agenda," he wrote on facebook.