Supporters of Vice President Leni Robredo have lost all respect for fellow presidential candidate Francisco "Isko Moreno" Domagoso after his stunt on Easter Sunday, April 17.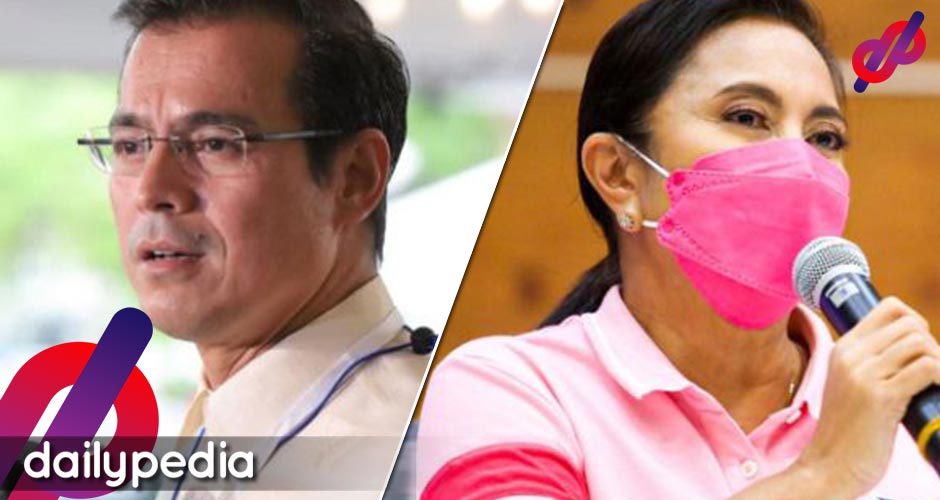 Aside from calling on Robredo to withdraw from the presidential race which surprised even his supporters, Moreno also claimed that the Vice President's camp is making efforts to strip him of his support groups.
"Alam ito ng mga group chat ng mga dilawan o pinklawan. They continue to send the message that on May 1, I will withdraw, and I will be appointed as secretary of DILG. How persistent they are? If I may borrow Sen. Ping Lacson's word, 'hinuhubaran kami," Domagoso said during a joint press conference at the Manila Peninsula.
He said that the people responsible use "pink" and "yellow" colors which Robredo is associated with.
"Hindi kami mabili, ang binibili, tao namin. May bumili sa mga tao ni Senator Ping. May bumili sa mga tao namin, at it seems isang kulay lang lahat ng ito. Iisa ang gumagalaw sa aming lahat," he said.
Lacson noted that Reporma, a party that initially backed his campaign, jumped ship to Robredo.
"Nangyari sa akin, yung Reporma, na-hijack. And then si Mayor Isko yung Ikaw Na sa Cebu, ganon din," he said.
Moreno added that he hasn't received an offer from the Marcos camp. He also wants to see the beef between the Marcoses and the Aquinos finally come to an end.
Kakampinks then swarmed Moreno on social media.
Asking Leni to withdraw is peak trapo mentality lol

— Gil Cuerva (@gilcuerva) April 18, 2022
Asking Leni to withdraw is peak trapo mentality lol

— Gil Cuerva (@gilcuerva) April 18, 2022
Apparently, it was your heart that hardened sir. The recent presscon you joined is far from a discernment that maybe guided by the Holy Spirit. There is nothing holy in there. It is filled with anguished, bitterness and hatred. https://t.co/pZhZ3zUu87

— Pari Koy (@pads_nosi) April 17, 2022
Just my observation as a veteran reporter who has covered 5 presidential elections. Today's presscon was a big mistake for them. They came out whiney and they ganged up on a woman who wasn't even there. I wonder whose brilliant idea it was. 🙄

— Raissa Robles (@raissawriter) April 17, 2022
Sa recent Pulse survey, 8% lang si Isko, 2% si Ping, 0% si Gonzalez. Pag pinagsama-sama ang numbers nila, 10% lang; 24% si Leni. So, ba't si Leni ang pinapaatras? Ba't yung number 2 sa survey ang binabanatan at hindi ang number 1? O, gusto lang talaga nilang manalo si Marcos Jr?

— Jerry B. Grácio (@JerryGracio) April 17, 2022
Pwede namang fight the good fight na lang, pero may pa-hashtag pa na Withdraw Leni. Ang toxic.

— Mikoy Morales (@MikoyMorales) April 17, 2022
Naniniwala akong at this point, lamang na tayo para magwala sila ng ganiyan.

San ka naman nakakita na ang pinagtulungan ay yung "number 2" daw.

Kakalokang mga lalaking ito.

— rod singh | Leni-Kiko 2022 | (@iamrodafrog) April 17, 2022
Dear Isko, we nursery school teachers are very happy that you can now name two colors. Your next lesson is to learn more colors. Then you can move on to shapes.#IskoTrapo

— Sylvia Claudio (@seclaudio) April 17, 2022
That presscon actually benefits Leni Robredo. Additional media mileage for her, and the optics of men ganging up on a strong woman.

Maybe someone in their PR team is secretly rooting for Leni Robredo to win.

— Gideon V. Peña (@attygideon) April 17, 2022
After taking heat, Moreno and Lacson's camp blamed the media for giving the press conference an "anti-Leni Robredo" feel.
"That's why it went to that conversation na naging anti-Leni Robredo na tuloy. This was the media who put those questions in and eventually of course, 'yung mga sentiments ng candidates came out about her," said Aksyon Demokratiko chair Ernest Ramel.
"It was that way because the questions by the media, they kept on pounding on the issue on Vice President Leni Robredo, that's why the gentlemen obliged them by answering what they really felt," he added.
Ashley Acedillo, Lacson's spokesperson, shared the same sentiment.
"Du'n naman napunta ang discussion primarily because of the questions of the media. Du'n naman kasi dinadala ng media. There would have been a lot more substantive issues that could have been discussed," she said.
Following the press conference, the attention on Robredo's campaign increased in numbers.
Kung psyche war lang din, sobrang palpak ang strategy ni Duterte at ang kanyang limang alepores pic.twitter.com/qhvt0XqFr3

— Audie Gemora (@GemoraAudie) April 17, 2022