Pastor Apollo Quiboloy's SMNI News' Facebook page got flagged by the platform for violating "Community Standards."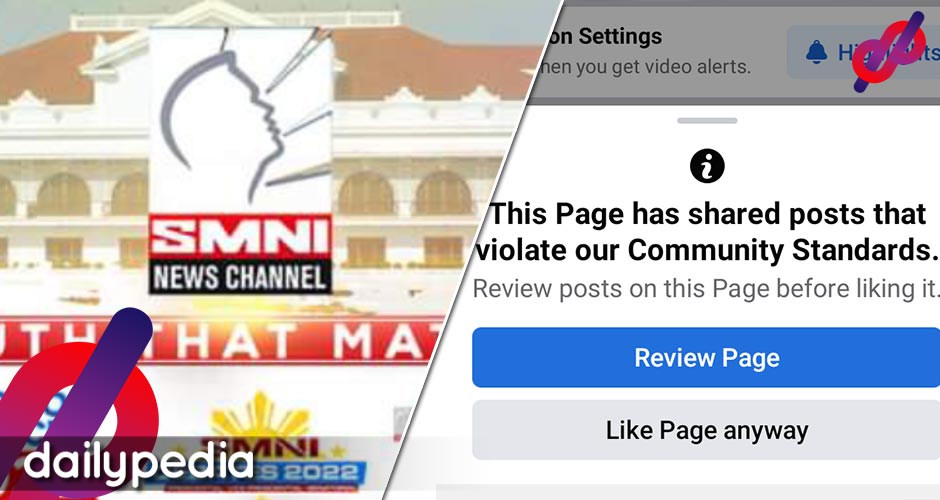 Users who attempt to like the page's like button will get prompted by facebook that said, "This page has shared posts that violate our Community Standards."
Netizens thanked Facebook for the disclaimer as SMNI is known to promote disinformation and associate certain persons with the New People's Army (NPA).
https://twitter.com/rodmagaru/status/1511327130050736140?s=20&t=Zigu4QzvaajlEEvSQUSPpQ
Yung @smninews nyo dami na naviolate dahil sa pagpapakalat ng fake news. Charot! pic.twitter.com/ooNqDTrVGR

— Charot! (@IamCharotism) April 5, 2022
Ayan ha. Facebook na ang nagsabi na ang page ng SMNI, nag-violate sa "community standards" nila. Puro kasi fake news ang nilalathala.#LeniForPresident2022#KikoForVicePresident2022 https://t.co/QcMIoQf4do

— 0123456789 (@gmyxb7) April 6, 2022
https://twitter.com/DJVCerico/status/1511513216148410372?s=20&t=nF3KreiWX_rljZBtOg8mxg
Like I said. Basura ang SMNI at D.Yap, Basura! 🤣🤣 mga fake news spreader. Kala ko ba magaling researchers nyo? Diba claim nyo best in debate organizer kayo? Patawa#SMNIBasura#DarrylYapBasura#FakeNews pic.twitter.com/jXF6S2PUtU

— J⚪shua  #TitindigParaSaPilipinas (@KingCons1999) April 6, 2022
Facebook warns users to be careful in liking SMNI news because it has a lot of violations in spreading fake news!👍 pic.twitter.com/GkP1KWVMIs

— Raffy General Espaldon (@djxspinner) April 5, 2022
Quiboloy previously compared media giant ABS-CBN to the Communist Party of the Philippines (CPP) and the NPA. 
SMNI also gave ample airtime to lawmakers who decided to shut down the Kapamilya network in 2020.
On top of that, the Network said presidential aspirant Ferdinand 'Bongbong' Marcos Jr. did graduate from college at Oxford, a claim debunked by the university. 
Recently, it claimed that Kakampinks failed to clean up following the impressive Pasig rally.
Quiboloy, the "appointed son of God," is currently facing sexual charges in the US.