A netizen shared his sentiment on Twitter (April 5, 2022) when he was filmed by a man while peeing at a mall in Taguig.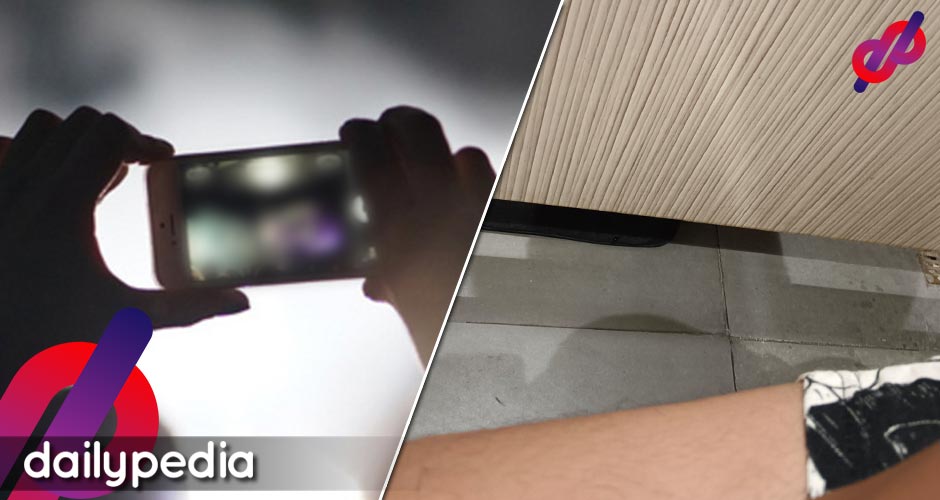 In the picture posted by the victim, the man placed a hidden camera in his bag, and @ZeeDocor noticed and took a picture of it.
@ZeeDocor was peeing in one of the comfort rooms in a famous mall in Taguig when suddenly being filmed by a guy while peeing. He explained that there's actually a hole and a camera lens by zooming in closely and looking at the bag. He then alerted the custodian and asked for assistance from the guards.
He narrated that he waited for the guy , and upon confronting him, the perpetrator was surprisingly calm. When asked to delete the caught videos, the guy insisted that there is no such thing as the video being referred to and even showed his gallery and deleted folders.
The confrontation ended with them exchanging IDs and the victim hoping that there should be no video being leaked. He just then realized that the lens of the camera shown to him was different.
Just want to get this off my chest. I caught this guy filming me while I'm peeing sa S/M A/U/R/A.

If you will zoom in closely, you'll see na may butas yung bag niya and may camera lens.

I alerted the custodian and immediately looked for guards.

I waited na lumabas yung guy pic.twitter.com/yhlgotqZG8

— Zane (@ZeeDocor) April 4, 2022
Netizens shared their reactions to the alarming issue, asking the victim to take caution and how the incident gives anxiety to readers.
Please be careful! The fact that this is getting normal here in twitter (sometimes content pa to ng iba) 😔

— 🎀 (@blvckhartx) April 4, 2022
Fuck, this gives me anxiety.

— carlonE (@Carloooooooww) April 4, 2022
One netizen analyzed the type of camera used, speculating that it might be a spy camera and not a simple phone camera.
From the angle I don't think it's a phone camera. Spy camera talaga yan. It could be anything — a pen, flash drive camera, etc. Sana the contents of the bag was checked.

— IflipOver (@flynbabe) April 4, 2022
Another netizen supplemented the issue of possible recovery of the deleted folders since they ended up in the Recycle Bin.
https://twitter.com/cloudbaby1998/status/1511021143704346624
As netizens continued supplying their reactions and a possible plan of action when confronted with the said situation, one netizen provided a supposed action that the victim could have done, such as seeking police assistance for a warrantless search on the bag of the guy who filmed him.
You should have sought police assistance so that a warrantless search could have been performed on his bag to check if there is a separate camera. This falls under the exception for warrantless searches as he was caught in flagrante.

— Marno (@Marno99756703) April 4, 2022