Ely Buendia only had lyrics in reacting to a Hong Kong newspaper's headline highlighting that Filipinos are fond of fake history.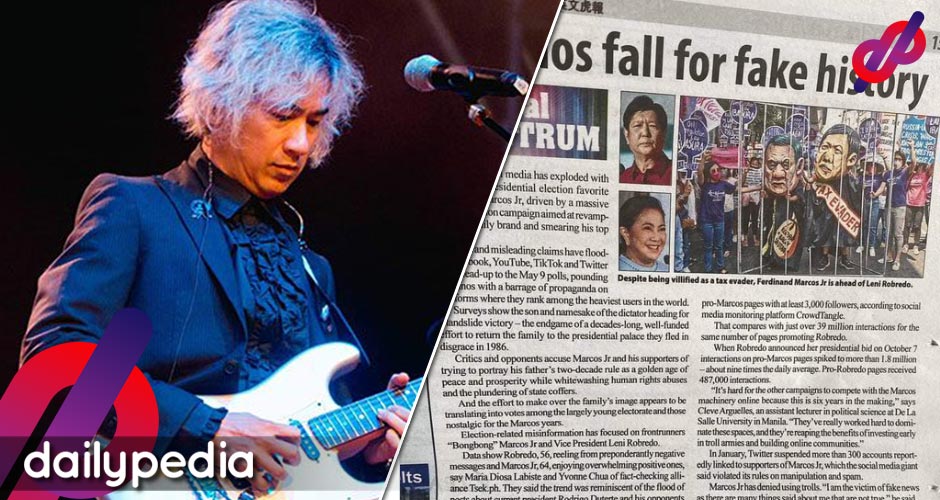 On Twitter, he quoted lyrics from singer Nat King Cole's hit 'When I fall in love."
The entry gives readers an idea of how presidential aspirant Ferdinand 'Bongbong' Marcos Jr's camp, uses disinformation to its advantage. It also says that Vice President Leni Robredo is the biggest victim of fake news amid the election season.
The Standard underlined how Philippine social media "has exploded with support for presidential election favorite Ferdinand Marcos Jr., driven by a massive misinformation campaign aimed at revamping the family brand and smearing his top rival."
"False and misleading claims have flooded Facebook, YouTube, TikTok and Twitter in the lead-up to the May 9 polls, pounding Filipinos with a barrage of propaganda on platforms where they rank among the heaviest users in the world," the entry read.
😀🎶 When I fall in love…it will be completely 🎶 – The great Nat King Cole pic.twitter.com/diy4M9RtnK

— Ely Buendia (@elybuendia9001) April 5, 2022
The article said Marcos has been criticized for trying to sell to the masses that the administration of his father was "a golden age of peace and prosperity."
The Marcos family has been accused of stealing US$5 to 10 billion from the country. During the dictatorship, 70,000 were detained, 34,000 were tortured, and 3,240 were killed by authorities.
"Election-related misinformation has focused on frontrunners 'Bongbong' Marcos and Vice-President Leni Robredo," The Standard wrote.
"Data show Robredo, 56, reeling from preponderantly negative messages and Marcos Jr., 64, enjoying overwhelmingly positive ones," it added.
The article cited De La Salle University political science professor Cleve Arguelles' analysis that other presidential campaigns would find it challenging to match Marcos on social media as "they have worked really hard (for six years) to dominate these spaces, and they're reaping the benefits of investing early in troll armies and building online communities."
Despite having no concrete plan laid out, Marcos still leads the surveys, unfortunately.