Labor lawyer Luke Espiritu has gained more supporters after his performance at the SMNI senatorial debate on Wednesday.
His heated exchanges with Larry Gadon and Harry Roque were for the books. Gadon and Roque's main purpose appeared to persuade the viewers that the notorious Marcos family was beneficial.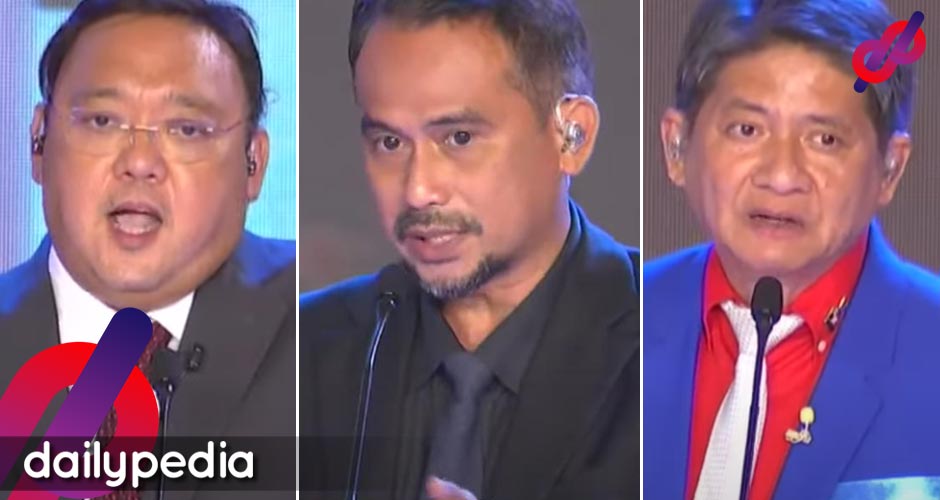 Gadon started by targeting the Catholic church.
"Marami sa mga pari na sa halip na magturo ng leksyon sa mga bata, ang inaatupag nila yung mga anti-Marcos, anti-martial law, at mga communism ang kanilang itinuturo. So, dapat suwetuhin din itong Catholic church.
"Wala na kayong ginawa kundi manira kay Marcos, kay Bongbong. Kung anu-anong mga kalokohan martial law kayo, mga pari kayo. Dapat ang ituro niyo yung kagandahang-asal, hindi yung pamumulitika!"
Espiritu highlighted the importance of teaching children the atrocities committed during the martial law era of the late dictator Ferdinand Marcos when asked for a solution to the problem of children being used as fall guys in crimes.
Gadon took exception and advised his fellow lawyer to "not use this forum for a propaganda against the Marcoses."
Espiritu then noted statistics from Amnesty International that recorded thousands of human rights violations during the Marcos rule. "It's a matter of record," said Espiritu.
Aside from the rebuttal, Espiritu also aggressively asked Gadon to stop interrupting him.
He also called out Gadon twice for interrupting his speech even if it was not yet time for rebuttal. "It's my time. Huwag kang bastos,"
Roque also took the chance to clarify that presidential candidate Ferdinand "Bongbong" Marcos has nothing to do with martial law crimes.
Espiritu responded by noting that Roque was anti-Marcos who even represented martial law victims.
"With all due respect to Atty. Harry Roque, I know your history. You were anti-Marcos before. You were for human rights before. You spent your life against the Marcoses. You worked for human rights. And now that you were given a Senate spot under the party of Bongbong Marcos, now you cry hallelujah and praise Marcos," he said.
Roque clarified that he talked about the younger Marcos and not the former president.
"There is nothing respectful with what you said against me. Ang katotohanan ang pinaguusapan hindi ang patay na Marcos, ang pinaguusapan ay ang buhay na Marcos. Sa akin panagutin ang nagkasala, ang hindi gumawa ng kasalanan wag natin idamay sa sisi."
Espiritu told CNN Philippines that he was "triggered" by the comments, but his remarks weren't "intended."
"[I] think it's bound to happen. But it was never intended," he told News Night on Thursday. "I was triggered by the comment… I had to stand my ground."
Because he stood up to Gadon and Roque, Espiritu became a star overnight.
SMNI has made a star out of Luke Espiritu. https://t.co/feqIaPiHZU

— Barnaby Lo 吳宗鴻 (@barnabychuck) March 3, 2022
Kaya tama si Atty Espiritu pic.twitter.com/nRfGUHXSdl

— ERod Ave (@olsenson) March 3, 2022
Espiritu handed it to his fellow bets without holding back.
An image you can hear
(Not mine, courtesy to its owner) pic.twitter.com/7MnyBNrMY3

— Banash Daily (@BIENsays) March 3, 2022
The back and forth with Gadon was nothing short of entertaining.
Mahalagang alamin ang context ng debate nila Gadon, Roque at Espiritu. Si Gadon ang out of topic. Isinawsaw niya ang Marcos sa usapan na siyang sinagot ni Espiritu, Obviously, ginamit nila Gadon at Roque ang debate para mapabango si Marcos Jr pero alerto at magaling si Espiritu. pic.twitter.com/L60pRmAMwm

— #PunchTheLies🤛 (@PunchTheLies) March 3, 2022
https://twitter.com/DocHappy95/status/1499288051100512256?s=20&t=S1eMqBEWja8CkTfCp4VKVQ
https://twitter.com/_bryanmarco01/status/1499046604917342209?s=20&t=S1eMqBEWja8CkTfCp4VKVQ
Tl;dr Gadon and Roque are still 2 of the grossest human beings in the world, SMNI is a joke, and Atty. Luke Espiritu should be part of ALL our ballots https://t.co/XoQ6t2yDzN

— Tin Gamboa 🌻 (@suzy899) March 3, 2022
don't flip the narrative, this is why you were trending. embarrassing. pic.twitter.com/lP0rw5Ukav https://t.co/5fu8lTbnap

— tom arveen (@tomflordeliza) March 2, 2022