UniTeam's rally in Bacolod City might not have been as organic as many thought it was.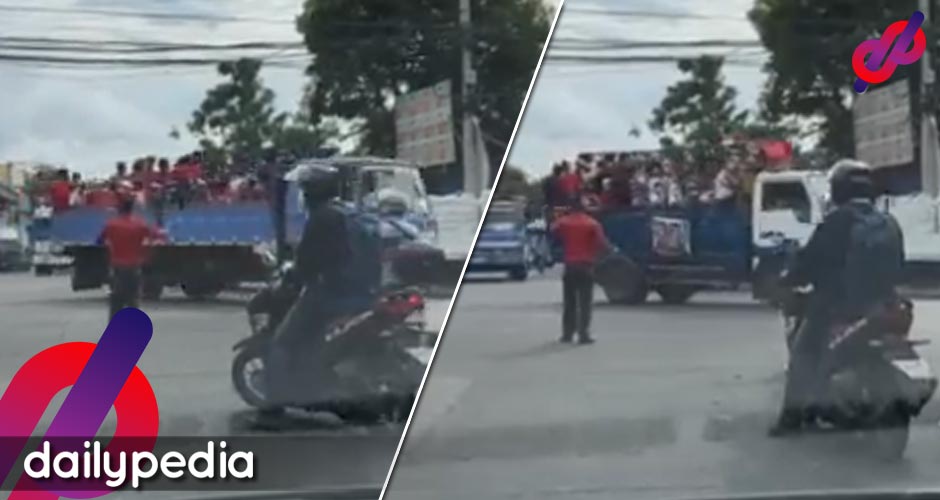 Before the event started, several trucks carrying people of all ages were caught on video. Netizens assumed that the UniTeam hired the groups to appear at the rally.
AYAN NA. HAKOT IS REAL! pic.twitter.com/1nsEltuu3w

— Sansa Stark – Lugaw Stan in The North (@starkverse) February 23, 2022
The millions of people supporting Bongbong Marcos' bid for the presidency has always been questionable given his family's background. It has been speculated that his camp pays for attendance. This time, someone from Bacolod witnessed it.
https://twitter.com/kirkytinaza/status/1496391254770597892?s=20&t=QDtXnN_eSPpMjceoC27lQQ
https://twitter.com/AltABSCBN/status/1496406272924659713?s=20&t=jj8euzv9t6igF-usHAdwlg
City buses were used for the caravan, leaving passengers waiting for transport. Those who were recruited were reportedly paid around 500 pesos each.
Ginamit yung city buses namin to hakot people (who were paid 250-500 pesos each) for the UniTeam caravan.

So now people are at the bus terminals with nothing to ride.

Good governance amirite? Ngayon palang sagabal na.

— nikki.txt (@nikkidottxt) February 23, 2022
https://twitter.com/mordsithV/status/1496393990018859008?s=20&t=UdVDYi4KoP95K5AbOJ-oPQ
Tanggapin ang P200, pero iboto yung hindi ka nanakawan. pic.twitter.com/zS5ndEYqrq

— Emil Marañon III (@13thFool) February 23, 2022
Around 70,000 to 80,000 supporters were expected to greet the candidates, and it sure looked like it based on close-up videos and photos. However, a shot from a drone said otherwise.
https://twitter.com/jjcjr85/status/1496508333649383430?s=20&t=SQqqmJQ-k_d8QtSbnZ3iDA
Voters also noted how times really changed. During the martial law era, Negros Occidental suffered gravely. The Escalante massacre resulted in 20 being killed.
bacolod hosting a convention for bbm and sara as if ppl of the entire province have alrdy forgotten the escalante massacre as well as the sugar crisis of the 80s lol wag niyo kami gawing tanga

— llane (@I0vep0ems) February 23, 2022
Fortunately, Bacolod natives still haven't forgotten what the martial law era brought. Negros Occidental suffered from famine as well.
BBM should eventually face the people and answer the questions or there will be no unity and peace.
It will continue to divide us. Today's EDSA revolution celebration is a solid reminder that we need to face reality & our past mistakes in an honest, adult way.That's leadership. https://t.co/eiPzswJq2n

— Tony Leachon MD (@DrTonyLeachon) February 23, 2022
Negros Occidental Vice Gov. Jeffrey Ferrer said the majority of mayors in the province support UniTeam.
"I have not talked to Bacolod lone district Rep. Greg Gasataya, but I assume he will also support BBM because he and Bacolod mayoralty bet Alfredo 'Albee' Benitez belongs to one political group," Ferrer said.