Pole vault star EJ Obiena may no longer represent the Philippines in succeeding international competitions.
The Philippine Athletics Track and Field Association (PATAFA) seeks to expel Obiena from the national team after investigating the athlete's falsified liquidation documents and late payments to his coach.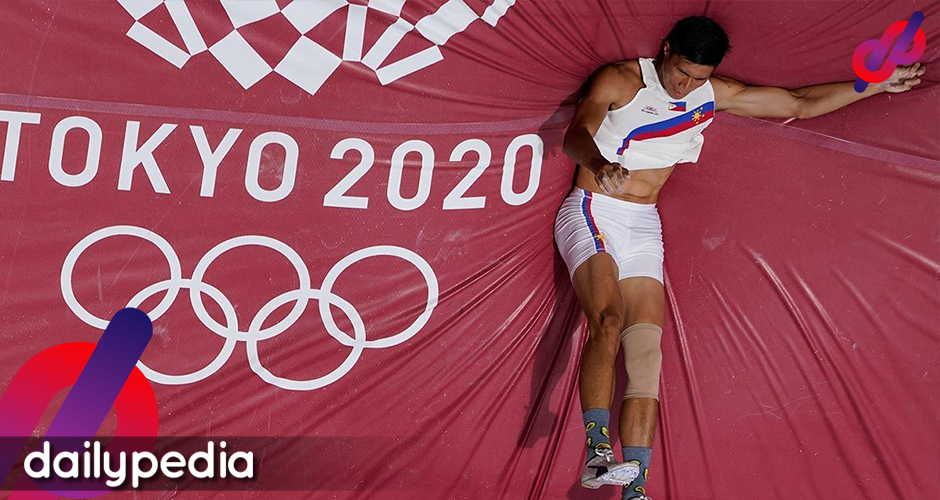 His expulsion is just one of the PATAFA's six recommendations based on its investigative committee.
Obiena holds the Asian pole vault record and is ranked No. 6 globally. He was the only Asian who made it to the final round last Olympics.
"The report brought so much sadness and feelings of betrayal. But we have to face the challenge because we should account for all the funds, government and private, given we have a responsibility over showing of all moral, ethical considerations," said PATAFA president Philip Ella Juico in Tuesday's press conference.
"So the board has accepted all the recommendations of the Administrative Committee that includes removing the 26-year-old young man, who knew the consequences of what he was doing as he repeatedly produced those curious documents."
Obiena's coach Vitaly Petrov is also expecting a complaint from PATAFA for violating the Integrity of Code of Conduct, leading to his termination.
Further, Obiena's backer and American businessman James Michael Lafferty will soon be declared persona non grata by the national athletics federation.
The country felt for Obiena, and netizens promised to continue supporting his career.
PATAFA was probably afraid that going easy on EJ Obiena would embolden more athletes to speak up.

Hoping other athletes would stand behind EJ now more than ever. https://t.co/e0pvnFY3VN

— Ash Presto 💜 (@sosyolohija) January 4, 2022
EJ Obiena is literally ranked #6 in the world! Imagine dropping someone like Roger Federer from the Swiss national tennis team – it's the same gravity as that! Obiena is one of the best pole vaulters in the world, and this is what PATAFA will do to him??? https://t.co/AwjUwFDkRy

— Jecon Dreisbach (@jecondraysbak) January 4, 2022
Obiena isn't looking to give up as well.
"I will clear my name in court, and I will clear my name in the competition. My pole will be my platform. My every jump is my defiance to everything that is wrong in the sport."
We got your back EJ Obiena. Even if it's only a tweet at a time. https://t.co/CUDziylDtQ

— Raquel Fortun (@Doc4Dead) January 4, 2022
We're supposed to support and help our athletes. We can't have a country that persecutes people who proudly raise its flag.

Given the chance, I'd join EJ Obiena's legal team pro bono. https://t.co/mG1XIXhj0v

— Gideon V. Peña (@attygideon) January 4, 2022
i'd rather support EJ Obiena when he becomes a rep of other countries, than support his PH replacement..
PATAFA mukhang hndi mauto c EJ sa addtnl commission🤪👎👎👎

— tenshihana (@tenshihana530) January 4, 2022
EJ Obiena is competing not against fellow pole vaulters but against incompetent and abusive sports officials and we are all cheering for him. https://t.co/rlzJlQ3cZC

— Teddy Casiño (@teddycasino) January 5, 2022
I have supported EJ Obiena for so long. Almost became part of his mgmt team. I also have good friends in the PATAFA. People who are sincere and well meaning. I just hope the two sides don't give up on the path towards compromise. Cause frankly no one wins in a legal tiff.

— Noli Eala (@NoliEala) January 5, 2022
Senator Pia Cayetano on Tuesday slammed the PATAFA for its decision to cut off the star athlete.
"I am beyond disgusted with the latest actions and statements of PATAFA's Philip Juico who is single-handedly killing the spirit of Filipino athletes," Cayetano said in a statement hours after learning PATAFA's decision.
"Despite the underhanded treatment EJ received from PATAFA, even after rendering a full accounting of his training funds and his coach's confirmation acknowledging receipt of his full payment, it must be noted that EJ himself has said that he was willing to join the Philippine Sports Commission (PSC) mediation process after the POC (Philippine Olympic Committee) has concluded its own investigation," she pointed out.