Presidential aspirant and former senator Ferdinand "Bongbong" Marcos Jr. says he is "perfectly willing" to release his statement of assets, liabilities, and net worth (SALN) after recently claiming that the public won't see a glimpse of it.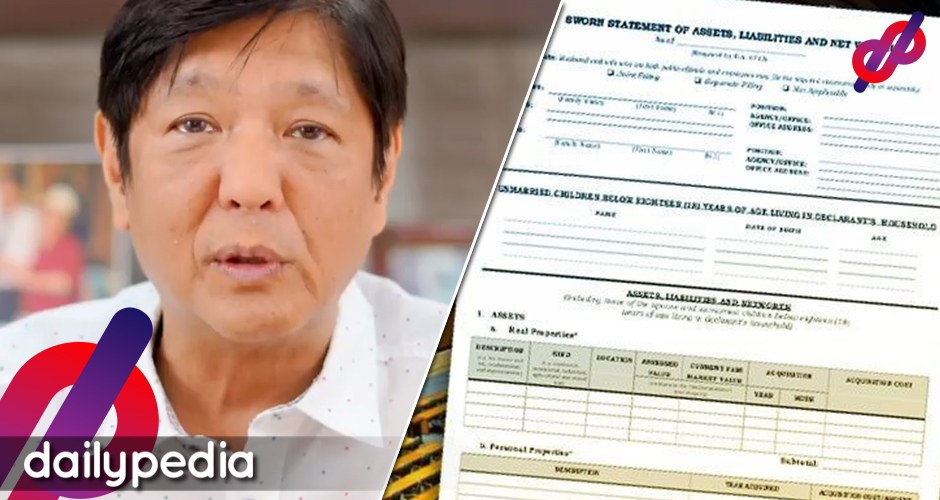 He initially said that he wouldn't release his SALN if it'd be used for political purposes.
However, he clarified that his SALN would be available to the people on Monday.
"I was talking about my own SALN. I'm perfectly willing to release it," he said during an appearance on One PH's "Sa Totoo Lang."
He attributed his previous decision to not disclose his document to what he saw during the impeachment trial of the late Chief Justice Renato Corona, where the latter's SALN was used to bring him down.
"I'm perfectly willing to show my SALN. And in fact, the quotation that you made before was me talking about my own SALN," Marcos said when asked if he'd copy President Rodrigo Duterte's tactics on not disclosing his SALN.
The last time Duterte's SALN was made public was in 2017. The Palace has constantly explained that the Ombudsman's office decides whether to release it.
Sen. Manny Pacquiao, who boasts the largest net worth among presidential candidates according to all recent SALNs, reacted to Marcos' previous statement.
Pacquiao said that it is incumbent that all government officials release their respective SALNs.
Reaction of presidential aspirant Sen. @MannyPacquiao on the SALN issue

"Hindi ko alam kung ano ang gusto ng ibang kandidato basta sa ilalim po ng aking pamumuno, di lang po ang pangulo ang obligadong isapubliko ang SALN kundi maging ang lahat ng opisyal ng gobyerno."

— robert mano (@robertmanodzmm) January 24, 2022
Before the former senator's clarification, netizens accused him of being a coward and a thief.
basura ka talaga https://t.co/a7R7w4uKx6

— Justin Dizon #LeniKiko2022 (@iamjustindizon) January 24, 2022
Just like Duterte, he doesn't believe in transparency and accountability. Magnanakaw talaga to the bones.
🚩🚩🚩🚩🚩🚩🚩🚩🚩🚩 https://t.co/SIJLp4cN4X

— 𝐌𝐢𝐬𝐬 𝐊𝐫𝐢𝐳𝐳𝐲 (@krizzy_kalerqui) January 24, 2022
https://twitter.com/braza_ja/status/1485517061120196611?s=20
https://twitter.com/keira_ddk/status/1485644495240990722?s=20
Marcos' last SALN states that he has a net worth of over P200 million.