Television host Korina Sanchez was called out and questioned online after posting photos of herself using an EBOO machine to "clean" her blood.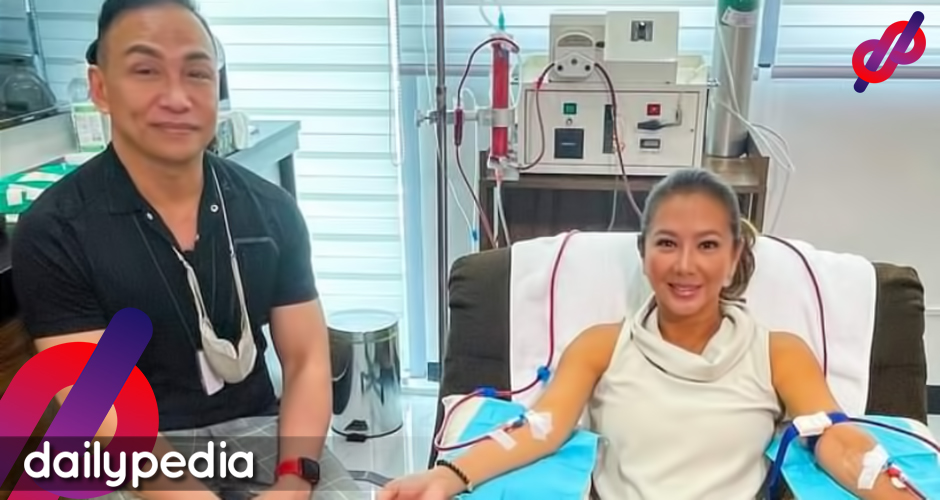 In her Facebook post, she endorsed the procedure. She said that people could "finally" have the chance to see toxins such as heavy metals, cholesterol deposits, alcohol, chemicals, bacteria, viruses separate from their blood.
The post was to promote her feature about the machine on Rated Korina.
Netizens quickly criticized the host, saying that she is using the alleged dialysis machine for her gains instead of providing it to those who really need it.
Using a dialysis(?) machine for beauty and anti-aging treatments while the most of those who really need it are begging for expanded free coverage to save their lives?? pic.twitter.com/4uFDPMMtba

— Nathan (@nathanoust) July 5, 2021
A doctor also questioned Korina's claims on her post, asking if she had any research to support what she wrote. He then called the post "problematic" as the procedure can supposedly cause sepsis.
Ang problematic nung "Perfect for those…"

Ms. Korina do you even have journals to support those claims? Because this is an invasive procedure that may CAUSE SEPSIS.

Actually ang problematic ng post na to ni Korina. https://t.co/BbnXbjTi73

— GREGORY, MD (@DocGorz) July 5, 2021
Dr. Winlove Mojica discouraged people from doing the EBOO procedure as it exposes people to harm and is just a "waste of money."
He encouraged people to cleanse their bodies the natural way as the lings, liver, and kidneys are made to do the detoxification it needs.
Wag po gayahin.

❌Nakaka increase ng immunity
❌Nakaka detoxify
❌Nakaka ganda

Ito po ay malinaw na pagsasayang ng pera at pag expose sa katawan sa kapahamakan.

Instead,

✅Kumain ng prutas at gulay
✅Umiwas sa yosi at alak https://t.co/742VWh8X1T

— Winlove Mojica, MD (@theskinsensei) July 5, 2021
Dr. Kilimanjaro Tiwaquen, also known as Dr. Kilimanguru, commented a simple "Uhm…" on Korina's post while a certain Lora Faye Licudan Logan said that doing dialysis when a person's healthy is just putting that individual at risk of illnesses.
A Twitter user offered another alternative to cleansing the blood, and that is to donate it every three months.
I think the best way to cleanse your blood is to donate blood every 3months (for those who are able, 18+, and 50 kg+) And also, healthy diet and healthy lifestyle na din. Tsaka, u can help pa if u donate blood. Pwede lumapit sa red cross guys. + https://t.co/X0BA66u8aL

— Maria Georgianne™ (@MegMarforii) July 5, 2021
On the other hand, some netizens are also defending Korina against the cancel culture, saying that there is nothing wrong with what she's doing and can afford it.
If people can afford these things out of their own pocket, then they have every right to. The institution has the right to provide that type of service if they have the budget to do so. Korina nor the institution didn't do anything off-putting. https://t.co/wGdh7gihGl

— Kimosabe (@DripZensei) July 5, 2021
Another admitted that if she were rich, she'd do the same thing.
I mean,,,
If I was rich I would do the same lmao,,,
But I'm not,
And we're all not equal.
That's sad, pero its the truth so ,,,, https://t.co/fyWjHqvPOn

— Abbey Bantolin Antolin (@AwesomeAABA) July 5, 2021
Regarding the issue about the provision of medical equipment to those in need, someone said that people should hold the government responsible, not the television personality.
https://twitter.com/imhereforyoulab/status/1412043524707557383
A netizen mentioned that while she has no problem with the procedure, Korina shouldn't have mentioned HIV and AIDS.
https://twitter.com/cherieblooms/status/1411993820648988672
According to American Regenerative Clinic, the extracorporeal blood oxygenation and ozonation (EBOO) procedure uses a dialysis machine to "ozonate" the blood.
"It can deliver a much higher concentration of ozone to the blood without risks associated with external processing and reinjection. Because of the higher dose of ozone possible, EBOO is the most advanced ozone therapy and can even be more effective than multi-pass ozone therapy," the website said.
However, in 2019, the Food and Drug Administration has warned against the usage of ozone therapy as there is not enough evidence to conclude if it is safe for medical use.
Though it has shown success against the virus that causes HIV outside the body, there is no research showing its safety on live humans at the time of writing.